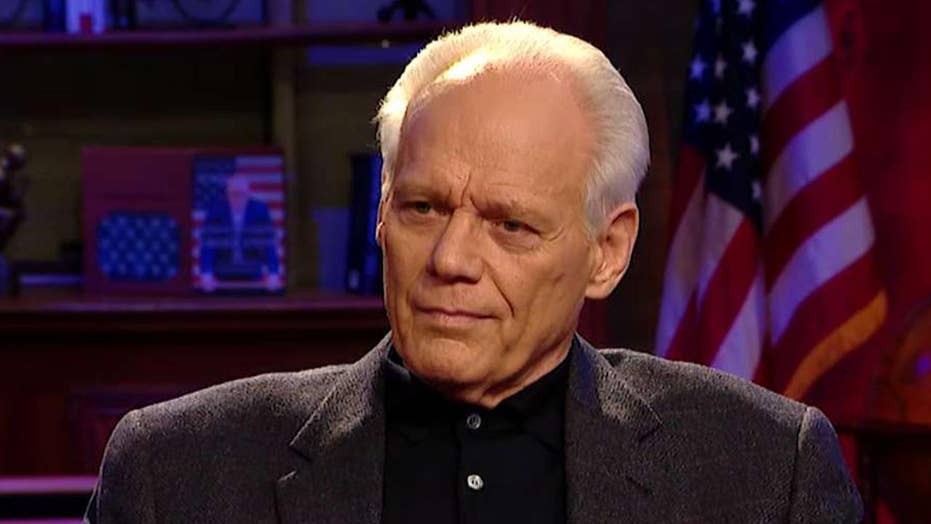 Fred Dryer breaks down Super Bowl LIII, the state of the NFL and the greatest threat to the game of football
Former football star and actor Mark Levin for a frank conversation on 'Life, Liberty & Levin.'
Actor and former NFL great Fred Dryer said Sunday on "Life, Liberty & Levin" he would have handled the Colin Kaepernick situation differently if he was the owner of the San Francisco 49ers in 2016.
Dryer, who starred as a defensive lineman for the New York Giants and Los Angeles Rams from 1969 to 1981, told host Mark Levin he would have taken Kaepernick off the field and given him the chance to talk to the press and tell reporters exactly what he was protesting when he decided to kneel during the national anthem.
BOB COSTAS SAYS CRITICIZING NFL SAFETY GOT HIM PULLED FROM NBC SUPER BOWL COVERAGE
"It's important for the franchise to support their quarterback because that's the face of the franchise," Dryer said. "And you want to make sure what you're doing is (giving) Kaepernick plenty of opportunity to articulate his actions."
Dryer then said he wouldn't have made the issue a "spectacle."
"I would have taken him off the field and would not let it be a spectacle. I would refuse the cameras to continually cut back to him. Get him off the field. Get him outside. Get on with the game. Pay homage to the franchise and to the fans that paid a lot of money to watch that game," he said.
Dryer then explained why he thought Kaepernick isn't in the NFL anymore. Kaepernick filed a lawsuit against the NFL claiming there had been collusion among NFL owners to keep him out of the league over his protest during the national anthem.
"I think the reason why he's not in football because the league realizes he's not a leader. It didn't handle that thing worth a darn," Dryer said. "I felt sorry for the guy honestly because he's troubled by something. I wanted to hear from him. I wanted to have the organization to be in control of the situation."
CLICK HERE TO GET THE FOX NEWS APP
Kaepernick last took a snap in the NFL on Jan. 1, 2017 with the San Francisco 49ers. Kaepernick threw for 215 yards and a touchdown in the game, but the 49ers lost, 25-23, to the Seattle Seahawks. He hasn't played a down of football since, but has received support from athletes across multiple sports and recently became the face of a Nike ad campaign.
Source: Read Full Article