Costa says he and Cook want to meet with Bomber Thompson
Geelong's former president Frank Costa says he and Cats chief executive Brian Cook want to meet with troubled former premiership coach Mark "Bomber" Thompson, who is facing drug charges.
Costa, a strong supporter of Thompson throughout his coaching career, said he had been unable to contact "Bomber'' and that he and Cook wanted to meet with Thompson to lend support to the two-time Geelong premiership coach.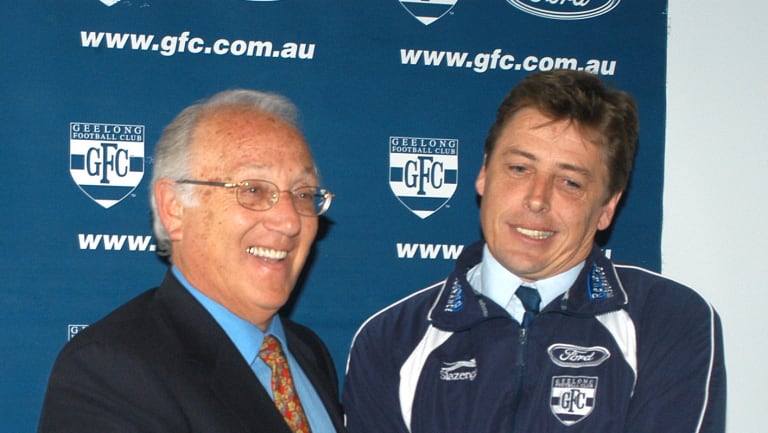 Frank Costa with Mark Thompson in 2003.
"I don't know if we can do anything for him,'' said Costa, the long-time Geelong president and wealthy club patron, who was yet to hear back from Thompson after attempting to contact the ex-coach without success.
Costa said if he did manage to meet with Thompson, "I'll have 'Cooky' with me,'' adding, "Cooky's keen to see him.''
Thompson is due to face court soon in a mention hearing over seven charges he faces, including trafficking and possession of methamphetamines and ecstasy – charges that followed a raid on his Port Melbourne property back in January.
Costa, who was overseas when Thompson was charged and and only returned last week, said he had left messages with Thompson and was yet to hear back from him.
He said he had been talking with Cook, "who wants to help (Thompson)''. While Costa was concerned for Thompson's welfare, the former president took as a positive that the ex-coach's former wife Annette had attended the last hearing in the Magistrate's Court. "The one good thing is….at the last hearing his first wife Annette was there.''
Costa said he and Cook – who hired Thompson in 1999, shortly after the pair had taken over a debt-ridden and struggling Geelong – shared the view that Thompson, a long-serving coach of the club, "did a great job for Geelong''.
"He was the real force, I suppose, behind the resurgence of the team."
Costa said Thompson's lifting of the Cats into a premiership-winning, successful club had been a positive force for the entire Geelong community. "It came at a time when Geelong was pretty flat.''
Cook told 3AW radio in January that he was worried for his former colleague.
"It's a tough thing to have had eight or nine years with Mark as colleagues and premiership coach two times – you earn a deep respect for him and the way he worked. Then this has occurred now, so it's rather sad really and disappointing," he said at the time.
"Like a lot of other people, I'm worried about Bomber and his health and hope things work out for him in the end."
Costa had expressed concern about Thompson's welfare and the state of his life before the two-time premiership coach had been charged with the drug offences. Thompson also struggled with the aftermath of the Essendon drug scandal, for which he was fined $30,000 by the AFL but not suspended.
Thompson went on to coach Essendon to the finals in 2014 while James Hird was suspended, a one-year stint some Essendon insiders view as a remarkable effort given that he had behaved erratically at that time.
Thompson's legal team is still being finalised, with well-known Melbourne lawyer, Robert Richter QC, having been approached to act for the two-time premiership coach and ex-Essendon premiership captain.
Source: Read Full Article