Jockey Harry Coffey takes 20 to 30 tablets a day just to stay alive, and he does it for moments like he had on Sopressa in the Australasian Oaks at Morphettville on Saturday.
While Coffey lives with cystic fibrosis, it doesn't define him. The 22-year-old's career as a jockey does that – and he is now a group 1 winner.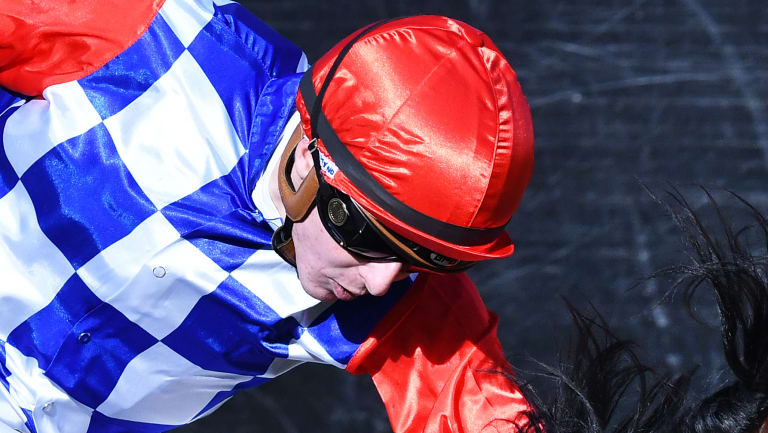 Dream come true: Harry Coffey drives Sopressa to the line to win the Australasian Oaks.
"It becomes a bit repetitive talking about CF – most people in racing know I have it now," Coffey said. "I prefer to talk about my riding, but it is part of me, part of the story.
"You guys in the press want to know about it when I have a big ride."
Coffey is from a racing family and only ever wanted to be a jockey, and cystic fibrosis wasn't going to stop that. But he realises what his success means.
"When you win a race like the Oaks, it becomes clear how special it is – not only to people around me but people I have never met that live with CF, and their families," Coffey said.
"I don't know how many messages I have had on social media and facebook, it would be thousands. It has been amazing, the response from my mates and people I don't know."
Coffey lived his dream on Sopressa, giving her the perfect ride to take the Oaks on Saturday. But it is the private moments that people don't see – the trips to hospital twice a year for treatment and the daily routine.
Cystic fybrosis is a genetic disorder that affects the lungs, digestive system and other major organs. There is no known cure.
"Because with CF you don't produce enzymes to break down food, I have to take 20 to 30 tablets a day to help with that," Coffey said. "It is a part of life, antibiotics and vitamins."
As is riding for Coffey who, like many jockeys, was waiting for that dream opportunity. It came on Sopressa, a horse he had won twice on before Saturday's Oaks.
The filly's owners, many of whom have known Coffey for most of his life, voted to stick with him and he delivered the perfect ride for them from barrier one in the Oaks.
"If he had done one thing wrong, he would've got beaten, it was that close" said Sopressa's trainer and long-time Coffey family friend, Darren Weir.
Coffey box-seated behind the leader Think Bleue and then found a run to its outside at the top of the straight.
"I was always confident and when the run came I got excited, but I still had a job to do," Coffey said. "I had to stay focused.
"Think Bleue gave a good kick and I thought 'this isn't going to happen' but she got to her and I got excited again. It is the best feeling.
"It is what I dreamed of, and to have it come true was incredible.
"The highs in racing are so bloody high."
Coffey's biggest supporter, mum Maree and dad Austy, a trainer, didn't make the trip from Swan Hill to Adelaide for their son's career highlight because they didn't want to jinx it.
"I went and watched with mum and dad [on Sunday] morning and it was like doing it again," Coffey said. "We watched the race and all the interviews, and to see how happy they were was like winning it again.
"There is one thing that I will always be now – a group 1-winning jockey. No one can take that away from me."
Source: Read Full Article