Antalya: Since he was 21, the World Cup always seemed to be within reach of Danny Vukovic but the goalkeeper could never clinch it in his grasp. His first view of the tournament came in 2006, when he was invited by Guus Hiddink as a train-on member for the pre-tournament camp as one of the most promising young players at the time. He had a second shot in 2010 after earning his first national team selection in the months before the South Africa Cup, told he was in contention by former coach Pim Verbeek only to be demoted to the role of a spectator come the tournament.
He could have been forgiven for accepting that status as fate in 2014 when he watched the Socceroos in Brazil, having endured lengthy suspensions and collapsed moves to Europe in between. However, he never relinquished hope of fulfilling his dream.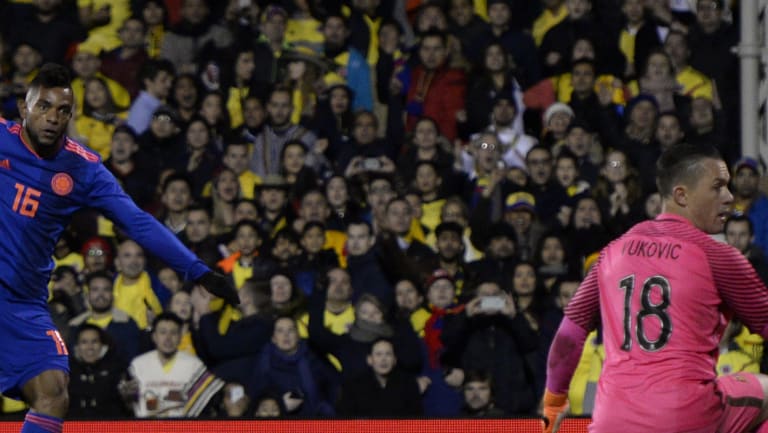 Danny Vukovic had an eventful international debut against Colombia last March.
Despite the set backs, Vukovic worked his way back into contention through blistering form in club football. Goalkeeper of the year for Sydney FC in 2017, guiding them to an A-League title before moving to Belgian club Genk where he was voted Player of the Year by the fans and helped qualify for the Europa League. It earned him his first international cap in March at the age of 33 and now Vukovic is now affectively assured of a place in 23-man squad for the 2018 World Cup in Russia as one of the three remaining goalkeepers in the squad.
The sentiment of being part of the World Cup team after his long and arduous journey was not lost on Vukovic who only arrived in Turkey for the pre-tournament training camp on Monday night.
"I think back to things like that. My last camp was 2010 prior to getting back into the squad. It's been a crazy journey for me, a lot of ups and downs. It's nice when the hard work and perseverance pays off in the end," Vukovic said.
No sooner than he completed his first training session in Antalya on Tuesday did the memories from 2006 come rushing back where he was one of five highly rated youngsters given the chance to train alongside the biggest names to aid in their development.
"I've got along list of highlights, but it was my first time involved with a Socceroos squad and to be involved with all those special players, preparing for their first World Cup in 30 years, it was an incredible time to be part of," Vukovic said.
"I was extremely excited and… [nervous], going into camp with some massive players. The golden generation, players like Kewell and Viduka. It was an amazing experience, training with Schwarzer, Kalac and Covic, it was special."
Despite considered as one of the back-up choices, Vukovic has vowed to train to be ready to called into action at a moment's notice. It's not just out of professionalism, but of appreciation of what it's taken to be in this position.
"I want to be part of this for as long as possible. That was one thing that Ange [Postecoglou] used to tell us every camp, it's a privilege to be here and an honour. You're never guaranteed a spot, so enjoy it while you can," he said.
Source: Read Full Article