Monte Carlo: Seldom in Formula One have two team-mates conveyed a starker contrast of emotions. While Red Bull's Daniel Ricciardo flashed that magnetic smile, having surged to pole position with the fastest lap ever recorded around the streets of Monte Carlo, Max Verstappen was a study in torment, after a sixth crash in six race weekends relegated him to dead last on the grid.
A stellar young driver the Dutchman might be, but in the depths of his latest humiliation, he looked like a scolded schoolboy. Where Ricciardo took a congratulatory phone call on the tarmac from Dietrich Mateschitz, Red Bull's secretive billionaire owner, after a blistering lap of 1min 11.810sec, Verstappen received a firm warning from team principal Christian Horner that patience was wearing thin.
The truth is that Verstappen is making far too many mistakes to be tolerated much longer. The ill-tempered flick of the hand with which Dr Helmut Marko, the sporting director, dismissed him from the garage spoke volumes. There is a sense, after a series of avoidable smashes, that his employers are tired of listening to his excuses.
Ricciardo celebrates his pole position in Monaco.
Ricciardo, conversely, did not disguise his delight after only the second pole of his career – even if he acknowledged that the job was "only 50 per cent done".
The memory remains raw of his experience here in 2016, when he started from the front, only to have the chance of victory snatched away by a pit-stop mix-up. He still faces a daunting task here to deliver a win this afternoon, finding himself in a pincer movement between two four-time world champions, with Sebastian Vettel alongside him on the front row and Lewis Hamilton directly behind him in third.
For Vettel, there was relief yesterday, with the FIA deciding not to impose any penalty on Ferrari after an investigation into whether their engines were producing an illegal power boost.
For Verstappen, though, the inquest goes on. The Dutchman, who turns 21 in September, has had four F1 drives in Monte Carlo and crashed every time. Worryingly, he seems not to have learned from any of them. His misjudgment yesterday was almost an exact replica of his error here in 2016.
Opting for one last run in third practice, he veered off course in trying to clear the Renault of Carlos Sainz, clipping the inside wall at the swimming pool chicane, an impact that broke the steering and propelled him into the steel barriers on the opposite side.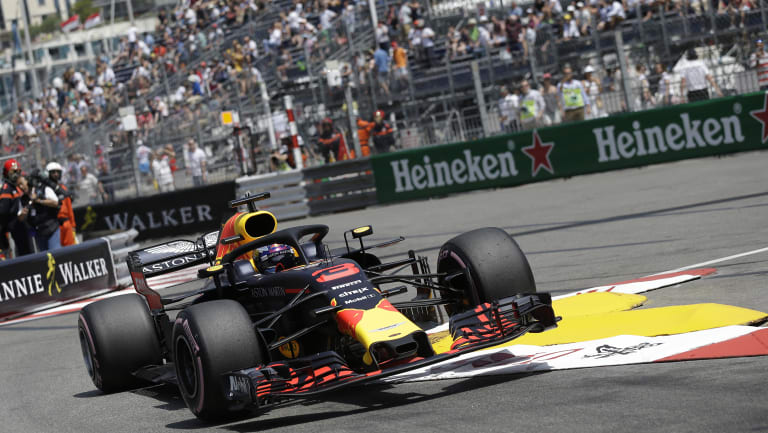 Ricciardo steers his Red Bull during qualifying.
Verstappen has now damaged or written off his Red Bull six times in a row. For a team with championship ambitions, whose superiority is most pronounced here on the Cote d'Azur, this is unconscionable. Horner did not tone down his frustration, pointing out that Verstappen's lapse was careless.
"This place bites, and Max got bitten pretty hard in a session that doesn't really count for anything, other than setting the car up," Horner said. "He's in a car that's capable of winning this grand prix. He needs to learn from it and stop making these mistakes. He knows that more than anybody, and I imagine it was a pretty painful qualifying for him, watching what could have been."
Despite the car's shredded front section, Red Bull's mechanics toiled gamely to complete the repairs in the two-hour window before qualifying began, ultimately to no avail. Verstappen was given a five-place grid penalty for a gearbox change, the saving grace being that he starts at the back anyway.
He was in a truculent mood last night, saying: "It's not right that it happened." Still, he would accept blame for just two of the six incidents in which he has been embroiled in 2018. Besides this latest brain-fade, he took responsibility only for his collision with Sebastian Vettel in Shanghai last month, which had prompted Horner to urge him to take more care. It appears the message is failing to filter through.
As it stands, Verstappen is still an untouchable property, who has only recently signed a three-year contract extension at Red Bull. He won two of the final four races last year and has become the figure around whom the team are planning their future. But Marko has a ruthless streak: in 2016, Russia's Daniil Kvyat was demoted to Toro Rosso, Red Bull's second team, after a sequence of blunders. At this rate, Verstappen risks the same punishment.
The Sunday Telegraph
Source: Read Full Article