Dockers captain Nat Fyfe assumes control as Fremantle's new figurehead
After the toughest week of his 22-year coaching career, Ross Lyon was reflective at the start of his post-match press conference in Perth on Saturday night, stressing several times that his side's hard-fought 30-point win over St Kilda at Optus Stadium was not what the night was about.
In reference to the tumultous week he and the Dockers by extension have endured over a confidential sexual harassment settlement with a former junior female employee, the 51-year-old hoped the unprecedented events of the past week had made his organisation a better one, as well as that of the other 17 AFL clubs too.
"As a football club, we are more than the four points," Lyon said.
"It has been a challenging week. The president, myself and the CEO spoke to what sort of footy club we want to be and how we want to go about it, and that positive experience.
"Obviously, game day is a part of it, but winning doesn't paper over everything, so we've still got a bit to work through, and we feel like we're doing that.
"But for a player group to stay focused and be well led is an important aspect.
"It's important [because] I think historically we could name a number of premiership teams and clubs that were up and about that really weren't the full bottle on and off.
"Therefore, the issues being addressed are critically important to all clubs, but we're focused on that.
"That's what I'd like to say. But clearly, we still need to come and our core business is playing football."
But if the night was also a revelation for Lyon and club heirarchy, his team's performance certainly wasn't, despite the flattering margin, which at one stage blew out to 43 points.
The 41,752 fans at Optus Stadium must have had flashbacks to the unmentionable Docker days when fumbles and follies were the revolving main course.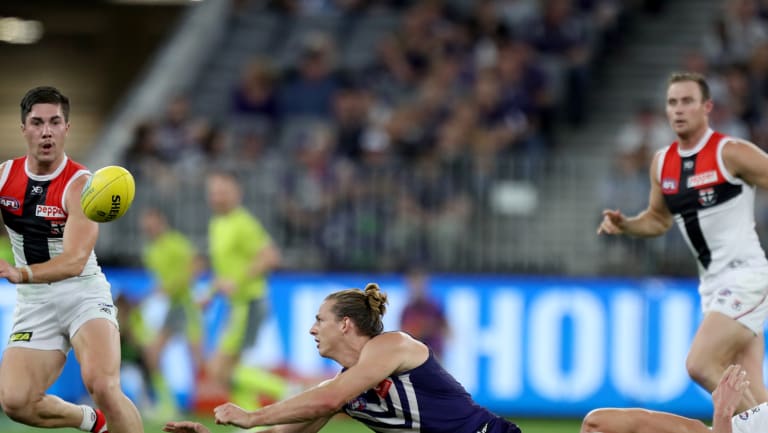 Nat Fyfe assumed control of the Dockers with another dominant display.
Nathan Fyfe knew what had to be done, and the events of the past week have no doubt crystallised how desperate Fremantle needs him as their new figurehead.
The 26-year-old has never shied from the limelight or leading by example; in his very first game for Freo his skinny, wiry frame was effortlessly taking hangs over stoic seasoned bodies and seconds later attacking them with vigour at the ground-level contests.
With his buddies Connor Blakely (35 possessions) Ed Langdon (33) and Luke Ryan (27) carving it up out the back, the captain knew he had to again assume control where it mattered – with probably little energy left after a laborious week of scrutiny and soul searching.
Now back to his 2015 Brownlow form after injury ruined most of his past two seasons, the ball magnet was Koutafidies-like in how he dangled the Sherrin and paraded past players like a drunk puppeteer hurling fancy in your face.
With his coach, chief executive and chairman looking fairly weak all week, Fyfe sensed he needed to flex his considerable clout – on and off the field – to relieve the heat on the trio and his teammates or risk seeing his side's season spiralling into a meaningless orbit.
Some 36 possessions (25 contested) and a globetrotting highlights reel later (including two incidents that will interest the match review officer), Fyfe seemed to revel in not only propelling his teammates to victory … but celebrating the four points with them and hungry fans after the siren.
If this match was the arrival of Fyfe as Fremantle's true leader in and beyond the Lyon era, he marked it through telling little moments afterwards.
He was fully engaged with all his teammates on the ground, seeking out the injured Ballantyne, the below-par returning Danyle Pearce and several of the promising Dockers youngsters, some of whom would've been rattled by the unravelling crisis of the past few weeks.
The cavalier captain even gave a gushing mum in the crowd a cheeky kiss along with some purple roses in honour of the club honouring Mother's Day on Sunday.
After standing tallest for 120 minutes, Fyfe stood up again after the match – and should now feel like the figurehead Fremantle has desperately needed and now craves.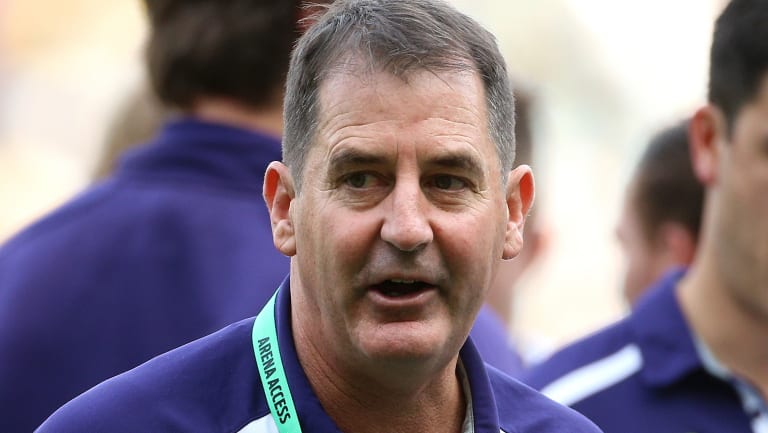 Dockers coach Ross Lyon during the 77-point loss to Richmond last week.
Lyon, Rosich, Alcock and Co can confidential as much calamity as they can via the league's flawed social policies and the legal limitations that cover them, but the trucker from Lake Grace now runs the port.
Fyfe has always led without a flinch on the field, and at Optus Stadium on Saturday night in front of the purple army, he showed he can lead just as well off it… and every Fremantle person seemed to be happier for it.
Dockers dig deep to hold off spirited Saints
In a topsy-turvy second half, Fremantle led by 43 points early in the third quarter, before the Saints closed to within 13 in the final term.
But a wayward Tim Membrey (1.5) proved costly for the visitors, with Fremantle making the most of St Kilda's misses to secure the 13.11 (89) to 8.11 (59) win.
Poor skills from both sides blighted the first half, but Fremantle were cleaner in the crucial moments to cut a regular path to goal opposed to the visitors.
Just as the Dockers threatened to bury the visitors, the Saints emerged, booting six of the next seven goals to trail by just 14 points at the final break.
But poor goalkicking continued to haunt them and Membrey, who missed two set shots in the final quarter as Darcy Tucker turned the tide with a brilliant goal of a Fyfe-led attack before Adam Cerra showed poise to kick truly shortly afterwards and secure the crucial win.
Fyfe boosted his chances of winning a second Brownlow, tallying 36 disposals, 13 clearances and a goal, aptly served by evergreen 35-year-old Aaron Sandilands, who starred in the ruck again.
The Saints barely whimpered in the first half, and looked gone after swingman Jake Carlisle was concussed in the second term and never returned after Fyfe's knee accidentally collected his head while he was on the ground.
As if the nightmare week for Fremantle couldn't get worse, blowing a 43-point would've made the fans call for blood.
Jack Steven battles Docker Brandon Matera, who was busy near goal all night at Optus Stadium.
Instead, Lyon looked a redeemed man in his post-match conference and his players incredibly relieved. The important of the victory to the senior coach was evident in him constantly playing an extra man or two in defence as he scraped to the line while the Saints tightened the screws.
Fyfe and his players will now hope the focus turns from the embattled coach and the club's questionable culture to their 4-4 record and unbeaten streak against interstate teams at their new 60,000-seat home stadium.
Source: Read Full Article