Barring a miraculous reversal of form and fortune, the Western Bulldogs will miss the finals this year. It will be just the ninth time in VFL/AFL history that a side has been absent at the pointy end of the season in consecutive years after making a premiership, and the first occurrence this century.
The theories for the rapid decline of the Dogs are many. Injuries, retirements and the stagnation or even regression of key players have all played a part, but the club has recently acknowledged that they had foreseen the possibility of a steep fall. There is a school of thought, too, that as a club that had for so long been among football's battler, the Dogs were less likely to handle success well.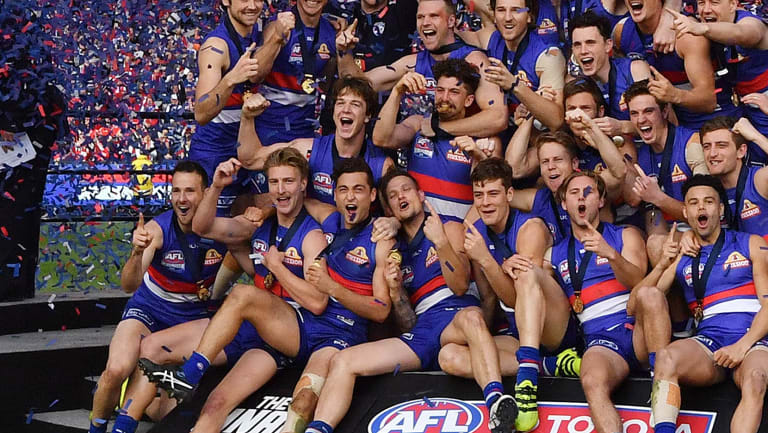 The victorious Dogs in 2016.
As Dogs' great and long-time spiritual leader Bob Murphy said on SEN last weekend that, for some clubs, winning a premiership is like reaching the top of a mountain. According to Murphy, it was more akin to the moon landing for the men from Whitten Oval.
Whatever the reasons, change has certainly started to sweep through the Kennel. Premiership players Fletcher Roberts, Shane Biggs, Jordan Roughead and Josh Dunkley have all been out of favour at times this year, while Roughead, Tom Liberatore, Mitch Wallis – another who has been in and out of the side – and Luke Dahlhaus are all free agents. Youngsters such as Ed Richards, Billy Gowers, Aaron Naughton, Tim English and Patrick Lipinski have been blooded, and Luke Beveridge's side is routinely among the youngest in the AFL.
The last instance of a side missing the final eight two years in a row after winning a flag was Adelaide, who fell way down the ladder to finish 13th in 1999 and 11th in 2000. The Crows had won back-to-back flags in 1997 and '98, but like the Dogs of 2016, the '98 triumph had come despite Adelaide finishing outside the top four. The Crows' end-of-season ladder position of fifth was the record lowest for the eventual premiers until the Dogs came from seventh to claim their unlikely crown in 2016. Having won premierships in his first two seasons at West Lakes, Malcolm Blight departed at the end of '99, replaced by Gary Ayres.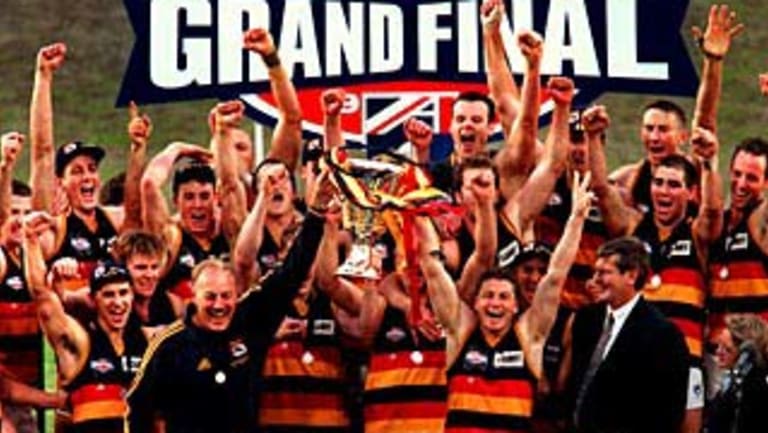 Adelaide celebrate after winning the 1998 flag.
The dual Norm Smith medallist and Hawthorn champion had also been there the previous time a side had plummeted like the Dogs and Crows. Ayres was days from turning 18 when he played in the Hawks team that lost the 1978 reserves decider to North Melbourne. Hours later the tables were turned when Hawthorn won the senior premiership against the Kangaroos, their third flag of the decade and second in three years. But it was the end of an era, with David Parkin's team – who celebrated their premiership reunion last week – missing the finals in 1979 and 1980, and again in 1981 when Allan Jeans took over.
"Guys left the club, Kel Matthews to Geelong, Barry Rowlings went to Richmond, Peter Welsh went to Richmond, Al Martello, John Hendrie, Scotty [Don Scott] retired," Ayres told The Age this week.
"It was probably a group, if you like, at that stage that had taken them as far they can go. There was always going to be that transition."
Here's the point where Dogs fans can take heart. Hawthorn weren't down for too long. By 1982 they were back in the finals, the start of a run of 13 straight finals appearances including five premierships. It remains arguably football's greatest dynasty.
"It was the emergence of younger guys," Ayres said. "John Kennedy jnr, Schwabby [Peter Schwab], Chris Mew, just to name a couple. A little bit later on Dermott [Brereton] came through. It was probably the beginning of the changing of the guard at Hawthorn."
Things didn't end quite as rosily at Adelaide, with Ayres departing midway through 2004. And the Crows are still searching for their third premiership. But it's not as though the 2000s were a period of constant gloom for the club. By 2001 Adelaide were back in the finals, progressing to preliminary final weekend three times among eight finals berths to the end of 2009.
Adelaide nailed rookie selections like Martin Mattner, Nathan Bock and Ben Rutten, allowing them to build a strong team around their core of remaining premiership players like Mark Ricciuto, Tyson Edwards, Andrew McLeod and Simon Goodwin.
"Winning back-to-back flags is an enormous physical and mental achievement," Ayres said.
"I think there were guys that retired, because of the successes that the group had. You very rarely keep the same group together. You then tend to find that injuries, and I guess the age demographic of your list, can change pretty quickly.
"The footy environment changes too, because a lot of teams no doubt look at what you do, and if you're appearing in finals consistently then they do some pretty significant forensic intel on your game plan, intel, all that sort of stuff. Because the teams aren't just going to sit back and watch you continue to be successful are they?"
So for Dogs supporters wondering how it can all have turned so quickly, there is precedent that things can turn again, and it doesn't have to take a decade. Jack Macrae, Marcus Bontempelli, Toby McLean and Zaine Cordy are all young in football terms, and can form the nucleus of the club's next tilt. How new list manager Sam Power shuffles the pieces around them will be a point of intrigue. An interesting few months loom.
Missing finals in consecutive years after winning a premiership
1912: Essendon **
1921: Richmond **
1938: Carlton
1941: Melbourne ***
1964: Melbourne
1971: Hawthorn
1978: Hawthorn
1998: Adelaide **
** back-to-back
*** back-to-back-to-back
Source: Read Full Article