Talking points
The Dragons and Tigers are turning into small-screen hits and soaring towards record membership levels as two of the surprise competition pacesetters revel in the commercial benefits of winning starts to the season.
Early season table-toppers St George Illawarra have been the most popular NRL side on TV through the first six rounds of the competition and need just 1000 more new members to trump the popularity they enjoyed after their 2010 grand final win.
Popularity: St George Illawarra have enjoyed a strong start to the season.
And the Tigers are also reaping the rewards of being one of the early season success stories.
So buoyant are Dragons fans about their side's chances in 2018 they have flocked to support the club in numbers not seen since the Wayne Bennett era, while the Tigers are anticipating breaking new ground and the 20,000 membership milestone later in the year.
Having had their first six games broadcast on both Nine and Fox Sports, the Dragons have reported a 140 per cent jump in viewing numbers and a 40 per cent spike in direct retail sales on the same period last year before their first loss of the season against the Warriors.
"We enjoyed a strong off season commercially on the back of the positivity generated through our recruitment and retention activities and home venue model for 2018," Dragons chief executive Peter Doust said.
"This has been further enhanced by the team's early season performances as evidenced through a number of indicators including membership, attendances, broadcast numbers and sponsorship."
Hit: Benji Marshall.
Forecast to be early season strugglers with a horrid draw as they tried to introduce a number of recruits into their mix, the Tigers have lost only twice through the first seven rounds as they enjoy the spoils of the Ivan Cleary rebuild at Concord.
Tigers chief executive Justin Pascoe hinted the commercial upswing wasn't exclusively down to on-field success, but it has certainly helped the bottom line.
A range of Tigers merchandise has been moved swiftly in the past month – including a beyondblue warm-up top which sold out in 72 hours – and more than 50 per cent of the special Anzac Day jerseys commissioned by the club were shipped as pre-orders before Sunday's clash with the Eels.
There is always a correlation between on field success and commercial growth, the timings of those increases are not always immediate
"There is always a correlation between on-field success and commercial growth. The timings of those increases are not always immediate," Pascoe said.
"Membership continues to grow, but that growth is in line with what we have seen in the last two years. In 2017, we reached 18,000 members and this year we're expecting to reach 20,000 members.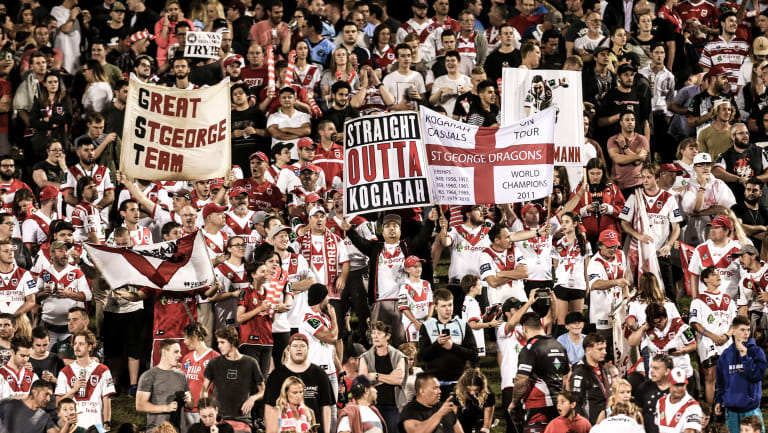 Support: Dragons fans.
"This means the club has would have grown from 9000 members to over 20,000 members in two-and-a-half years.
"A lot of time and effort has been devoted to strengthening our corporate relationships and thanks to this we've seen every piece of apparel sponsorship now sold for this year. What a successful on-field performance does is attract new potential partners into conversations with the club and this conversation potentially converts some and becomes realised in time.
"One area where we are seeing an increase is in merchandise with the club doing very well so far in 2018."
The Tigers have targeted their round-10 clash against the Cowboys at Leichhardt Oval on Thursday night as a big test of their pulling power given the family unfriendly timeslot. It will also be the first game of the year at Leichhardt, and their fifth home venue for the season.
Source: Read Full Article