Football Federation Australia chief executive David Gallop has paid tribute to Jets owner Martin Lee and the club's management for the stunning turnaround that has lifted Newcastle into the A-League grand final.
The Jets are aiming to become the first team in the competition's history to go from worst to first in the space of a season.
Grand final bound: Jets' Jason Hoffman scores the winner over Melbourne City on Friday night.
This time last year, they were wooden spooners, yet 12 months down the track they are favourites to beat Melbourne Victory in the championship decider at McDonald Jones Stadium on Saturday night.
Newcastle's transformation has been a welcome relief for FFA, which had to fund the Jets for an interim period after the demise of Nathan Tinkler's ownership in November 2015.
It was the second time in four years that the viability of the Jets had come under scrutiny, after Tinkler's predecessor, Con Constantine, also encountered financial hardship. FFA persisted with the Jets, in contrast to their short-lived ventures in Townsville and on the Gold Coast, because Gallop said "the fundamentals for Newcastle to succeed in the Hyundai A-League have always been present".
In 2016, FFA unveiled Chinese billionaire Martin Lee as the club's new owner, and he soon appointed wily Scotsman Lawrie McKinna as his chief executive.
The Jets finished last in Lee's first season, but after signing experienced coach Ernie Merrick – Newcastle's third boss in 12 months – and an array of quality players, results rapidly improved, along with home-ground attendances.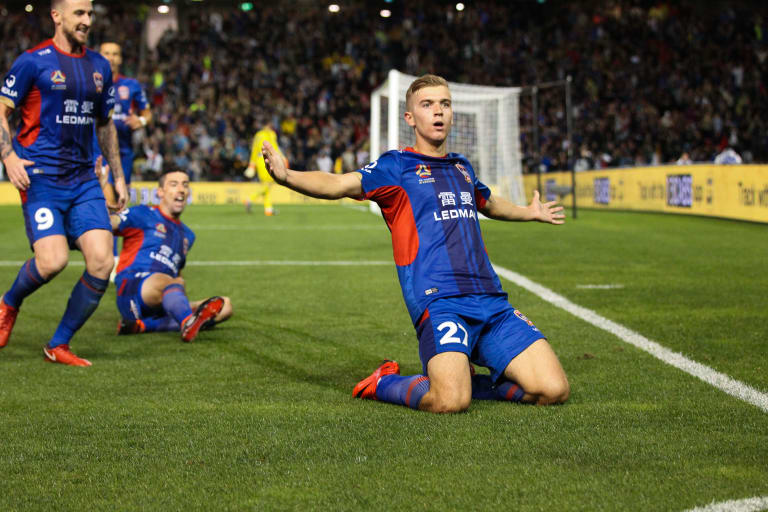 Stunner: Riley McGree celebrates his incredible scorpion kick goal.
"Regardless of the outcome on Saturday night, the club has had a great season and everyone involved deserves credit for that," Gallop told Fairfax Media.
"To go from wooden spooners to grand finalists is a great achievement, and I know Martin and Lawrie, Ernie, the players and staff will want to stay there.
"Hopefully some of the people coming along on Saturday night who are not members or regular supporters will sign up for next season.
"The atmosphere will be electric. Last Friday night was goosebumps stuff when Riley [McGree] scored [in the semi-final win against Melbourne City]."
Asked if FFA was ever concerned about Newcastle's capacity to survive in the A-League, Gallop admitted: "There are no certainties in football anywhere in the world".
But there was belief that a franchise was capable of thriving in an area which has been a footballing stronghold since the late 1880s.
"The region is a sporting hub, has a strong media market, a significant population, adequate infrastructure, and a growing corporate/commercial scene," Gallop said.
"So it is great to see all of those things combining with the leadership at the club from Martin Lee and Lawrie McKinna to create the success they have enjoyed this season … the city has a proud football history, a passionate local population and a real sense of identity.
"However even with all those things it is fair to say that the introduction of [Lee's company] Ledman has ensured that the club could go forward when times were looking pretty tough."
Gallop agreed that Newcastle's revival offered hope to teams such as Central Coast and Wellington that "change can happen quickly".
"But turn-arounds like that don't happen by accident," he added.
Gallop said FFA had never considered transferring the grand final from McDonald Jones Stadium to a larger venue, as some commentators advocated.
"Newcastle earned the right and I think the reaction we have seen from the supporters, the Newcastle Herald, local businesses and everyone in the city has shown it was the right decision," he said. "The grand final is going to be a great spectacle with fantastic atmosphere."
Source: Read Full Article