Fifita's Origin Blues dream alive, with Tonga allegiance no barrier
Cameron Smith's representative retirement caught everybody by surprise, but what will come as an even bigger shock is the revelation Andrew Fifita remains eligible to play for NSW in games one and three of this year's Origin series.
Most assumed Fifita had ditched the Blues entirely this year when he elected to play for Tonga in the Pacific Test. The Test against Samoa will be played just 24 hours before game two of the Origin series against Queensland in Sydney.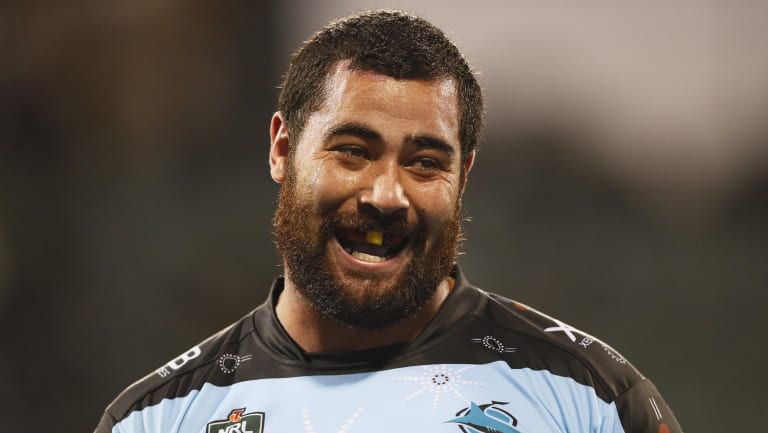 Still Blue: Andrew Fifita has committed his international future to Tonga, but it does not make it impossible for him to play for NSW.
But Fairfax Media can reveal the eligibility rules allow Fifita to still make himself available for the MCG and Suncorp Stadium games – on June 6 and July 11 – provided Brad Fittler and the Blues want him.
Tonga remain a tier-two nation, despite their success at the World Cup where they got within a whisker of a dream final appearance, which means their players can also play for tier-one nations such as England, New Zealand and Australia, and are also eligible for NSW or Queensland.
While Fittler and the Blues may have reservations about a player who opted to pick Tonga in the first place, plenty of NSW fans will be thinking otherwise.
When asked in the press conference after Sunday's win over Canberra if he would contemplate a return to the NSW Origin side, Fifita said: "If they let me play [game] one and three."
The front row Blues debate will only intensify should Fifita embarrass Blues contenders Aaron Woods and David Klemmer when Cronulla host Canterbury on Sunday afternoon. Fittler will have one of the best views from the sideline as part of Channel Nine's coverage.
Big performer: Andrew Fifita was immense for the Blues in game one in 2017
You have to wonder what the Blues will do with Fifita should Woods, Klemmer or a player such as Penrith's Reagan Campbell-Gillard break down with injury.
The man himself half-jokingly said he was available for games one and three after Cronulla's win in Canberra on Sunday.
Fifita is arguably the form prop in the game, and at least one former Blues great believes it makes perfect sense to utilise the powerhouse for two games, rather than none.
Jason Stevens played eight games for NSW and was the starting prop alongside Fifita in Cronulla's team of the half century, and he told Fairfax Media on Wednesday night: "If Andrew plays that would send a shiver down Queensand's spine.''
"I'd pick him, 100 per cent, I'd have him in there in a heartbeat,'' Stevens said.
"He's the best prop in the game, and I think he has been for a while. Every time he carries the ball he needs three forwards to bring him down.
"He's got the agility of a winger, can pass before or through the line and has got that speed when playing the ball.''
Even former Maroons big bopper Sam Backo agreed Fifita should be considered by the Blues.
Backo, who played seven Origins for Queensland and scored three tries in the late 1980s, said: "He's proud of where he's come from and he's representing his country, but if he also qualifies for NSW, let him play for NSW.
"Front-rowers take time to mature. He's starting to mature. He's a big strapping lad who always looks awkward on the field, but he's strong and plays well.''
Fifita was on his way to a training camp in Rooty Hill with the Tongan team last year when he was diverted to Canberra at the last minute to link with Mal Meninga's Kangaroos for the Anzac Test.
Tongan coach Kristian Woolf said it up to Fifita if he also wanted to play for the Blues, but conceded: ''I don't think it would be a terrific look''.
"I do know Andrew is always welcome to play for Tonga,'' Woolf said. "He's come for the right reasons and you tend to play well when you play for the right reasons.
"Andrew has been outstanding. Without being around Cronulla, his coach [Shane Flanagan] deserves a lot of credit for the way Andrew has developed as a person and player and certainly as a leader.''
Former NSW hitman Mark Geyer was not a fan of Fifita being picked if he was unavailable for all three games.
"If you're in, you're in, and if you're out, you're out, otherewise you're taking a spot off someone like Campbell-Gillard or [Trent] Merrin, Paul Vaughan or Jack de Belin,'' Geyer said. "No one player is bigger than the game."
The Queensland pack has lost Matt Gillett and possibly Josh McGuire to injury, Matt Scott is one of several players out of form, while Smith was their heart and soul.
Source: Read Full Article