'Find another idol': Michael Cheika on Folau's anti-gay comments
Michael Cheika has suggested children should find new idols if their sporting heroes, such as Israel Folau, make comments they don't agree with.
The Wallabies coach was asked what he might say to a gay child who idolised Folau, after reading his recent social media commentary on the subject of homosexuality.
Cheika told the Kick & Chase panel on Fox Sports that children should have the self-esteem to reject messages they don't like.
'Detach': Michael Cheika says children should develop the self esteem to reject comments they disagree with.
"Self-esteem in people, no matter who they are, is extremely important. If that's something you don't agree with, you detach from that," he said. "The way it will be is 'he's no longer my idol' if that's the case. There's been a lot made of that but self-esteem is so important and as parents, which I am, and as coaches, it's something I try to do with the [Wallabies] lads. When players are getting the same in return – nasty messages, social media – it's about trying to build self belief so you're not affected by those things."
Folau, a devout Christian, has come under heavy fire for anti-gay comments and posts on social media. The storm engulfed the Waratahs in recent weeks, with NSW boss Andrew Hore conceding the organisation had been put under pressure as a result of Folau's continued pronouncements and the subsequent storm of commentary and speculation from within Australia and abroad.
Rugby Australia chief Raelene Castle, who has thus far chosen not to reprimand Folau but asked him to keep his comments respectful, also said the saga was affecting her organisation.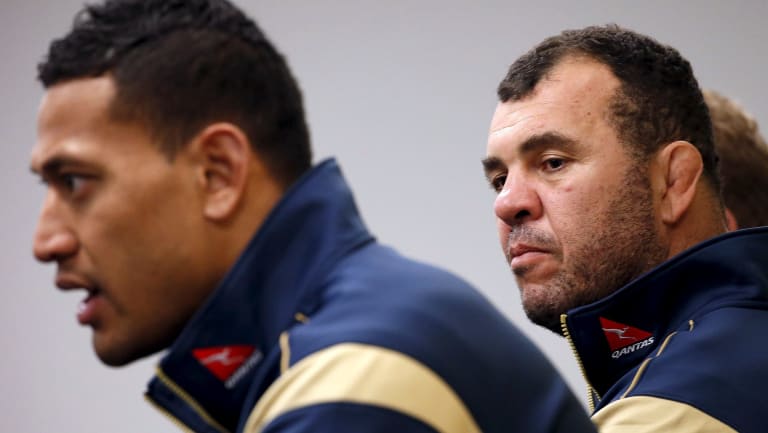 Israel Folau and Michael Cheika in 2015.
Cheika had not commented publicly on the matter until his appearance on Wednesday night. When challenged by host Nick McArdle about a child's capacity to critically appraise a hero's comments and 'detach', as suggested, Cheika said: "He has to 'detach'. I'm not saying it's up to the kids, I'm talking about parents, you've got to protect those kids from things, other things out there you might not like. I really do believe that whole thinking about believing in yourself, and having self confidence, no matter what situation you're in, is so ultra important."
Folau has been in sparkling form for NSW over the past two weeks in their losses to the Blues and Crusaders. Cheika said he would pick the dual international as fullback every time.
"He's too invaluable around defusing high balls. If you want to get him out on the edge to play kick-ball to him, you can manufacture that, just like the Tahs did in that game when he was on the edge and he was devastating in that space," he said. "I know this sounds simple and I should maybe do something more complicated but I know the opposition are going to kick the ball to the fullback and he's going to get to run it back."
Source: Read Full Article