Antalya: A troublesome knee injury won't limit the impact of Tomi Juric in Russia as the Socceroos' striker declares himself fit to play in the 2018 World Cup  where he predicts Australia will spring "a few surprises".
There were concerns Australia's first choice centre-forward of the qualifying cycle would either miss the tournament or suffer reduced game time as a result of a small yet persistent knee problem that's plagued him for the last month.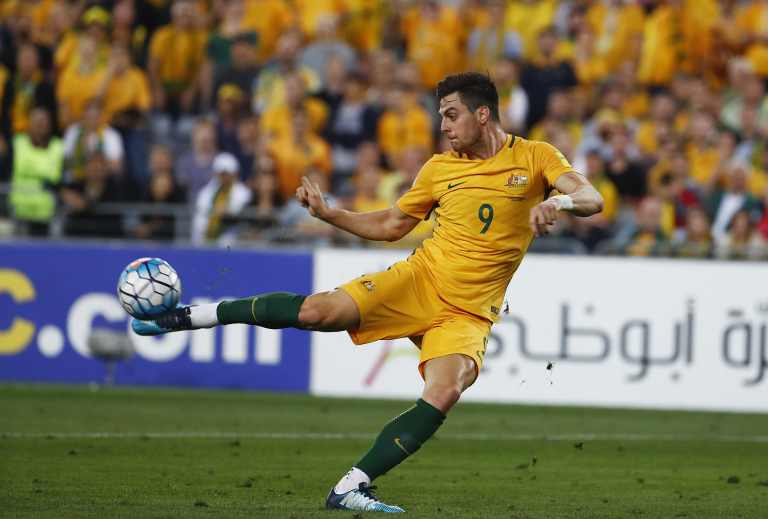 Full fitness: Tomi Juric has recovered from a knee injury.
However, Juric says his patella injury should not even impact his performances now it is being managed properly. The Luzern striker suffered the problem while playing for his club in late April but says he aggravated it by pushing his recovery. In his eagerness to train, Juric said he returned to a high workload too early at the national team camp a fortnight ago.
"Knee is good, obviously it's just a bit sore leading in. I pushed it too hard for one or two days and I need to step back and now it's all good," he said.
Juric attempted to take on the full load of the Socceroos' gruelling and exhausting training regime in Turkey when he should have heeded warning signs from his body.
"When we trained and I probably trained too hard and too early because of the stage I was at," Juric said. "I didn't train for 10 days before that and I did a lot of gym work on my body on that just to give it time to settle. Now it's all good and I'm on the rise now. It was just a patella injury so it was nothing serious it's just a maintenance issue and I need to stay on top of it."
Despite the set back which prompted the Socceroos to bring Jamie Maclaren back into the squad, Juric says he was never concerned his knee would be the reason he wouldn't be included in the final squad for the World Cup.
"I wasn't worried that it would be an issue for me to not be in the 23. I knew it was just maintaining it and just getting the trust of everyone involved to believe that obviously I'll be fine and I'm sitting here today and it's all good. Spot on," he said.
Now back to full fitness, Juric has predicted Australia could be a potential dark horse at the World Cup and is confident of progressing to the second round despite being pitted in a tricky group alongside France, Denmark and Peru.
"We just need to go out and do what we've been training and practising to do and I think there could be a few surprises in terms of positive results for us," Juric said.
"We've been training a long time and we've been working on defensive structure, attacking shape and preparation for coming into the first game against France. I quite like how we'll be shaping up from the front to the back, what we're trying to do to stall them, make it difficult for them."
Should that happen and Juric leads the Socceroos attack successfully, he hopes it will earn him a move to a bigger club in a stronger league than where he is today.
"Anything can happen with a World Cup, mate. Obviously I'd like to continue my footballing career in better pastures, achieve goals and things I've set out for myself to do," he said. "A good club in a better league. Just better than where I'm at and a step ahead of where I am at the moment, wherever that will be."
Source: Read Full Article