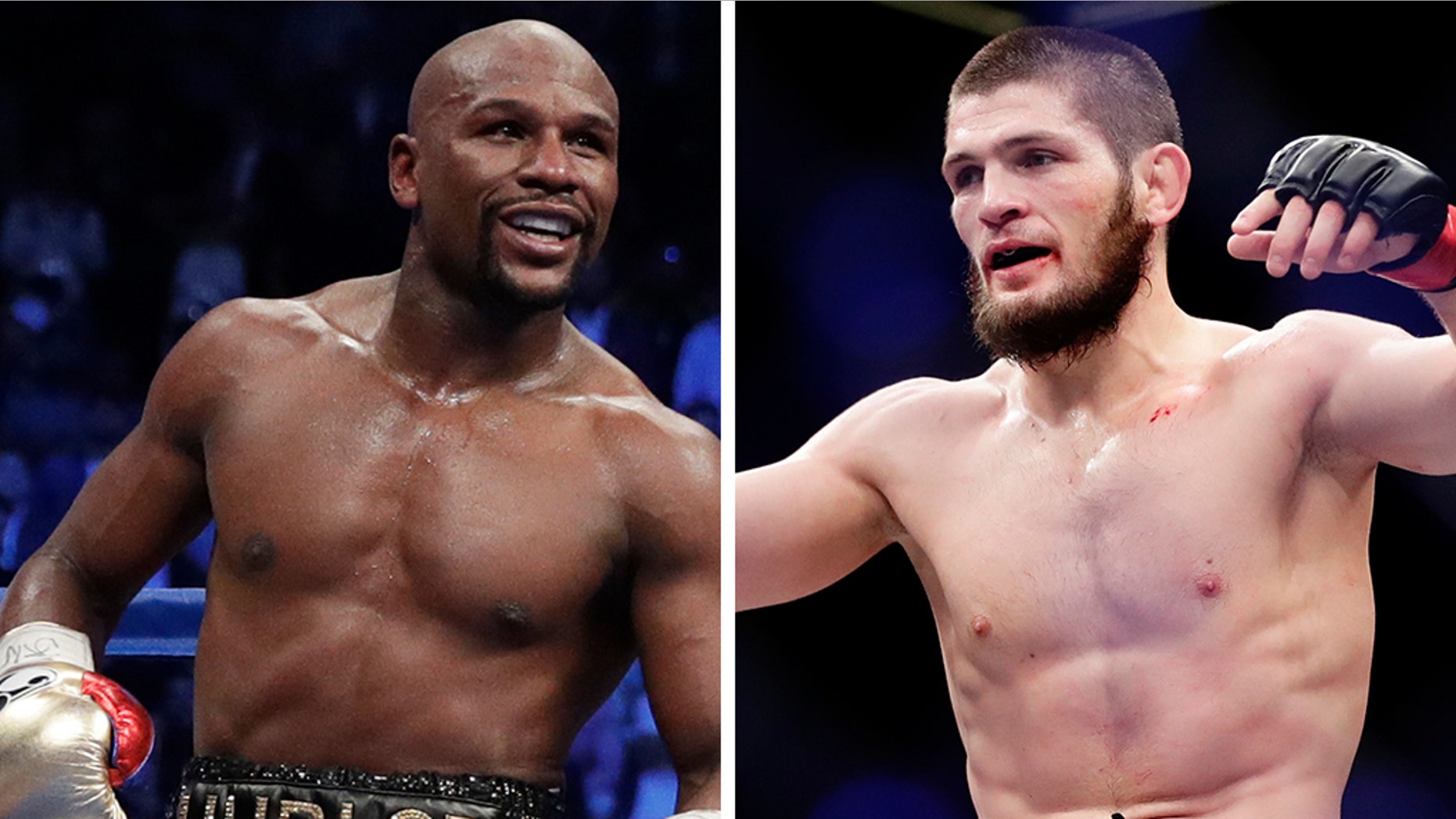 Retired boxer Floyd Mayweather and UFC star Khabib Nurmagomedov recently challenged each other on social media.
(AP, File)
Floyd Mayweather is ready to fight another UFC star.
The retired boxing champion replied Monday to a recent challenge from Khabib Nurmagomedov, the current UFC lightweight champ.
"CBS, Showtime and MGM Grand get the checkbook out," Mayweather wrote on Instagram. Both networks and the casino have given financial backing to previous Mayweather events.
Mayweather, who hasn't fought since he knocked out UFC fighter Conor McGregor in August 2017 in a highly publicized boxing match, then urged his followers to watch a recent video from Mayweather Promotions CEO Leonard Ellerbe, in which Nurmagomedov spoke of fighting the boxer.
"Let's go, Floyd," Nurmagomedov said in the clip. "We have to fight now. 50-0 versus 27-0. Two guys that never, never lose. Let's go. Why not? Because, in the jungle (there is) only one king. Only one king. Of course, I am the king because he cannot drop McGregor but I drop him easily. Let's fight. Let's go."
It wasn't immediately clear if the potential fight would actually take place – or if it would occur in a boxing ring or the mixed martial arts octagon.
Nurmagomedov defeated McGregor on Oct. 6 in a UFC fight and then climbed the cage and jumped at the men in McGregor's corner, setting off an extended brawl inside and outside the octagon. Meanwhile, two men from Nurmagomedov's entourage climbed into the cage and attacked McGregor, who defended himself before security personnel intervened.
Mayweather's fight against McGregor, meanwhile, was one of the most purchased pay-per-views in boxing history, suggesting that a fight against Nurmagomedov could do big business.
Mayweather, for his part, appeared eager on Instagram to make the fight happen.
"LET'S MAKE LAS VEGAS GREAT AGAIN," he wrote.
Source: Read Full Article