He marks the Broncos' James "The Jet" Roberts in his final home game today, yet this is a minor challenge to one he faces for the next two years.
Storm utility back, Young Tonumaipea, will leave Melbourne in July to take up a Mormon ministry in Germany, leaving behind the only family, friends, following and work he has ever known.
Wearing a white shirt and a black Mormon name tag, knocking on unfriendly doors, not speaking German, his sport unknown in the country, sacrificing an annual playing fee of $300,000 to live off the $10,000 he has already handed the Church.
On a mission: Mormon Young Tonumaipea will leave the Storm in July to serve in Germany.
His story is a sweet disinfectant to the dirt so often piled on the game by a few miscreants and a compliant media.
"This is important for me," the Samoan born but Melbourne raised 25-year-old says. "I've grown up with a love that has taught me that service for others is more than anything you can do. The best way I can serve others is to go on a two-year mission."
Leaving footy behind: The versatile centre was straight with Craig Bellamy from the outset.
Asked what he would do if he finds door after door shut in his face, he says: "I will find someone who needs help, even if it is to mow their lawn."
He says his inspiration comes from Lagi Setu, another Mormon of Polynesian background who played for the Dragons, Broncos, then did a two-year ministry and resumed playing with the Storm and finally the Roosters.
"Lagi was like me – in and out of the first team. I could see something in him that I envied. His happiness came after he served his mission. He was driven by the love of Jesus Christ. He didn't look at footy as everything in life. For me, coming straight from school to footy, the example of Lagi was that footy isn't everything."
In Young's first game of rugby league, at age 15, he made the Victorian under-18s team. He had previously played rugby union, whose trials were on Sundays. But the league trials were on a Saturday. "My friends who encouraged me to try out were filthy because they didn't make the team," he said, smiling gently.
So why is playing today for the Storm not a problem?
"The Church says it is a day of rest but if it is part of your occupation, they understand," he says.
The Mormon Church in the United States bends the rules even more for elite athletes, allowing them to forsake the ministry, justifying it on the basis they can do more for their religion by promoting it on the court or field.
This is not an option Young will countenance, and a stance which endears him to his coach, Craig Bellamy, who rails against those who take "the easy way out" both on the field and in life.
Young has occasionally taken a less-disciplined course on the field. He captained the Storm in the Auckland Nine's competition, reaching the semi-finals and scored a brilliant try, setting his club for the rich final. But then, in the final seconds, he folded infield in defence and the Roosters passed outside him and scored a match winning try.
Yet he is the Storm's most versatile back, having played right wing, right centre and now left centre this year, in an era where players specialise.
Tonumaipea's letter from Salt Lake City, Utah, headquarters of the Church of Latter Day Saints, came in the week leading up to the Storm's round 12 match against the Cowboys.
It reminded him he would turn 26 in September and Mormons must commence their ministry between 18 and 25.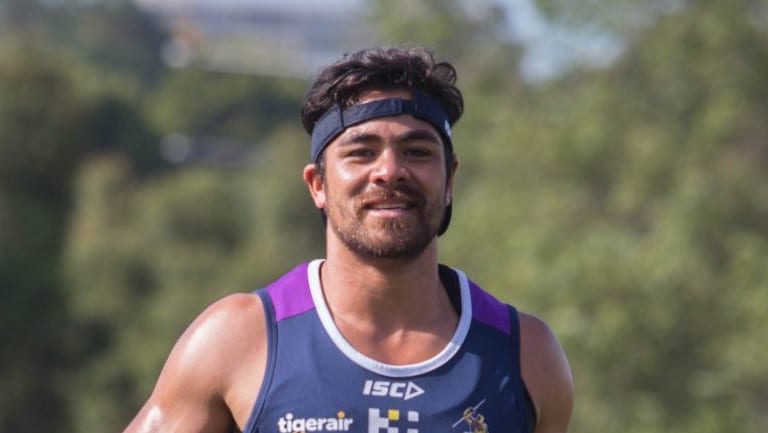 Devoted: Tonumaipea puts his religion above all else.
He waited until after the game and, aware that the bye followed, knocked on Bellamy's door to tell him of his plans. "I didn't want to rattle anyone and wanted to give the club time to find another player to fill my void".
Tonumaipea's family was concerned he would be cut immediately, allowing the Storm to sign another player before the June 30 deadline but Young, the eldest of five, knew better.
"My family wanted me to tell the club late but I knew Craig would be supportive," he said.
Bellamy is committed to the evolution of the player as a person, but is also a pragmatist. After acknowledging Tonumaipea's need to serve, he was grateful the departure of such a gifted utility back would occur after the Origin period when the Storm will lose outside backs.
Tonumaipea is the third Victorian to graduate from the local playing ranks to secure a contract with the Storm. Wests Tigers' Mahe Fonua, the robust, mullet-haired centre/winger and Souths' Richard Kennar, who plays the same position, are also Melbourne juniors.
Tonumaipea acknowledges that after two years in Germany, he will return to Australia with diminished skills.
For example, Canterbury's Will Hopoate looks set never to reach the brilliant heights many predicted when he came on the scene after himself doing his mission.
"I'm not worried by the loss of skill," he says. "My goal is to serve the people of Germany. But I do want to come back to play in Melbourne."
Asked if he would consider St George Illawarra, he looks at me quizzically before I add, "You could be a Latter Day Saint."
He chuckles softly.
Source: Read Full Article