Four Points: Beaten in the middle, Bombers get grounded
Essendon has no alibi. They are not GWS with a conga line of All-Australians and top draft picks out of the side.
Injuries are no excuse or explanation. They have only Joe Daniher and Andy McGrath missing from their best 22, and neither of them had hitherto this year been playing like they would be among the club's top picks.
Dejected: Essendon players trudge off the ground after their round 8 loss to Carlton.
Stringer, presumably a forward though goals don't presently seem to be a KPI, laid one tackle. One. Forward pressure is one of the most important fundamentals of most other teams' games, but Stringer wasn't taking part in that.
This paucity of pressure in the forward line in Stringer's numbers reflects another criticism pointed at the Bombers overall about forward pressure. It is the query over why they defend so deep and do not push up high and try to trap the ball in their forward line with high tackling pressure that other teams are successfully using.
One assumption is that when you play Daniher (or on Saturday Shaun McKernan), Cale Hooker and James Stewart as tall targets you sacrifice the pressure game. Other teams are playing one and a half or two talls and high-pressure forwards in their structure.
Like any team's approach it is only wrong if it does not work. At the moment it is not working. A tall or small forward line is only a matter of taste and using what you have. Essendon has talls so they go with talls. The problem is, it is not working.
Strung out: Essendon's Jake Stringer gets swamped by Carlton defenders in the goalsquare during a marking attempt.
Essendon this year have been the easiest side to score against once the opposition takes the ball inside their forward fifty. They are ranked last on the stat.
This then redirects the focus back on the coach and raises the legitimate query of the Bombers approach to the game, which then begs the question of why Essendon moved to re-sign John Worsfold to an extra two seasons when he still had the rest of this year to run on his contract.
What was the rush? Was anyone else knocking on his door? Was the upside of re-signing that they removed discussion of his future during the year and guarantee certainty and consistency in the year?
Well if it was it hasn't worked. The decision says that Essendon was sure in March that Worsfold was their man and four losses in a row later, including giving a loathed enemy their first win of the season, Essendon must be just as sure now that he is the right man.
The problems at Essendon have to be in large part coaching-based, because in the simplest of terms it is the coaches' job to get the best out of the players. Plainly at Essendon right now they are not. The players they have out there are capable of more and better and they are not delivering.
Does that make Worsfold the wrong man in May, when in March he was the right one? It can not be the case. It is his job now to navigate the way out.
The most critical problem at Essendon is that they are routinely beaten in the middle. Ed Curnow went to Zach Merrett on Saturday, and again a tagger was able to nullify his influence. And it has been proven regularly this year that when Merrett is beaten Essendon lacks drive.
Darcy Parish is a neat player made to look messy. Youth offers him less of an excuse now, after 50 games and in his third season. Dyson Heppell was Essendon's best player against Carlton, but he is not a natural inside player to fill the void that is present at the moment in the middle.
Compared to other big-bodied midfields Essendon looks small. That point was best reflected on Saturday by the dominance of Matty Kreuzer in the ruck and Paddy Cripps in the midfield. Essendon does not have a big Cripps type in the middle. It should be David Myers who can trade weight with players in that role but he just lacks the class of players playing the same role at other clubs.
The problems are deep and varied at Essendon. The leaders all take blame from the coach to the star recruit to the veteran leader.
Touchy subject
Steven May has been sent to the tribunal for touching the umpire. It can only be a matter of time before a Curnow also goes. Maybe one, possibly both.
Ed Curnow's grab or push of the umpire was the strongest of all three players who inexplicably decided it was a good thing to touch an umpire the week after Tom Hawkins was suspended for doing so.
Touch off: Carlton's Ed Curnow makes physical contact with an umpire in Saturday's match against Essendon.
Ed Curnow's act looked the most intentional. It was not malicious or aggressive, but there was little malice in Hawkins brush.
May's offence looked arguably more accidental than anything. He was trying to demonstrate a point to the umpire and in doing so bumped or pushed him with his head. It looked like accidental contact from an intentional act.
Charlie Curnow clearly pushed the umpire, almost protectively away from a mild confrontation. But he did lightly push him. If May is cited then both Curnows can most likely expect to be busy on Tuesday night.
All three are already guilty of stupidity and a profound lack of timing. A week after Hawkins guilty plea and week suspension was the dumbest of all time to touch an umpire now matter how lightly.
Surprise stars go up a gear
The default position on the best players of a season is to fall to proven stars. But this year after a third of the season a handful of players have elevated themselves.
Jackson Macrae is as responsible as anyone for the turnaround in the Bulldogs. Macrae is starring in the best form of his career. He has become more rounded than before, winning the ball inside and out. He hunts the man but then runs and carries. And he's good in the air. It makes him a very rounded package.
Paul Seedsman has been a star for Adelaide on a wing and raises a weekly question of why not only Collingwood let him go but also why so few other clubs took an interest.
Shaun Higgins has been superb for North and surpassed all expectations built on the first 12 years of his career of how good he can be. He has gone beyond the half forward flanker and occasional midfielder to be the class player that North have been crying out for.
His coach too deserves a mention when discussing laurels for performance this year. The Roos pushed Richmond with a team that is playing a game of keen understanding of their role.
Jack Darling has always shown promise with good games often followed by poor ones. After a promising start to his career he plateaued.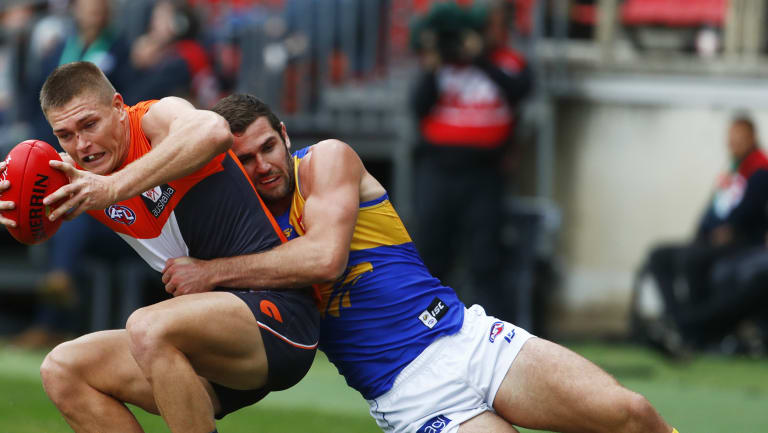 Bird of prey: West Coast's Jack Darling takes down Giant Adam Tomlinson in a dominant all-round performance.
This year he has taken his game to the levels that he promised early in his carer. He is quick and well-sized, and unlike the last few years he is attacking the ball in the air at the moment with a confidence that he will take the grab and kick the goal. He looks like he wants the ball, which is not something that could always be said of him.
Magpies hamstrung
To summarise: Scott Pendlebury was a late withdrawal, Jamie Elliott and Darcy Moore both did their hammies again, and Collingwood kicked at goal like St Kilda.
The Pies admirable response this season to its first round horror fell back on familiar themes: a lack of skill and composure, bad kicking for goal and Elliot and Moore out injured. This was like Collingwood of 2016 and 17.
Out of the long review last year the question that needs revisiting is how it is that the two most important fowards at the club have had no chance to get out there this year.
Elliott has not been seen and will now be at least round 14 or 15 before he is in the senior team. That would be at least three weeks' recovery then three weeks in the VFL getting the conditioning he needs. That is another lost season for Elliott who missed all of 2016 with a back and managed 17 games last year.
Elliott lasted one day of pre-season before the club realised that the plan that rest would fix his injury had not worked and he was sent off for the surgery that might have been had at the end of last season. He then did a hamstring in his comeback VFL game. This was his second VFL game on his return to the senior team and his second hamstring injury.
It was also yet another one for Darcy Moore. They have not had an Adelaide-like spate of soft tissue injuries but a cruel inability to get two of their key players out there.
Source: Read Full Article