It could be a lasting legacy of the new Brad Fittler era.
The NSW team have written their own team song, which they hope to belt out if they can win State of Origin III on Wednesday night.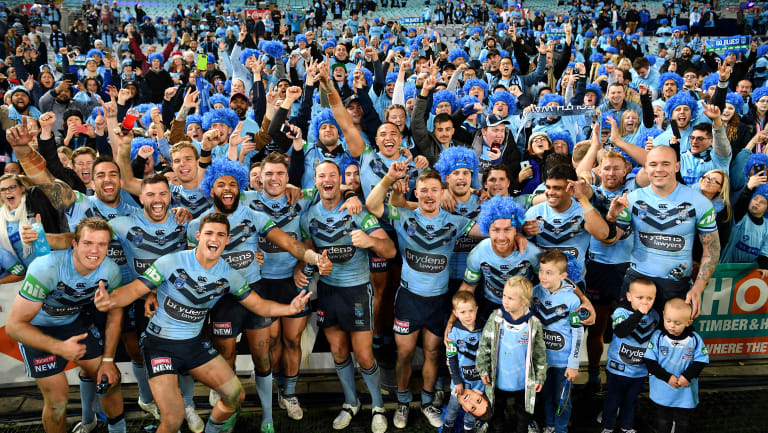 No words: NSW celebrate their Origin II win, sans team song.
It is understood the players came up with the lyrics on a bus trip earlier this week, based around the team slogan 'Whatever It Takes'.
The team rehearsed the song on Tuesday night.
"I'm sure we'll have to read off the sheets," Blues assistant Danny Buderus said on Wednesday morning.
"It's just great to have something the players can react to and respond to. The 'Whatever It Takes' slogan has been really good for us this year.
"I'm sure those words will be slipped in somewhere."
Fittler bemoaned the awkwardness of a victorious dressing shed following their game two triumph, where the song by Imagine Dragons was played over speakers.
The 'Whatever It Takes' phrase has been used as motivation for their entire campaign, with the image of an injured Brett Morris tackling a Maroons player last year hung in NSWRL offices.
There were suggestions the Blues might have copied the women's team song or taken an anthem from Jon Stevens, however players opted to create their own.
Buderus said there were two versions – one with stronger language than the other.
"We had the Premier in there for game two. We'd have the Premier edition and maybe not-the-Premier edition where there's a few more swear words or whatever," he said.
"It's all [about] a bit of fun, ownership and being accountable for being part of a group."
Buderus is confident the Blues rookies can upset the Maroons on their home turf and become just the eighth team in Origin history to claim a 3-0 series clean sweep.
"They get to run out on that fantastic stadium in front of a hostile crowd. It's something they haven't experienced before," he said.
"But at the same time, they've got a two-game series win there and a chance to grab the third game and really drive home a message that it has been a really good series for us."
AAP
Source: Read Full Article