Rival State of Origin coaches, NSW's Brad Fittler and Queensland's Kevin Walters, will take different mindsets into selection meetings in the next 24 hours.
"Freddy" Fittler connects thought bubbles; Kevvy is wedded to formulaic thinking.
Freddy raised eyebrows among the old guard when he floated the idea that he will select players he enjoys watching. That's good news for Roosters left centre Latrell Mitchell and Broncos right centre James Roberts, who can be spectacularly skilful, winning games with exhilarating bursts of speed and strength.
Change of approach: NSW coach Brad Fittler is set to change things up.
But no sooner had Freddy expressed his excitement about their attack, pivotal in scoring two tries in the Broncos versus Roosters match, then he launched another thought bubble with the warning they had also conceded two tries.
That last comment placated long-term NSW loyalists who know that the game's fundamentals decide Origin clashes: field position, completion rates, one per centers, staying alert at every ruck, an unselfish approach.
One thought bubble Freddy has consistently offered the media is his admiration for the blinding pace of Storm left winger Josh Addo-Carr. But Freddy has also hinted that he needs a bulky centre beside him. After all, the Maroons have been traditionally expert at keeping NSW pinned on their own line in attack.
The Blues will need strength, size and speed to return the ball from kicks and avoid being trapped in the shadows of their own posts. The Dragons' Euan Aitken is a robust right centre and, with Roberts able to play on the left, the pair are a strong combination.
Curtis Scott, Addo-Carr's left centre at the Storm, is a classic three-quarter with his sublime passing and positional play, but is slight of frame. However, Scott has a very high personal completion rate. This is another quality Fittler rates highly, pointing out that most long-term Origin players rarely squander possession.
But Scott's two-match suspension following his send off against Manly renders him ineligible for the first State of Origin match on June 6 at the MCG.
Fittler sometimes dispatches thought bubbles designed to deceive. Sure, he must be worried about the defence of incumbent NSW five-eighth James Maloney, but another issue must be accurate goal kicking. If the referees bring their high penalty counts from the NRL into the Origin arena, then both state teams will receive ample opportunities to kick two-pointers. Maloney has a high accuracy rate, but has missed some critical goals in past Origin matches. Queensland also have an agonising decision about whether to select a specialist goalkicker.
I've been impressed with the theatre Fittler has injected into the Origin series since his appointment. He has been candid in his comments, adding a touch of intrigue with the possibility Cronulla's Andrew Fifita could be included.
Expectation of the ball is sometimes more exciting than the ball itself and Freddy has added to the hype.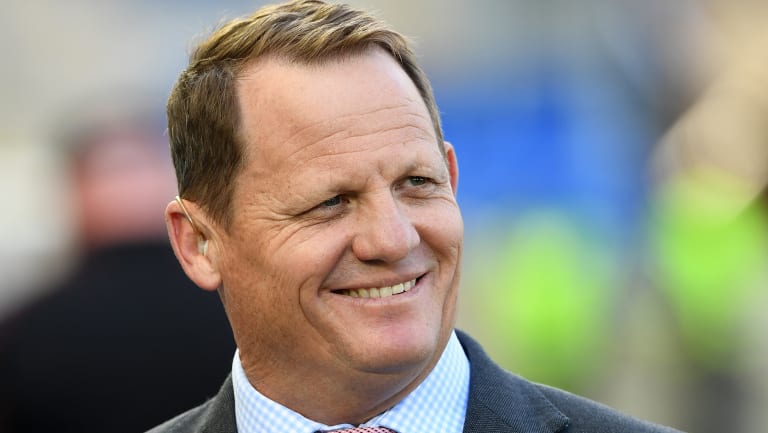 If it ain't broke: Kevin Walters knows how to win with Queensland.
While Freddy does concede the inevitable – there will be major changes in the NSW team because of past failures and age – Kevvy Walters admits he is wedded to Queensland's formula of rewarding players who have been successful in previous years.
However, Walters reveals it almost had him sacked last year. He chose too many out-of-form forwards for the first game, while also omitting fullback Billy Slater, who missed the 2016 Origin series.
The Maroons were thoroughly beaten in the first game, which caused major changes for the second.
"It got me into a lot of trouble," Kevvy admitted. "We, as selectors, learnt from that experience. It taught us that we have to be smarter about who we select. There will be changes in the forwards this year. We learnt from what happened last year."
The Queensland back line basically picks itself with the return of South Sydney's Greg Inglis to left centre in place of out-of-form Cowboy Justin O'Neill. Walters will almost certainly choose the Dragons' Ben Hunt and the Storm's Cameron Munster in the halves. Walters has multiple candidates for the flanks, but a winger with the best goal kicking percentage will probably get the nod.
Brisbane's Josh McGuire is expected to have recovered from his ankle injury in time to be selected. However, another veteran – Cowboys co-captain Matt Scott – is not playing well and surely Walters will insist on a fitness test before he is included. One forward who Walters can't possibly ignore is Titans No.13 Jai Arrow.
Asked what defines an Origin player, Walters said: "One with character. One who knows he is never beaten, regardless of the scoreboard, or the situation. One who is always in the game. That was demonstrated last year in the second Origin game when we were down 16-6 at half-time and had lost the first game. I could feel the positivity in the dressing room. The players were positive and so was I. It was a matter of staying in the game, knowing that a bit of field position, a bigger share of possession and some luck would fall your way and you'd win."
Source: Read Full Article