Just when you thought next week's Giro d'Italia Grande Partenza in Jerusalem could not get any more controversial.
Never mind accusations from human rights groups that the race is being used as a political tool by Israel, or the fact that the pre-race favourite will be riding under the threat of a possible doping suspension, news that Lance Armstrong is planning to attend the start of the first grand tour to kick off outside of mainland Europe – to report on it for his Stages podcast – sent cycling message boards and social media into frothy (and entirely predictable) meltdown.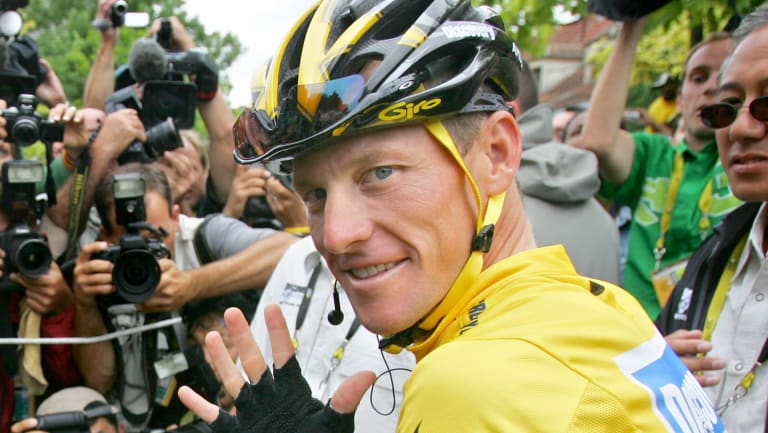 Public outcry: Lance Armstrong.
Reaction to stories concerning the Texan tend to follow a fairly well-established pattern by now, of course. This was no exception. One half felt that Armstrong's plans – which presumably accelerated last week after he managed to settle his $100 million (£72 million) lawsuit with the US government for a tidy $5 million, thereby freeing up a bit of time in May which would otherwise have been spent in a Washington DC courtroom – were a disgrace; that he was, as usual, trying to make it all about him; that he should be confined to the seventh circle of Hell along with all the murderers and rapists etc, etc. The second half was basically of the opinion that the first half should get over it.
At the risk of sounding soft on crime, we must be getting to the stage now where most sane people would side with the latter group. Clearly Armstrong does not deserve to be the Giro's guest of honour in Jerusalem. The 46-year-old was a whopping great cheat and – of more relevance where his current treatment by the sport is concerned – a bully, who ruined the careers of many of those who threatened him. He is now serving a lifetime ban from the sport for doping offences. That is all well and good.
But trying to erase all memory of him, or simply pretend he "no longer exists" – which is what RCS Sport's director Paolo Bellino claimed when asked about the expected presence of Armstrong at the race – is ludicrous.
It is also unfair. Armstrong has a point when he talks of the double standards in cycling. While other ex-dopers run teams or commentate on races, he is banned for life.
While riders such as Marco Pantani, Bjarne Riis and Jan Ullrich have all been allowed to keep their Tour wins, there are only blank spaces next to the years in which Armstrong reigned. While Pantani remains a hero in Italy – the Giro has in the past visited the statue of him on the Galibier – Armstrong cannot even go and watch a race from behind the barriers alongside other members of the public, without being told he is going too far. It cannot be one rule for one and another for everyone else.
Besides, there are much bigger things to worry about than whether or not Armstrong attends a race; whether the Giro should even be going to Israel, for a start. Whether the race is being used as a tool to "whitewash" the image of the country, as one human rights group has alleged. Whether RCS is completely out of its depth on all this.
Armstrong's presence in Israel – while it adds another nice little subplot to the overarching narrative – is irrelevant by comparison.
And whisper it, his podcast is also rather good.
The Telegraph, London
Source: Read Full Article