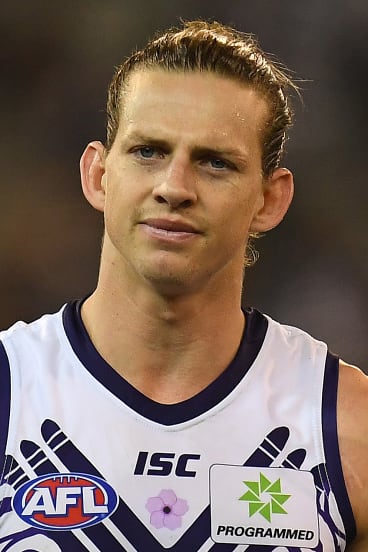 Gone: Nat Fyfe will miss one match.
Nat Fyfe remains ineligible to win the Brownlow Medal after the AFL Tribunal upheld his one-match ban for striking Collingwood's Levi Greenwood.
Tribunal jurors Wayne Henwood, Jason Johnson and David Neitz took 23 minutes on Tuesday evening to decide Fyfe's elbow to Greenwood's head during Sunday's game at the MCG was intentional rather than careless.
Fremantle captain Fyfe had entered the round as clear favourite to claim what would be his second Brownlow. Hawthorn ball magnet Tom Mitchell is now the outright favourite with bookmakers.
Fyfe will also miss Sunday's clash with Adelaide, which would have been his 150th game for the Dockers.
Tribunal chairman David Jones had specifically instructed the jurors not to take into account Fyfe's Brownlow eligibility when reaching a decision.
Fyfe did not dispute that he struck Greenwood, nor that his conduct was high contact with low impact, but argued that his conduct was careless, rather than match review officer Michael Christian's classification of intentional.
Fyfe said he approached the contest with Greenwood that there was "going to be a 50-50" contest with Greenwood.
"I thought I was a genuine chance to take possession of the ball," Fyfe said via video link from Perth.
Fyfe said that at the last moment Greenwood raised his fist to punch the ball away, catching the Dockers skipper by surprise.
Fyfe then said his decision to raise his arm had been "evasive action" to "move my head out of the firing line".
The Docker claimed he was "not exactly sure why I chose to leave the ground," noting that the incident happened quickly.
"I just turned away … to protect myself," Fyfe said, describing his action as an "instinctual response" done for "self preservation" purposes.
AFL counsel Jeff Gleeson QC submitted that Fyfe could have tucked his arms in to protect himself.
Fremantle counsel Nick Tweedie QC showed four examples from recent seasons of incidents which were classified as "careless" acts.
In his closing submission, Gleeson noted the tribunal guidelines outlined that a raised forearm was "usually conclusive" of an intentional act, while also highlighting that while Fyfe didn't come out after half-time with the intent of hurting Greenwood, the act could still be classed as intentional even though it was a "spur of the moment" occurrence.
Source: Read Full Article