Greenberg tells referees 'to be better' as axe poised over Sutton
NRL boss Todd Greenberg has told his besieged referees they have to improve immediately as the axe threatens to fall on the match officials involved in the calamitous Sharks and Raiders clash last Friday night.
Fairfax Media understands the game's no.1 whistleblower Gerard Sutton, who officiated in all three State of Origin clashes this year, could be banished to a low-profile match this weekend when the referee appointments are finalised on Tuesday.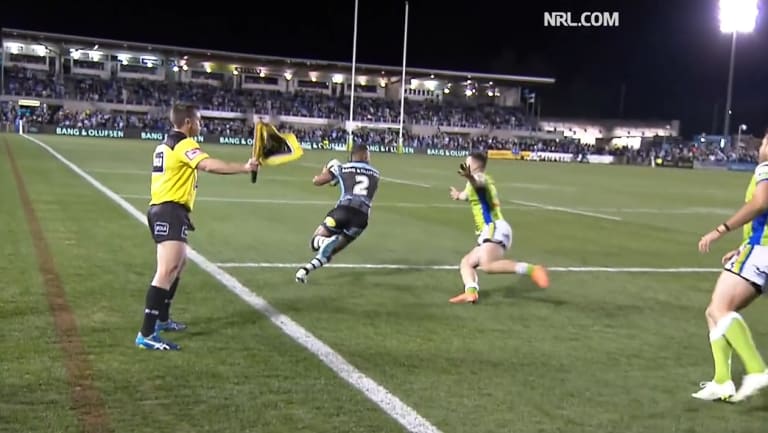 In the firing line: Touch judge Rick MacFarlane incorrectly puts his flag up during Friday night's Sharks-Raiders game.
Touch judge Rick MacFarlane, who incorrectly raised his flag in the lead-up to a controversial Cronulla try, is tipped to lose his spot with the fate of NRL bunker officials Luke Patten and Henry Perenara also uncertain after green lighting a crucial Sione Katoa four-pointer.
It comes on the same day Greenberg quizzed referees bosses about the confidence levels in the ranks of the NRL officials before telling them they "had to be better" in the finals run-in.
"I'm frustrated sometimes, really frustrated," Greenberg said on Monday. "We should be getting those decisions [in the Sharks-Raiders game] right. They impact games and they impact livelihoods.
"The simple answer is our referees and our match officials will get lots of good support, but they've got to improve their performance. We've got to own our problems … and we've got to be better.
"[And] I don't want to see one fan turned away from the game. That's my absolute utmost priority."
It comes after a harrowing weekend for the game's men in the middle, prompting furious Raiders coach Ricky Stuart to question how many people had been driven away from the NRL by this year's officiating.
Canberra's faint finals hopes were all but snuffed out with their loss to the Sharks.
Sutton is set to be the first casualty with his brother, referees boss Bernard, tipped to assign him to a game with limited finals implications despite accusations of nepotism in the whistleblower ranks.
"I hear that nepotism word, but what I can tell you on the inside [is] probably the person hardest on his brother is the coach," Greenberg said.
"Gerry had an unbelievably strong State of Origin series. He's one of our very best referees, but like players sometimes people are going to make errors. We've got to continue to help them improve their performance.
"You can take it as read some of those appointments [for round 20] will reflect that disappointment. There has to be accountability – that's across all levels – including me. And there has to be accountability taken [on Tuesday]."
Greenberg also staunchly defended the role of the multi-million dollar bunker, denied allegations too many people were meddling with on-field officials during the course of a game and urged the referees to keep their self belief as he shared responsibility for the fallout.
Fans and commentators have lamented the stop-start affairs of NRL matches this year, littered with penalty blitzes and video referrals. But Greenberg remains unapologetic about technology's role in the game.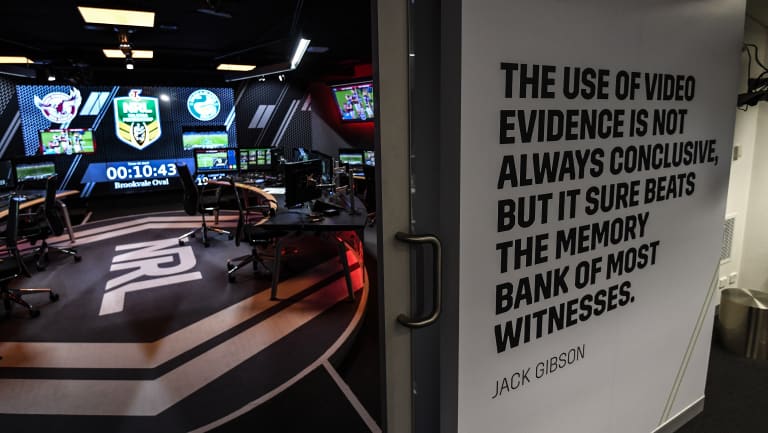 Bunkered down: The NRL Bunker is here to stay, says Todd Greenberg.
"It's certainly not time to blow up the bunker," he said. "Technology is here, technology is now in every sport. The challenge we have is the human element running the technology.
"We need technology to continue to improve the sport. It will continue to help our sport and it is helping our sport. But it comes down the absolute human error of those people making decisions."
But they found an unlikely ally in stand-in Rabbitohs captain Sam Burgess, who himself has drawn the ire of referees on several occasions this year.
He was caught up an imbroglio with former teammate Robbie Farah during South Sydney's shock loss to the Wests Tigers last Saturday night, arguing he shouldn't have been penalised and placed on report for a hit on his teammate just a few weeks ago.
"It is one of the hardest jobs in the world," Burgess said. "I think the more we talk about it the harder it gets for them.
"We're all saying we want the game tidied up. but that means more penalties. We want free flowing, [but] it is hard. Me, as a player, I want to get on with the game and for it to be adjudicated as fairly as possible. They are pretty good."
Source: Read Full Article