Guthrie's improbable journey to the Giants
Like so many netballers over the years, English import Serena Guthrie was powerless to say no when coach Julie Fitzgerald came calling in 2016 to offer her a starting spot with the fledgling Giants.
Guthrie had just started to carve out a life in Auckland, having played two ANZ Championship seasons with the Northern Mystics, but the competition was disbanded when Netball Australia opted to start a new league without the participation of New Zealand clubs.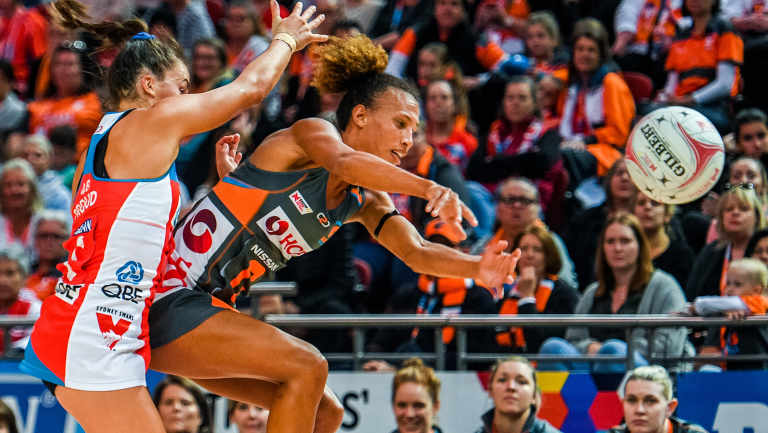 Dynamic: English import Serena Guthrie has been in superb form for the Giants.
It left Guthrie facing a big choice over which side of the Tasman Sea to ply her netball trade, and guided by her lifelong sense of adventure the dynamic midcourter was compelled to move to Australia.
"There was a lot of controversy at the time … no one really knowing what the heck was going to happen and when that league split I had to make a choice," Guthrie said.
"As an import player I didn't really have any particular allegiance. It was more 'where do I want to get to and try and take my game to?'
"From an international perspective I thought I should take up an opportunity to try and play in an Australian league just to try and increase my skill level and my repertoire. When Jules called, as we all know she's pretty hard to say no to, I just jumped at it."
To call Guthrie's journey to western Sydney convoluted would be understating the pathway of her varied life.
She grew up on the island of Jersey off France's north-west coast, having moved with her mother from her birthplace of Peterborough at the age of eight.
While still living on the mainland she used to fly alone to Jersey to visit her Nan, wearing a fluoro-coloured high-visibility vest and being guided by airline staff throughout the journey despite being barely six years of age.
Those trips travelling by herself forged a strong sense of independence which further down the track allowed her to pursue a netball career on the other side of the world.
Jersey is a tooth-shaped island of about 100,000 inhabitants only 14km long at its widest point, but it's an island which is sporting mad, and Guthrie soon flourished in her new surrounds.
She excelled in athletics and football but it was netball where she made her mark. That meant more trips to the mainland as she started working her way through England's youth rank, although it wasn't until four years ago she was given the chance to play the game professionally.
She was teaching PE and geography in Bath when Mystics coach Debbie Fuller offered her a spot as the club's import player.
A year earlier the Canterbury Tactix had been in touch but a contract offer didn't materialise.
Fast forward again to this year and Guthrie is one of the league's in-form midcourters, set to play her 50th national league game on Saturday against the Queensland Firebirds, and boasting a shiny Commonwealth Games gold medal to boot. She's also a DJ in her spare time.
"It's been the best career move I think [joining the Giants]. It's enabled me to take my game to a more world-class level," Guthrie said. "My basics, my emotions and how I channel them throughout the game and that's credit to Julie and what she's able to do in a very good environment here. I'm very happy I got that call."
Guthrie's life, and that of her England teammates, changed last month when they downed the Australian Diamonds against all odds to land the country's first gold medal in the sport.
At long last, netball penetrated through to the English mainstream media. Newspapers trumpeted the Roses' success on their front and back pages, television and radio networks ran lengthy interviews with the winning team members, and they were even offered a spot in the Royal Box at the recent BAFTA awards.
"It's probably the single greatest moment in English netball so far," Guthrie said.
"As an athlete the best thing you can do is win and win medals in order to try and put your sport on the map and to try and get people to notice you as a serious sport.
"We had the women's rugby and the women's hockey and also the women's cricket win gold medals over the last couple of years. We were feeling the pressure a bit in terms of success and actually winning a medal and getting some silverware.
"I felt like for the first time we were taken seriously and people were genuinely interested about our journey and what we've been going through and they wanted to share that success."
Ultimately Guthrie envisions a life back in Jersey raising a family once her netball career comes to an end.
"I don't have many years left in me. I want to go and do other things and at some point I'll have to think about that and how I transition out of netball," Guthrie said.
"I love being out here and I love Sydney but I also really miss England as well. When you get older you find that sense of what home is.
"I miss it [Jersey] more now I'm older. When I was young I was like 'oh I need to get off and see the world'. Now I'm like 'I do miss it'."
Source: Read Full Article