There could soon be an offer on the table to purchase Manly after a group of high-powered business people were being sounded out about the prospect of buying out the Penn family.
The development comes as the Sea Eagles directly addressed Prime Minister Malcolm Turnbull to abandon plans to banish lottery-betting sites from Australia, such as the club's major sponsor Lottoland.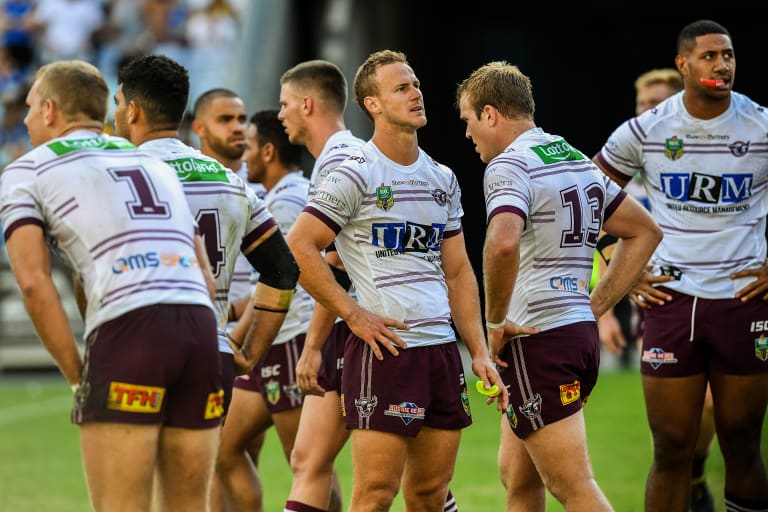 Mid-season sale: There could soon be an offer on the table to buy the Sea Eagles.
The Sea Eagles have lurched from one crisis to the next during a forgettable start to their 2018 premiership campaign, placing financial pressure on their backers. The Penn family is the majority stakeholder in the club and there is a belief coach Trent Barrett and his staff aren't being properly resourced.
While the new funding arrangement struck between the NRL and its clubs has made private ownership more palatable, it's understood chairman Scott Penn is frustrated at constantly stumping up the cash required to make the Silvertails competitive. Penn has already invested more than $10 million of his own money into the club and last week reiterated he intends to remain long term.
That hasn't dissuaded moves to put together a consortium capable of an offer that would force Penn to reconsider. Fairfax Media can reveal that Hong Kong-based investor Harry Cheung is one of the parties sounded out. Cheung is no stranger to the Sea Eagles, having previously been the major sponsor of the club via his company, Kaspersky. The firm has plenty of experience in the Australian sporting market after entering into a number of AFL sponsorships, with Cheung retaining a link to league as a backer of the North Sydney Bears.
The multi-millionaire businessman had previously attempted to buy out the Penns without success, but there's a belief he may get a positive response if another offer is tabled.
"I have interest, for sure," Cheung told Fairfax Media from Hong Kong. "I've been thinking about it but the timing right now is not the best timing because I have my company in Hong Kong going for a run.
"We are pretty busy at the moment with the technology starting up here. I need a few months to understand my own position.
"The main thing depends on if I have that kind of time, to invest my money there. I don't want to invest my money there without managing it at all, I'd want to get involved if I put my money there."
At least two other potential investors have been sounded out to gauge their interest in acquiring Manly. The Sea Eagles' stocks are low after being pinged for salary cap cheating, the Gladstone strip club saga and a 2-6 start to the year that has left them in a share of last spot on the ladder.
While Penn may be hopeful of an offer of around $10 million after a finals finish last season, the club's value has taken a battering after recent dramas and he will likely be furnished with a deal worth well below that mark.
Cheung, involved with the club during its 2011 premiership, believes the halcyon days can return with the right people at the helm.
"Manly has always been a very unique type of club in the competition," he said.
"They are situated a long way from the city and when they play home games they call themselves 'the fortress'.
"They are like a big family, I really liked the atmosphere that was there before. I still keep my eyes on them every now and then, but it isn't the same any more.
"The culture is still there, it won't take long to rectify the situation if somebody manages the company the right way."
Asked about his previous buyout attempt, Cheung said: "I actually talked to [Penn] while I was a sponsor. At that time, I offered if he wanted to partner or sell or whatever, I talked to him about that.
"He didn't respond to me, he said he would never sell. That was the answer. Since then I haven't asked again."
Penn told Fairfax Media last week he would be staying put.
"We've got an obligation to, we've come a long way," Penn said.
"We know this game comes in cycles – we've had some phenomenal success and we've had some disappointments. That's the trials and tribulations of the game."
The salary cap sanctions – including a $750,000 fine ($250,000 suspended) has put further financial pressure on Manly.
Meanwhile, in what is shaping as a further blow, "premier sponsor" Lottoland – which has contributed more than $1 million in funding over the past two years – could be hit by the proposed ban on online lottery betting.
In their letter to Turnbull, Penn and Manly CEO Lyall Gorman implored the government to reconsider its position.
"…the proposed ban on online lottery betting will have a serious financial impact on our organisation, our members, our supporters and our wider communities," the letter stated.
Source: Read Full Article