Newcastle Jets have taken a firm stance against ticket scalpers vowing to permanently ban any member caught privately selling tickets for Saturday's A-League Grand Final at an inflated price.
The last ticket to the first decider of any football code ever to be held in Newcastle was purchased just minutes after going on sale to the general public and it was only a minute later before others were put up for sale online at more than 750 per-cent of the retail cost.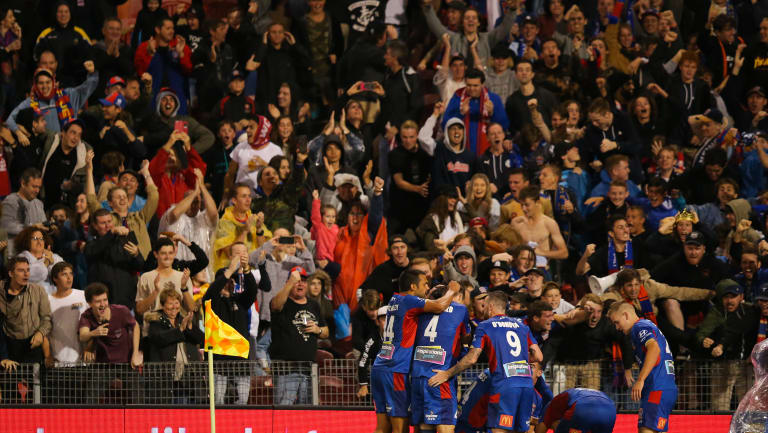 Dream run: Newcastle's Jason Hoffman celebrates with teammates in front of home fans after scoring in the semi-final against Melbourne City.
Fans hoping to watch the Jets grand final against Melbourne Victory at McDonald Jones Stadium on Saturday night are now being asked to pay as much as $1277 for a single adult ticket on the resale website of Ticketmaster. The extraordinary inflation on ticket prices has caused fury among football fans with the most expensive adult ticket for the decider priced at $150 at the original point of sale.
As of Tuesday afternoon, the cheapest ticket available on the official resale site was $383, prompting the hosts to take a hard line approach to any members caught scalping.
Jets chief executive Lawrie McKinna has urged the public to expose anyone responsible for exuberant scalping. If any are found to be members of the club, they will have their memberships cancelled immediately and be blacklisted for the future.
"Shocking. If anybody gets offered these tickets at an inflated price, give us some names and we'll check if they're a member. If they're a member they'll no longer be a welcome member at the Newcastle Jets," McKinna said.
More than 20,000 tickets were purchased by members of both clubs on Sunday during the members-only sale period. It's understood the average number of tickets purchased by each individual buyer in that stage was 3.19 per sale. The remaining tickets to the 33,000 capacity stadium were bought by the general public on Monday afternoon.
The Jets have been inundated with requests for tickets from members who missed out and the club is working with Football Federation Australia to find any that will not be taken up by corporate partners to make them available directly to fans. Instead of the usual process of putting those back on sale via ticket providers, the FFA will hand those directly to the club who will give any available to its members.
"FFA have been working really hard to secure us more tickets," McKinna said. "We're still to get the tickets that come online that sponsors don't pick up and other clubs don't pick up. Normally they would go straight to Ticketmaster but FFA have directed them to us. So over the next day or so we'll be contacting members. Some might want six or eight tickets but we'll get them some tickets at least."
Meanwhile, it's understood additional transport has been provided by the NSW Government to account for the number of fans expected to make the trip from Sydney to Newcastle. Additional trains have been provided along the Hunter and from Sydney before the match. It's expected that three extra services have been put-on late on Saturday night to bring fans back to Sydney after the game with confirmation set to be made on Wednesday morning.
Source: Read Full Article