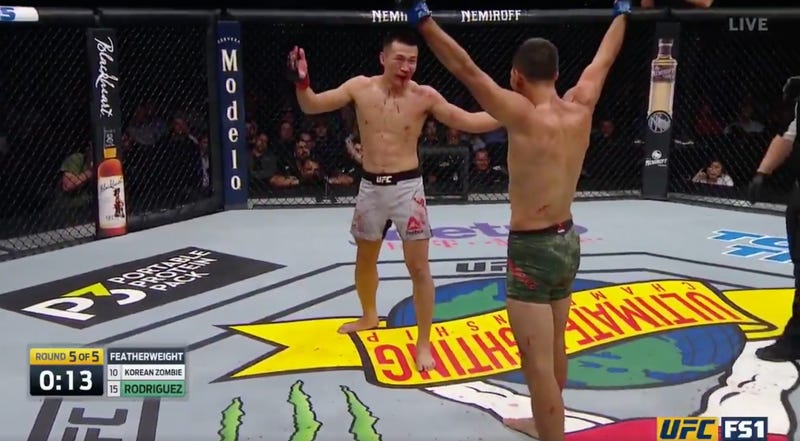 Twenty-four minutes and 58 seconds into his main event fight against Chan Sung "The Korean Zombie" Jung, Yair Rodriguez was losing. If the fight's final two seconds had elapsed normally, Jung would have probably gotten the decision and re-announced himself to the UFC's featherweight division by winning a ludicrously entertaining action banger against a highlight reel finisher. Rodriguez needed a miracle, basically. And that's exactly what happened.
This blind up-elbow KO is the latest knockout in UFC history, and it was a fittingly violent end to a vicious fight. Both men were hospitalized after the bout, and Dana White called it the "craziest finish ever." Most fighters could only hope to land a shot of any kind on their opponent in Rodriguez's position, seconds away from a loss, but to see an actual Hail Mary attempt succeed in such an emphatic way is rare as hell. Rodriguez's KO was even more stunning since it was a no-look counter up-elbow that was perfectly located right on the Korean Zombie's jaw. It wasn't like it was a lucky strike or anything either; Rodriguez caught Jung with a counter elbow earlier in the fight, and he clearly wanted to counter Jung's forward motion. This is some true Derrick Lewis shit.
Between this late stoppage and his flying head kick on Andre Fili, Rodriguez now owns two of the best UFC knockouts of the past few years.
Source: Read Full Article