Justin Langer's appointment on a four-year contract as Australia's new coach capped a week where Cricket Australia began to rehabilitate its brand, but intriguing questions remain.
Langer, the tough-as-teak former opening batsman who took a decade to finally secure his spot in the Test team, is seen as the man who will regenerate on-field performances and, more importantly, begin to repair a culture that spiralled out of control in Cape Town during the ill-fated series against South Africa.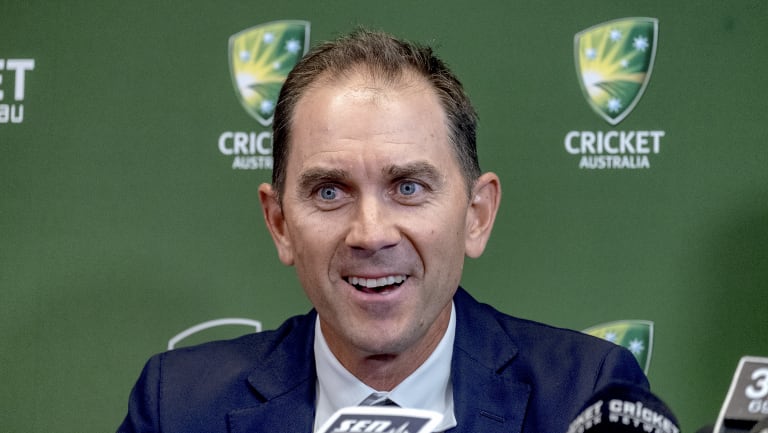 Right man for the job: Justin Langer.
Aaron Finch is also in the frame to take charge of the one-day team – he had led the Twenty20 side between 2014 and 2016 – but Langer is understood to have expressed some concerns about his training habits. Whether that view has changed, we may soon know. Ideally, the new one-day international skipper can remain through next year's World Cup but captaincy in the 50-over format is not as demanding as Tests, so a change between now and then would not be catastrophic.
Langer was quick to mention Bob Simpson, Australia's first specialist coach, at his introductory press conference on Thursday. Of Australia's seven coaches since the position was created in 1986, Simpson is still regarded by many to have had the greatest influence for the team he inherited had been decimated by retirements and a rebel tour to South Africa. His successor Geoff Marsh had little say under Mark Taylor's captaincy, John Buchanan helped a good team become great, Tim Nielsen inherited a fading unit, Mickey Arthur was seen as too soft while Lehmann, ultimately, was seen to be too aggressive.
Simpson was coach when Langer made his Test debut in a gut-wrenching loss to the West Indies in Adelaide in 1992-93 in a team that was two years away from being the world's best.
Langer, who will be good for a quote, will have a grace period over summer for expectations won't be as great without Steve Smith and David Warner – the team's two best batsmen – and opener Cameron Bancroft, who have all yet to be told what their 100 hours of community service will involve. If Australia does stumble over the next year – and, remember, they still have arguably the world's most potent pace attack and No.1 spinner – the public will also be expected to temper its reaction.
But should Langer then revive fortunes, rectify cultural issues and even claim next year's World Cup, as Simpson's side rebounded to do in 1987, Langer has the chance to match Simpson in terms of his legacy.
Source: Read Full Article