As the fastest man in the NRL, Josh Addo-Carr's pace is often described as lightning.
But there is more lightning to the star Melbourne Storm winger than meets the eye.
Pride: Josh Addo-Carr training with the Indigenous All-Stars this week.Credit:NRL Photos
The Blacktown-born flyer is a proud Indigenous man with two Aboriginal parents. When he made his first-grade debut for Wests Tigers in 2016, elders from his father's side of the family dubbed him Kurramurra.
In the Yarrabah clan – which resides just north of Cairns – Kurramurra translates to lightning.
Naturally, Addo-Carr took the new moniker and ran with it in the form of a full leg tattoo.
Kurramurra: Addo-Carr's leg tattoo.
The eye-catching ink is the 23-year-old's third tattoo and doubles as a nod to the Indigenous culture he will represent at AAMI Park on Friday night.
He has a full sleeve as a tribute to his mother's heritage – the Wiradjuri clan – and the Aboriginal flag on his left wrist, highlighting the significance this fixture holds for Addo-Carr's family.
"A lot of excitement, over the moon and just proud, obviously," Addo-Carr said of his family's emotions when he was picked.
"I can't wait to run around on Friday night and just represent.
"I know it is going to be a really tough game – I know that. The Maori boys are very proud of their culture and who they are and I know we're very proud. I'm very thankful to be a part of it."
The All Stars concept has taken on new meaning this year.
Quicksilver: Josh Addo-Carr has put the All Stars game on the same pedestal as being picked to play Origin.Credit:NRL Photos
Maori players who aren't well versed in their own background have dived head-first into the history of their families and the Indigenous players are putting plenty of thought into who will replace Greg Inglis as the leader of their pre-match war dance.
The pride within both the Indigenous and Maori camps means there will be no love lost come 8pm Friday and Addo-Carr put the honour of being picked by fans to play on the same pedestal as making his State of Origin debut last year.
"It's up there, it's definitely up there," he said. "As a cultural thing I think it's the pinnacle.
"But I think it's the same thing – I'm representing my culture on the biggest stage in Origin and it's pretty much the same (here)."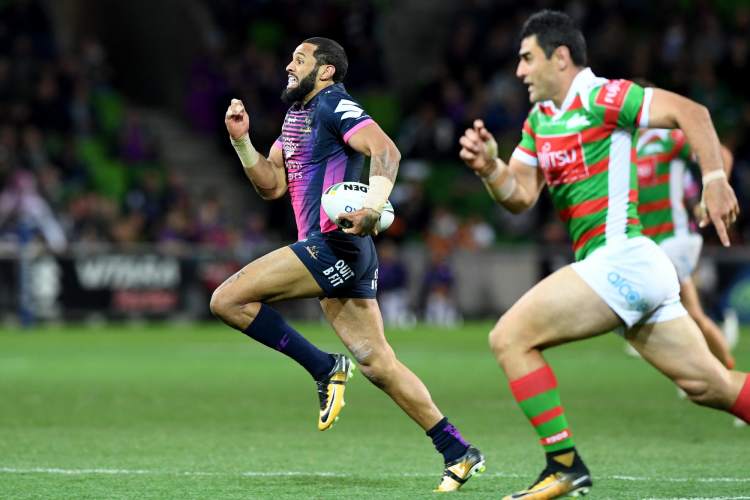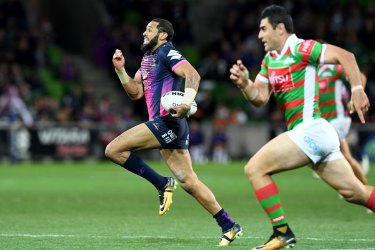 Full speed: Josh Addo-Carr.Credit:AAP
Addo-Carr cuts a lighthearted figure with his contagious laugh only rivalled by the great Johnathan Thurston but beneath the surface, he is well aware of the standing he has within both his own community and other towns around Australia with a large Indigenous contingent.
He has taken it upon himself to join Melbourne's Indigenous welfare officer Pete Robson on the road, visiting townships and communities across Australia in an effort to share his story.
"(Robson) always goes around Australia and does men's gatherings and that," Addo-Carr said.
"Where I'm from in Redfern there is always heaps of community stuff so I'm always trying to get back there and try to give back.
"I just travel all around Australia to go and meet people and try to put a smile on people's faces and to tell them a bit about my story.
"Just trying to make people's lives a bit better – I'd do it for anyone. I will go to anyone's community just to put a smile on their faces."
Friday's match will be a family affair for many players and it's no different for Addo-Carr. But when the whistle blows, he believes both sides will be all business.
This will be no NBA All-Star Game, in which both teams barely kick out of first gear.
It will be a full-blown contest and while Addo-Carr stopped short of saying he expected fireworks, the Storm flyer wouldn't be surprised if the game takes a serious turn when push comes to shove.
"We don't play this game to lose – everyone wants to win – and I know the Maori boys are here to win," he said. "Our boys are here to win and it's going to be a massive game. It might turn into an Origin game, I don't know. [We're] just two very proud cultures."
Source: Read Full Article