Matt Ryan is set to become the highest-paid player in the NFL.
Ryan and the Atlanta Falcons agreed to a five-year, $150 million contract, establishing a new standard for top-paid NFL quarterbacks at $30 million per season.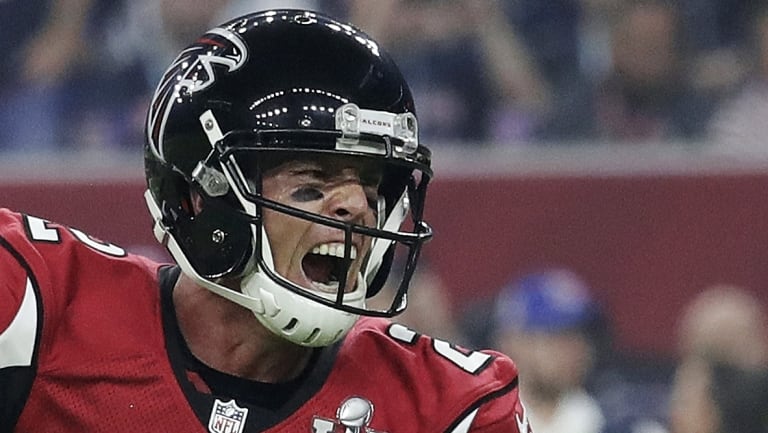 Making it rain: Falcons quarterback Matt Ryan.
"Matt is getting what he has earned and we all know the marketplace for a great quarterback," Falcons owner Arthur Blank said. "League revenues are up, club revenues are up, new stadiums and the players are the heart of the game."
General manager Thomas Dimitroff felt the team was close to a new deal with Ryan as the NFL draft ended last week but would only summarize the negotiations as being "on the right path."
"I'm excited to be here that's the biggest thing and I think all of those things will take care of itself," Ryan said of the state of talks at the start of the Falcons' offseason workout program.
Of the $150 million potential total value of Ryan's contract, $100 million is guaranteed, according to ESPN's Chris Mortensen. The deal exceeds what the Minnesota Vikings gave free agent Kirk Cousins — three years, $84 million, fully guaranteed. In the final year of Cousins' contract, 2020, he is set to make $29.5 million as a base salary and $500,000 in the form of a workout bonus, which would put him even with Ryan. Cousins can max out at $90 million over three years with incentives.
Jimmy Garappolo signed a five-year, $137.5 million contract with the San Francisco 49ers with $74.1 million guaranteed and an average annual value of $27.5 million. Garappolo can return to free agency after the 2020 season at age 28 having earned $86.4 million in three full seasons with the 49ers.
Aaron Rodgers of the Green Bay Packers is likely next in line for a massive payday.
Ryan, 32, was the third overall pick in the 2008 draft.
Ryan has 41,796 passing yards and led the Falcons to the Super Bowl during his MVP season of 2017. He has 260 touchdowns and 126 interceptions while completing nearly 65 percent of his passes in his career and owns the franchise record in nearly every major career passing category.
Reuters
Source: Read Full Article