Jake Carlisle feels he is "very mature" and sees himself as a leader who can help haul St Kilda out of the doldrums.
The defender is effectively in his second season at the Saints, his first having been wiped out by a doping suspension. Carlisle has been no stranger to controversy since being traded from Essendon, but has also emerged as one of his side's most dependable players.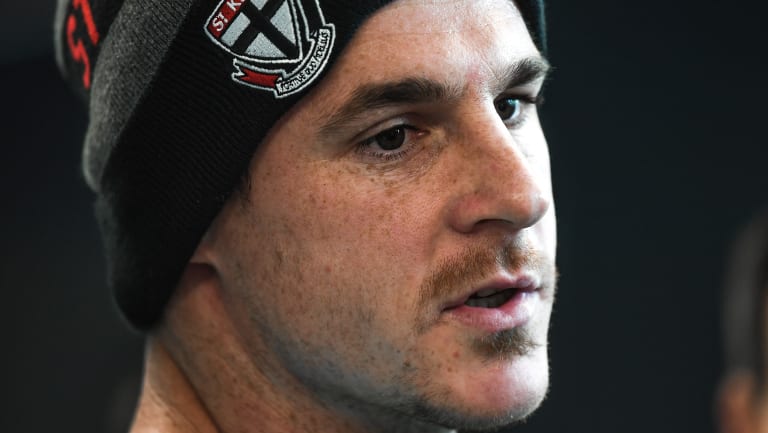 St Kilda's Jake Carlisle on Tuesday.
He is one of few shining lights in a year that thus far hasn't gone to plan for St Kilda, who have just one win and a draw from their first six games, a season in which the club had projected they would be pushing well into finals calculations.
Carlisle said that while the beginning of the season had been disappointing, the mood at Moorabbin remained buoyant, and that he was among those leading the Saints through troubled waters.
"I'm 26 now. I feel like I'm very mature and I've got a lot to give to these young guys coming through," Carlisle said, noting that he was helping to mentor young defenders Hugh Goddard, Darragh Joyce and Logan Austin.
Carlisle (left) with teammate Jack Billings.
"I feel like I am maturing, but at the same time still learning things along the way. Being a leader at this club, guys are going to look up to me and other guys as well."
Carlisle made unwanted headlines in late 2015 for a video appearing to show drug use on a trip to the United States and then last year conceded he went too far in an on-field exchange with Carlton's Marc Murphy in which he made inappropriate comments about the Blues captain's wife.
Carlisle's off-field life is changing. He is doing some assistant coaching at TAC Cup club Calder Cannons and his partner is expecting a baby. However he acknowledged that he was still a work in progress, having been criticised publicly for his poor body language on the field earlier this season.
"It's not ideal. That just shows that I care about how we're going and where we're going as a club," he said.
Among St Kilda's many issues this year has been a lack of potency inside attacking 50. They are averaging just seven goals a game since round two, with their accuracy in front of goal extremely poor for a second year running.
Carlisle said he would continue to swing forward now and then but remained primarily a defender. He backed his teammates down the other end to turn things around.
"We've got guys out there that practice week in, week out on their craft and their goalkicking with [goalkicking coach] Ben Dixon," he said.
"They seem to always kick it at training but come game day we seem to miss. That's pressure, that's footy. That's how it is these days. We've just got to focus on getting better entries and maximise the opportunities to our forwards and hopefully get easy goals."
And Carlisle was adamant that the season was not yet a lost cause for the Saints, who take on Melbourne at Etihad Stadium on Sunday.
"It's disappointing. We're not playing our best footy. Coming into the year we did have high expectations. [We're] obviously not playing to that calibre.
"But the good thing is it's round six. We've got 16 rounds left to rectify that. We're just going to take it a week at a time. We've got Melbourne this week and hopefully we'll come out firing and get our game back.
"We've just got too many guys out of form. A lot of guys can get better.
"We've got a lot of improvement to go."
Source: Read Full Article