AFL chief executive Gillon McLachlan has poured cold water on the prospect of trialling 16-a-side footy games.
Newly elevated legend Kevin Sheedy floated the idea this week, believing it would go a long way to clearing up congestion around the ball which has become an unsavoury feature of the modern game.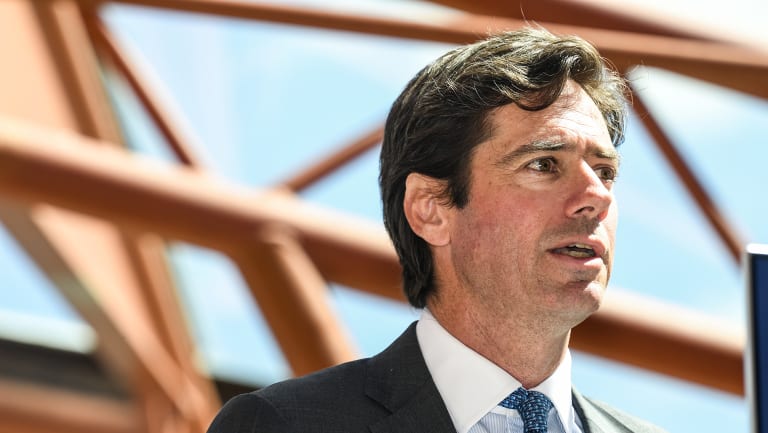 No moves toward 16 a side: Gillon McLachlan.
But McLachlan suggested there were other ways space could be created on the field, such as restricting the number of people in the centre square until the ball is cleared.
"I think 18 a side is a pretty fundamental part of our game," McLachlan told 3AW on Friday.
"I have had coaches put to me, and real footy people like Sheeds say, it [16 a side] would create a lot of space. But I do think 18 is part of our game.
"I think there's other things you could do and that's what the competition committee are working through."
Something else that has blighted footy in recent times is alcohol-fuelled violence in the stands, but McLachlan hoped the incidents were aberrations and didn't see a need for trialling "dry games".
"What we have to have is people behaving properly," he said.
"It just seems to me that we don't need to go that far. People should be able to have a glass of wine or a beer or whatever they want at the footy, but you need to behave civilly, respect the other patrons and we've just got to have zero tolerance to the behaviour, not the cause.
"It sounds defensive to say it feels like an aberration to me, but I go to a lot of footy, I go to the outer a lot, I wander around and do that and people are generally engaged in their footy, friendly, generally pleased to see you, they'll tell you what they think is right or wrong or whatever, but I've never seen this .
"I don't want to sound like I'm in denial, I just think the vast majority of our supporters go to watch the football, they enjoy being with people from the opposition team, they enjoy the right level of banter and engagement and it's not been part of our game."
Source: Read Full Article