Memories come flooding back: Lafai reflects on epic journey to Dragons
Tim Lafai wants his children to have everything he didn't.
Like a house with walls. A toilet they don't have to trek up a mountain to use. And all the other creature comforts Lafai didn't have as a youngster growing up in the Samoan village of Satuiatua.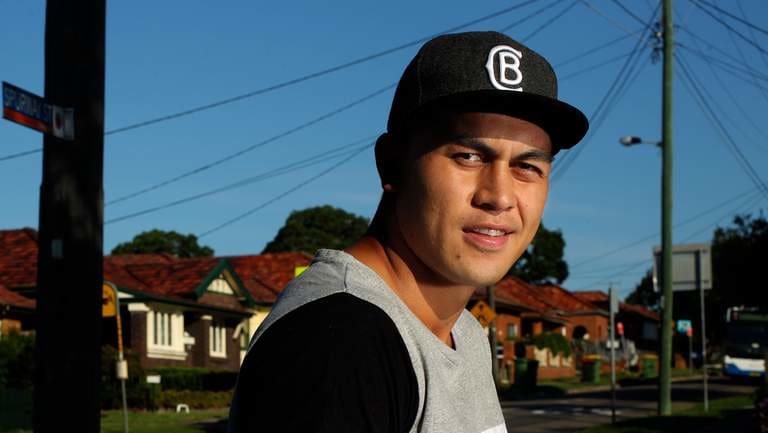 Happy Dragon: Tim Lafai isn't taking anything for granted.
"There was no proper house there. What you would see was a pointy roof made out of wood and sticks, whatever could find. Some tin. There were four poles around [holding it up]," Lafai said.
"Dad would go out to look for dinner in the plantations, whatever he could. Some nights he would have to walk kilometres to look for some seafood. Because our house was out in the bush, he would have to trek a couple of miles to get to the sea.
"He'd go fishing and see what he could scrape up while mum was watching the kids.
"They were tough times."
They were also dangerous times. The Lafais never had much, and what they did have was swept away in one of the devastating floods that levelled the region.
"You hear about the bad cyclones in the islands, and we were in one of them," he recalled.
"We were at home and there were massive storms and floods. I remember just sitting there as a kid on my mum's lap with my brother and sisters, and mum and dad were protecting us because the water was rising.
"Everything was chaos, and I remember seeing my toy aeroplane that my aunty had bought me for my birthday being washed away. That kind of broke me when I was a young kid, being a five-year-old kid and seeing your favourite toy being washed away in the flood.
"You see what's going on in the islands and the deaths that have happened, we're grateful we made it through that tough period.
"That's one thing that drove mum and dad here, packing us up out of there to give us a better life."
Life for Lafai these days is very good indeed. He has three young children who will never need to worry about where their next meal will come from or whether their home will withstand the elements. He also has a job he loves, as a strike centre for the table-topping St George Illawarra.
It is all possible because his parents decided to leave their Samoan home in a quest for a better life. While the move proved a prudent one, it was not an easy transition. The first stop was Christchurch, where Lafai and his family moved in with his grandparents. His first experiences at school were difficult.
"It was hard, being a fresh island kid not being able to speak English and starting primary school," he recalled.
It was while he was in New Zealand that he discovered his first sporting love, rugby union.
"We couldn't afford a ball," Lafai said.
"I remember me and my brother would get those three-litre bottles of whatever and kick them over the power lines. We used the bottle as a ball until they got us a ball. It was a really cheap one, but to us it was everything.
"My brother and I would stay out until dark, kicking the ball around the streets."
The Lafais' next move was perhaps the most significant. His uncle suggested the family move in with them in Australia, where the work prospects for his father were better still. So a family of five moved in with a family of three in a three-bedroom home in Minto.
It was during this time that the Lafais were able to establish themselves financially and Tim discovered league. His first game for Campbelltown Warriors was memorable for all who witnessed it.
"I went to my first game, got tackled and went to the floor and placed the ball back," he said.
"I thought I was playing union. All the kids stopped and were looking at me and laughing."
Lafai has since got the gist of the game. He made his way into the NRL at Canterbury at the expense of Josh Morris and his form was such that there were suggestions he wasn't far away from also replacing the Blues three-quarter at Origin level.
The 26-year-old then switched to the Dragons but couldn't immediately replicate that form. Lafai himself did a stint in reserve grade but has bounced back to become one of the unheralded heroes behind the Red V's resurgence.
"After the first year, I struggled a bit to adjust to different footy, but a good tough preseason with the work of Mary [Dragons coach Paul McGregor] and the coaches got me back to that form," he said.
"Everybody is contributing and you can see that in the results coming on the field."
It is some ride. From Samoa to the Saints, from housing commission in Minto to the life of a professional athlete in the NRL, Lafai's dreams never got washed away in that flood.
"Sometimes, just before bed or after the footy, I just reflect on how far myself and my family have come," he said.
"It makes me appreciate my little ones and my wife so much more and what I have.
"That's what makes me grateful for having the Dragons as my club."
Source: Read Full Article