With the ABC's Four Corners ready to produce a bucket load of manure on Victorian racing, The Everest, despite making its debut last year on the undercard to a pop concert, could get a bounce at Flemington today.
Nature Strip, with the Western Australian influence of jockey Damian Lane, could be the rising star amongst a field of top-line sprinters for world's richest short-course race on turf.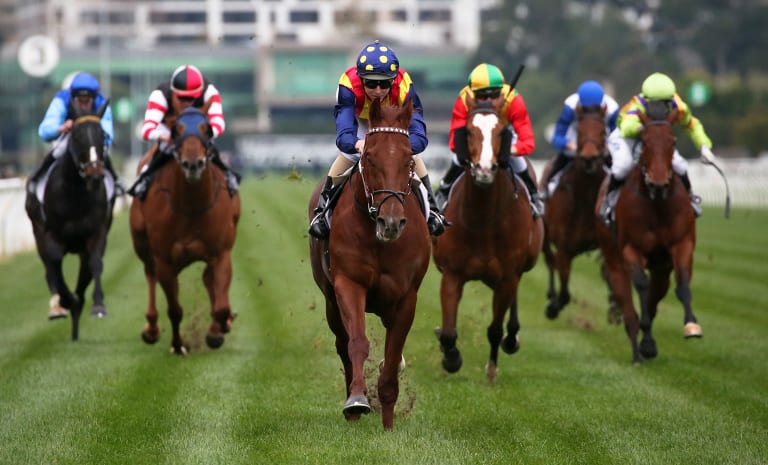 Fine form: Nature Strip, centre with Damian Lane aboard, delivered a brilliant time for the Flemington 1100m in June.
Yes, Santa Ana Lane became the sixth slot-holder for the 1200-metre, $13 million Royal Randwick weight-for-age dash on October 13 that has enthusiasts already engaged in a daily count down. Asian sprinters were considered for the Santa Ana Lane spot to spice up what we cynics marvel at as an outstanding event but with hardly the depth and tradition of Caulfield Guineas program on the same day.
However, The Everest highlights the healthy state of NSW racing compared to Victoria.
According to the ABC Twitter promo, Four Corners on Monday night will "shed new light on one of the darkest chapters in the history of Australian racing", regarding the Aquanita Eight found guilty earlier this year of 271 counts of race-day rule breaches following the apprehension of stablehand Greg Nelligan "treating" Lovani at Flemington last spring.
Nelligan, his wife Denise, and high-profile trainer Robert Smerdon were disqualified for life. Smerdon is appealing against the ban as well as the $90,000 fine imposed on him.
On more positive subjects though, consider Nature Strip in the Creswick at Flemington and the Western Australian influence that punches above its weight with jockeys and horses on the eastern seaboard.
Talent scouts have been seeking fresh local blood for The Everest and Bob Peters, the top owner in the west, has had inquiries regarding Enticing Star, unbeaten at seven attempts under Willie Pike, but the four-year-old is relaxing in a spelling paddock. And Lane is yet another Perth jockey to impact on Melbourne racing, following in the footsteps of champion Damien Oliver, and is vying for his first premiership there with 49 wins  behind Craig Williams (52.5). Still Pike, 32, is the best in the west and will again be Australia's leading jockey for wins, with 183 from 603 mounts this year. Brenton Avdulla is the closest on 158 from 814.
Handling Nature Strip, Lane will be the focal point on Saturday at Flemington. With five wins out of eight attempts, Nature Strip could have a delicate grip on potential. However the three-year-old gives the impression his best is yet to come after bolting in over the Flemington 1100 metres on June 23 in 0.11 seconds outside the course record with strong sections. Those are group 1 statistics at his first race under the magic wand of Darren Weir, who now has 250 horses in training.
Of course, the strong 1200 metres vital for the Creswick and The Everest is still a question for Nature Strip, with a common fourth at Morphettville at his only attempt at the distance.
"I guess I, like everyone else, just want to see him do it," Weir told Melbourne media.
"A couple of [The Everest] slot-holders are already talking about him and I think Saturday will be a great guide for that sort of stuff."
Obviously Weir knows the horse power required for The Everest as he prepared Brave Smash, the Chris Waller slot-holder this year, which should have finished closer when third in the major sprint in 2017.
Brave Smash is competitive with the best, as is Everest winner Redzel, while other seasoned types in the field so far, In Her Time  and English, are hardly the ilk to make the blood boil.
No doubt the three-year-olds, Trapeze Artist and the filly Shoals, with higher benchmarks than Nature Strip are worthy contenders, but a newcomer will help.
Charisma beats manure any day, but once upon a time Frank Sinatra wasn't required to get a crowd to a major race day at Royal Randwick.
Source: Read Full Article