Golf great Karrie Webb suspects she'll likely never formally retire as she transitions from full-time pro to part-time performer.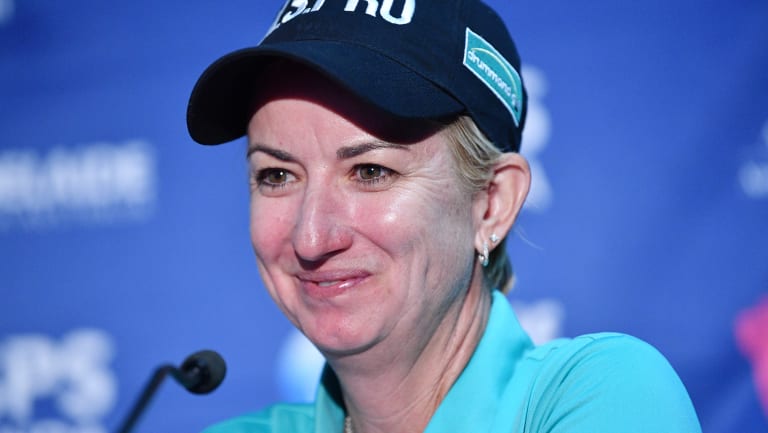 Going nowhere: Karrie Webb.
Having cut back in 2018 to 10 events, Australia's most-prolific major championship winner will make her first appearance of the year on the US LPGA Tour this week in Texas.
The 43-year-old is using 2018 as an "experimental year" to determine how much she misses the game.
So far, after spending the past two-and-a-half months with her family in Australia, the ultra-competitive Webb says she's missing her friends on tour more than golf itself.
"I haven't spent that much consecutive time in Australia for 23 years," the seven-time major winner told the On The Tee Podcast.
Webb thought the break from the tour grind might make time go slower, but realised after playing golf with her niece and watching her nephews' soccer games that there was life outside the ropes.
That it why she's comfortable dialling back her schedule.
"I'd love to think I could play part-time and be a competitor. I don't want to play 10 to 12 events and just be out here," Webb said.
"I'd still like to think that I could play well.
"So I guess this year is an experimental year to see how that all fits in.
"It'd be great if it did because, if I felt like I could play competitively, I might do this sort of schedule for a few years because I missed it but I didn't."
Either way, Webb doubts she'll store away the clubs forever.
"You're retired from the week in and week out stuff," she said.
"But I don't know if I'll ever just officially say 'this is it' because there's the Legends Tour – we've got the US Senior Open now. There's golf to play.
"So I might not be out on the LPGA (Tour) but it doesn't mean I'm done playing golf."
AAP
Source: Read Full Article