Pick and flick: Boot is on the other foot for scrambling Maroons
It was the play late in State of Origin II that cost Queensland the game and the series. I'm sure you remember it.
The Blues were down to 12 men after centre James Roberts had been sin-binned. They'd been hanging on for dear life but the Maroons try was coming. You could smell it.
The ball shifts right. The try's on. Here we go … Then the Queensland player who touches it last completely blows it. The grubber into the in-goal goes dead. NSW survives! NSW wins!
Forgettable: Hunt had some moments he'd like to take back from Origin II.
The player in question wasn't Ben Hunt with 11 minutes to go. It was Will Chambers with five minutes to go after the Maroons had punched down field off the back of a penalty. Where's his lynch mob?
Even then, it's probably unfair to blame Chambers for the rough kick. The person who should probably wear the blame is Billy Slater, whose long, cut-out pass hit Chambers so late, with the NSW defence on him, that he had no option but to hurry the kick.
Hunt deserved to wear some responsibility for Queensland's game-two loss — the halfback always does — but he didn't deserve to be dumped to the bench.
Where were the Queensland forwards late in the game? Their most damaging forward was Kalyn Ponga, a rookie fullback who weighs 92kg.
What about Chambers? He's made several critical errors in this series: bombing a certain try in game one that led to James Tedesco scoring for NSW, along with seven missed tackles; being bulldozed by Latrell Mitchell for tries in each match; giving away a penalty late in game two for a tackle on James Maloney.
"We're loyal to winning!" declared Queensland coach Kevin Walters earlier this week.
Fair enough. But for years the Maroons have looked down their nose at NSW as the state scrambles to come up with the right mix of players to beat a Queensland team brimming with future Immortals. The narrative fits in snugly with the Queensland belief that they do Origin better than the Blues.
"We're very fortunate," Walters said after the side was announced for game one. "No Thurston, no Cronk but in comes Ben Hunt and Cameron Munster who are the future for the Maroons."
When Queensland faced their first real hurdle, they blinked. Surely the fabled Queensland way would be to give Hunt one last shot at redemption. Will they give his replacement, Daly Cherry-Evans, another chance if NSW complete a clean sweep at Suncorp Stadium on Wednesday night?
Or is the old "pick-and-stick" policy dead? More like "pick and flick".
Thuggishness isn't the Australian way
Expect the federal government and NBA to be closely watching how Basketball Australia handles the investigation into the huge brawl between the Boomers and Philippines earlier this week.
The government will provide almost $6 million in funding to BA's high-performance programs this financial year. Meanwhile, we've already been told that NBA franchises are nervous about releasing their well-paid Australian talent for national duty in the future.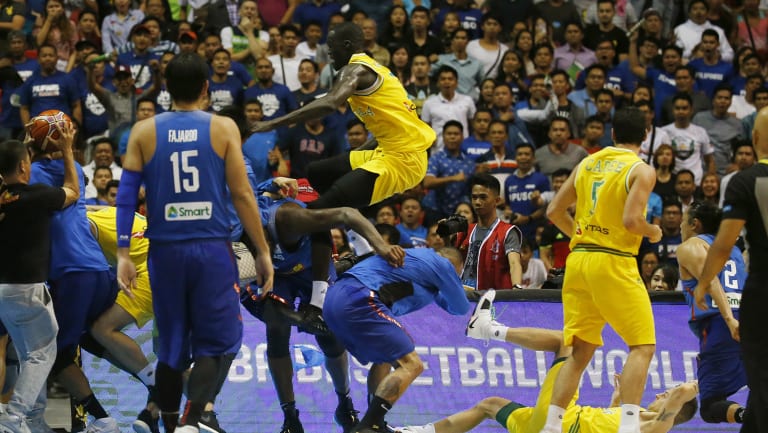 Ugly scenes: Boomers player Thon Maker flies at a Philippines player.
One of those is Milwaukee Bucks centre Thon Maker. The response to his eye-popping actions has been staggering. Brave? Admirable? The Australian way? You've got a different interpretation of those terms than me.
There's standing up for your mate. And then there's being a thug. When was it the so-called "Australian way" to run in with flying kicks as Maker did — twice? When was it the "Australian way" to elbow people in the jaw, as Daniel Kickert did in response to a heavy bump to a teammate?
Boomers assistant coach Luc Longley can talk all he wants about Filipino coach Chot Reyes inciting the fight. Longley did exceptionally well to protect Chris Goudling from serious injury as Filipino players, coaches and officials laid into him on the ground.
But the way Australia has painted itself as a victim in all this is, well, bullshit.
Lehmann candid in first public appearance
Former Australian cricket coach Darren Lehmann made his first public appearance since the ball-tampering scandal at a function in Newcastle last weekend.
Speaking at the Tales and Ales event at the Squire's Maiden hotel, Lehmann didn't run away from the episode in South Africa that prompted him to resign.
He insisted he didn't know about the plot involving captain Steve Smith, Dave Warner and Cameron Bancroft to use sandpaper to manipulate the ball until he saw it exposed on TV replays during play.
Former Australian coach Darren Lehmann with suspended captain Steve Smith.
"Is this what it's come to?" he asked the players at the tea break. "Stop it now."
He also revealed the extent of the fall-out, saying there was deep concern for the welfare of the trio in the four days after the scandal erupted.
While Smith and Warner are slowly picking up the pieces of their career in obscure T20 tournaments in Canada, it's understood Bancroft is doing it particularly tough as the seriousness of his exile sinks in.
As for Michael Clarke, Lehmann savaged his former captain for backing him privately but calling for him publicly to stand down.
It wasn't all serious talk, though. Lehmann told the captivated audience that he roomed with Shane Warne during their Test career because they were both smokers.
"Not once in those six years did Warney spend a night in the room," Lehmann said, claiming the champion leg-spinner was either out and about or he upgraded himself to the penthouse at his own cost.
Nable not going anywhere after gaffe
Fox Sports caller Matt Nable broke the internet on Saturday when he kept calling Knights hooker Slade Griffin as Jayden Brailey during the first half against the Bulldogs.
He did it 17 times. An obvious question: why didn't a producer or fellow caller mention something?
Fox Sports will persist with Nable, a good man and very good actor. His movie The Final Winter, in which he plays the captain of the Newtown Jets grappling with retirement, is a ripper.
Nable isn't going anywhere. The sport network's boss, Steve Crawley, among others have great belief in Nable, who is certainly different to most other callers but hardly un-listenable as some claim.
Glory days over for NRL player agents
The Mr Six-and-a-half-percenters — the NRL player agents — are scrambling amid news that the current accreditation system is about to be blown up.
NRL chief operating officer Nick Weeks told club bosses at their recent meeting that moves were afoot to make managers more accountable, allowing the integrity unit to look into how they do business.
It will be put in the hands of the NRL and RLPA.
The current agents' accreditation committee has failed to nail those managers involved in the Parramatta salary cap scandal — two years after sanctions were handed down to the club and officials.
We won't name names but we know of several high-profile agents who are frantically trying to off-load their businesses, aware the glory days are over.
Source: Read Full Article