Forget the WWE. Wrestling came to the MCG more than three months early on Sunday, and this time there was nothing scripted about it. Carlton needed to show more, a lot more, after their insipid first half against Fremantle a weekend earlier. So they brought some fight to their game, and sucked superior Collingwood in for an afternoon scuffle which left both teams bruised.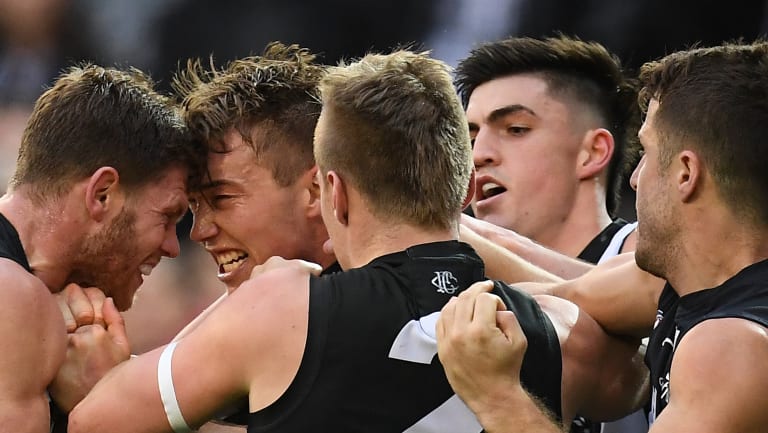 Scuffle: Collingwood's Taylor Adams and Carlton's Patrick Cripps go head-to-head as tempers flare at the 'G.
The Pies escaped with the four points to take their place in the top four, but this was no cakewalk. It might have been worse for the Pies had Carlton not been two men down on the bench for the entire second half, the result of a second-term knee injury to Lachie Plowman, carted off with a suspected medial ligament injury, and Matthew Kreuzer, betrayed by his body for the umpteenth time. On this occasion, it was his ankle. They had also been hurt by Levi Casboult breaking his finger in the warm-up, leading to the last-minute inclusion of Cameron O'Shea and a rare day up forward for Sam Rowe.
As their rebuild continues, at-times painstakingly, Carlton fans could yet again take nourishment from the brilliance of the two pillars of their future: Charlie Curnow and Patrick Cripps. Freshly re-signed, Curnow was spectacular. He took a couple of screamers, while kicking three majors in the second half, the first of which came after he out-muscled Matt Scharenberg at full-forward.
Mark of a champion: Will Hoskin Elliott flies high for the Pies.
Cripps, meanwhile, is the poster boy for valiance in defeat. At long last getting valuable support on the inside from Matthew Kennedy, Cripps was far and away the best contested ball player on the day, starring both on the ground and in the air. With Kade Simpson, one match away from the 300-game milestone, again mighty in defence, Carlton did not relent.
Screamer: Carlton's Charlie Curnow marks over Magpie Tom Langdon.
But Collingwood's young talent held their own. Jaidyn Stephenson again produced some spellbinding moments, kicking three goals as a deep forward including a spirit-sapping set shot in the third term after cutting off a miscued Liam Jones kick.
The Blues had hit the lead with the first two goals of the quarter, only for the Pies to respond with three straight majors, including one from Will Hoskin-Elliott, who took his own hanger before continuing a streak of kicking at least one goal in every game this year.
Tom Phillips wasn't quite as damaging as he has been but again found a stack of the ball, as Collingwood's deeper midfield, led by Scott Pendlebury, Steele Sidebottom and the ruck work of Brodie Grundy, ultimately wrested control of the game.
There was an old-school flavour to this one, right down to the traditional jumpers adorned by either side. A clash? Perhaps. A win for purists? Definitely. Primarily though, it was the niggle that was a reminder of yesteryear.
Rather than Carlton's resident irritant Jed Lamb, it was former Magpie Dale Thomas – still being booed by Collingwood fans five years on from his defection – who appeared tasked with the job of setting a combative tone. He got under the skin of Mason Cox, who returned fire by roughing up Thomas after slotting a set shot following a towering mark early in the second term.
Minutes later Matt Scharenberg was left sore after copping a flattening knee to the back. Then Adam Treloar and O'Shea ignored the nearby play to tangle. And on the half-time siren, the moment at which the umpires were most powerless, an all-in brawl ensued, with an animated Thomas again taking aim at Cox, and Taylor Adams in the thick of things.
Thomas is set to face match review attention too following a third term clash with Levi Greenwood, who for the second time this month was on the end of nasty high contact and couldn't finish the game because of concussion. Treloar gave Pies fans a mighty scare late in the game when he went down the race with a suspected hamstring injury, but he soon returned to jog around the boundary line, suggesting things weren't particularly bad.
COLLINGWOOD
3.2 5.8 8.12 11.13 (79)
CARLTON
3.2 4.3 7.4 9.5 (59)
GOALS – Collingwood: Stephenson 3, Hoskin-Elliott 3, Pendlebury, Mihocek, Treloar, Cox, De Goey
Carlton: C.Curnow 3, Cripps 3, Rowe, Kreuzer, Mullett
BEST – Collingwood: Pendlebury, Sidebottom, Stephenson, Phillips, Grundy, Treloar, Hoskin-Elliott.
Carlton: Cripps, C.Curnow, Simpson, Thomas, Kennedy, Dow.
INJURIES – Collingwood: Greenwood (concussion), Treloar (hamstring)
Carlton: Casboult (finger) replaced in selected side by O'Shea, Plowman (knee), Kreuzer (ankle)
Umpires: Margetts, Dalgleish, Brown, Findlay
Crowd: 53,706 at the MCG
VOTES
P. Cripps (Carl) 8
S. Pendlebury (Coll) 8
C. Curnow (Carl) 8
B. Grundy (Coll) 7
S. Sidebottom (Coll) 7
Source: Read Full Article