Champion Australian jockey Nash Rawiller could be facing up to three years in jail after reportedly being detained by Hong Kong's Independent Commission Against Corruption following his  ban from racing for tipping and betting on Wednesday.
The 43-year-old Rawiller was found guilty by Hong Kong Jockey Club stewards of two charges; taking gifts for tips and being party to bets placed on horses he was riding in races. He was given a 15-month disqualification.
Happier times: Nash Rawiller returns after winning the Hong Kong Sprint on Mr Stunning last year.
It is understood he was detained by Hong Kong  ICAC officials at the international airport on Wednesday as he tried to leave the Asian racing capital after being given his ban.
Rawiller has not been heard from publicly since the stewards' inquiry. The Hong Kong ICAC has the power to hold individuals of interest for up to 48 hours while it conducts its investigation. Rawiller's brother, Brad, stood down from his rides at Kilmore on Thursday for personal reasons.
Hong Kong has severe laws about jockeys betting. Australian hoop Chris Munce was jailed on similar charges in 2007 after being caught by the ICAC and served 20 months of a 30-month sentence.
The difference in the Rawiller case was that it was the Honk Kong Jockey Club that uncovered the suspicious betting patterns after months investigation.
"People should know we have an extremely vigorous system and that we can uncover things that perhaps others can't [see]," HKJC chief executive Winfried Engelbrecht-Bresges told the South China Morning Post.
"We monitor markets, both legal and illegal, in Hong Kong and around the world, and we have a dedicated team that does that.
"We can use the data we find to be more specific in investigations and we identified this as a significant case.
"The analysis we do of markets, both legal and those overseas, helped us identify a pattern. We had sufficient evidence we could start the investigation."
Rawiller was running third in the Hong Kong jockeys' premiership when he was banned after a great career in Australia, where he won the Sydney jockeys' title on three occasions.
He has ridden 58 group 1 winners, including a Golden Slipper on Pierro and a Caulfield Cup on Elvstroem but was probably best known as the rider of champion mare More Joyous.
Rawiller was to ride Mr Stunning, which was  the Chairman's Sprint Prize favourite on Champions day at Sha Tin on Sunday. Fellow Australian Sam Clipperton will take over on Mr Stunning, while Kerrin McEvoy was booked on Thursday to ride Pakistan Star in the QE II Cup after his jockey, Silvestre De Sousa, could not make the trip from Europe.
Pakistan Star has become an internet sensation after remarkable come-from-last wins to start his career and then once stopping and refusing to run in the middle of a race.
Meanwhile, In Her Time has booked her place in The Everest after Tabcorp did a deal for its slot with owner Peter Brown on Thursday.
"We have talked to several slot holders and they all had their own deal but to go with the TAB is a great result because they will not only  promote the horse but our trainer Ben Smith as well," Brown said.
In Her Time was considered unlucky not to get a place in the first Everest and won the consolation, the Sydney Stakes, on the same day in quicker time.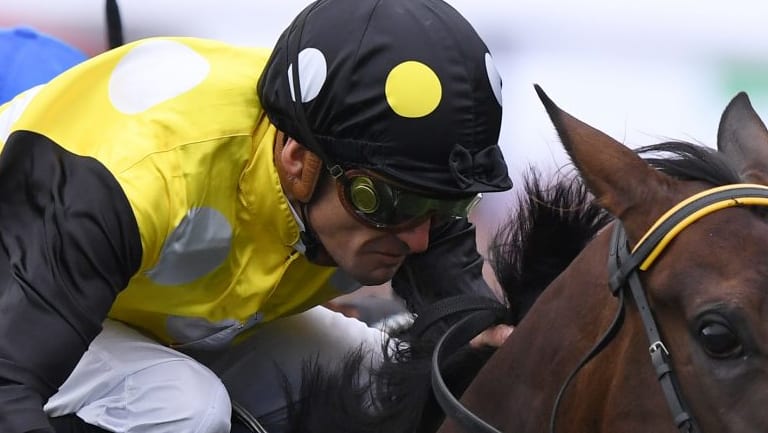 Everest bound: In Her Time and Corey Brown win the Sydney Stakes on Everest day last year
She joins Trapeze Artist as confirmed runners in Everest slots and young trainer Smith said it had taken the stress off about getting into the $13 million race.
Smith is preparing In Her Time for next month's Doomben 10,000 but his main focus will on The Everest.
"It was just a relief to hear her announced in the slot," Smith said. "It is not as good as winning a group 1 but it is massive for me and my stable and particularly the horse.
"It means we can start planning from today for The Everest and I know what we need to do with her to get to that at her peak.
"She will go into the race second-up because that is how she races best, but first will try to win a 10,000 and a Stradbroke."
Source: Read Full Article