The Roosters are determined to prove they have finally turned a corner in New Zealand against the high-flying Warriors on Saturday after their remolded attack narrowly passed its first test against strugglers Manly last weekend.
Coach Trent Robinson and his staff used the 11-day break between last month's ANZAC Day loss to St George Illawarra and the Sea Eagles clash to rebuild the side's struggling attack, implementing a style they hope will kick-start their stuttering season and extract the most from a star-studded backline.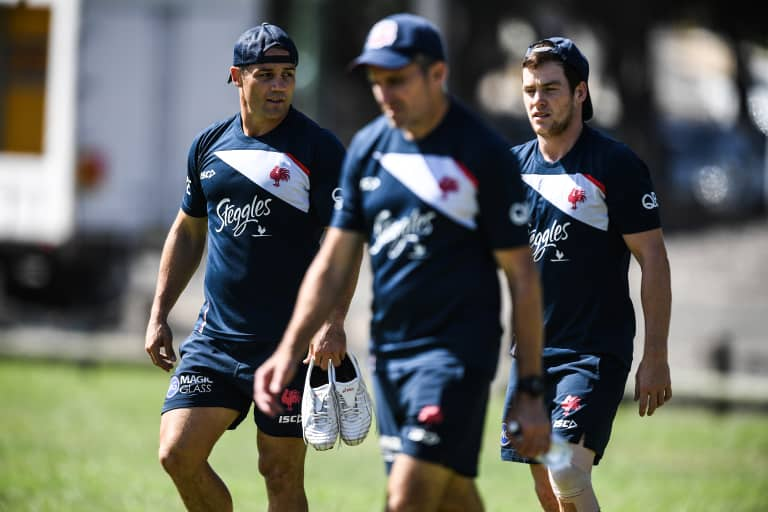 Halkf cooked chooks?: Cooper Cronk (left) and Luke Keary (right) at Roosters training.
Robinson's team was anointed premiership favourites in preseason following the signings of Cooper Cronk and James Tedesco who joined the likes of classy trio Luke Keary, Latrell Mitchell and Blake Ferguson, but only once in the opening nine rounds have the Tri Colours managed to score more than 30 points in a game.
"We just stripped a few things back got back into some basic stuff, they probably made it clearer how they want us to play, and we've got to go out and execute now," Keary said. "It wasn't going to be perfect on the weekend, it probably won't be perfect this weekend. Over the next month or two we'll put in some stuff that will hopefully be good for us in the future."
The Roosters scored three tries at Allianz Stadium in Sunday's 22-20 win over struggling Manly with the home side also opting for two penalty goals while  in attacking positions.
"The way teams defend these days, zero to 20 metres has improved a lot," Keary said. "If you go look at the numbers, I reckon not too many tries get scored in that zero to 20. Defences are moving a lot quicker. The out-the-back plays now are I reckon getting a bit less significant out wide. The centres are learning how to defend them so you've got to come up with some different stuff that's going to ask different questions of teams that they haven't been practising the whole pre-season.
"There's a fine balance there, you don't want to be running around just doing what you want for 80 minutes, you've got to be able to have different players that come up with different stuff at different times.
"I've just got a few areas to focus on, everyone will have a few areas they have to focus on for the week and you've got to try and get them done on the weekend."
Keary is slowly striking up a halves combination with ex-Melbourne superstar Cronk, so much so he's been thrust into State Of Origin contention although Keary admitted he was trying to put Origin talk to one side.
His main focus is on collecting back-to-back wins as the Roosters travel away from Sydney for the first time in 2018 to take on the second-placed Warrios.
"They gave us a bath [in round four], they're a good footy team, we saw what they could do here but I'm looking forward to it," Keary said. "I always love playing over there it's a good atmosphere and they'll be having big crowds at the moment I reckon. I can't wait to test ourselves against them over there.
"We're realistic about where we're at, we're not where we want to be, combination stuff's not where we want to be, our attack wasn't where we want to be. We think we're on a good path to where we want to get to, those away trips can only help.
"We know it's there. It's a funny thing footy, one week you can be on, the next you can be off, we know what we have to do to be where we want."
Source: Read Full Article