Saints point finger at middle tier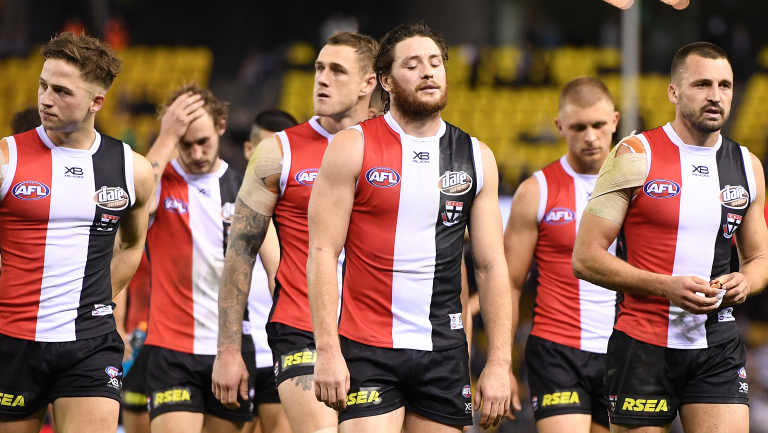 Jack Billings, Jack Steven and Jarryn Geary of the Saints leave the field after their loss the Pies.
St Kilda has identified the club's second tier of players – those who have passed 50 games, rather than the team leaders – as a primary reason for the Saints slumping to 16th in the first part of this season.
St Kilda's head of football Simon Lethlean, who presented to the club board with coach Alan Richardson last Thursday night, said the Saints were not extracting the most out of their playing list in the opening nine rounds of 2018.
''We're just not getting the maximum out of our list at the moment,'' Lethlean told The Age, echoing what he told the club board.
Lethlean said it was the ''next level of players'' – the second tier who he said had played ''50-plus [games]'' – who were not performing up to their capabilities so far this season.
''Our leadership group are all playing pretty well,'' he said. ''Our leaders are doing their bit. We need more from some others.''
The leadership group consists of skipper Jarryn Geary, vice-captain Seb Ross, Jack Steven, Jack Newnes and defender Dylan Roberton, who is sidelined indefinitely with a heart irregularity and has been sorely missed.
While Lethlean pinpointed players in the 50-100 game bracket as those who were not performing to expectations, he said defender Jimmy Webster (75 games) was performing. He said the Saints had needed this tier of players to step up following the retirements of club greats Nick Riewoldt and Leigh Montagna.
Lethlean said conversion was also an issue – the Saints have been the least accurate team in 2018. ''We're not finishing our work,'' he said.
While Lethlean did not single out any of those non-performing players in that experience bracket, players in that category include the talented Jack Billings, forward Tim Membrey – who has had goalkicking yips and booted only six goals this year – ruckmen Tom Hickey and Billy Longer, Blake Acres, Jack Sinclair, Luke Dunstan and Koby Stevens, while skilful forward Jade Gresham has played 49 games and ex-Giant Jack Steele has played 45 games.
Billings is arguably the most talented player in that category and a clear example of a player who has not met expectations.
Lethlean also said that Jake Carlisle, whom he said had performed this year, was expected to return for the game against Richmond on Saturday after missing with concussion.
Lethlean, who joined the club prior to this season after serving as a senior AFL executive, said the club would have a better idea of their list situation at the end of the season.
Source: Read Full Article