Scharenberg back from hell but still on the edge
Over the past few weeks media requests for Collingwood defender Matthew Scharenberg have been steadily increasing. His return from injury hell is, after all, one of the best revival stories to come out of footy in 2018.
But Scharenberg is struggling to understand why that's so and he's not comfortable with the attention. The 22-year-old is still living on the edge despite his impressive performances for Collingwood this season, having played each game except round one.
Scharenberg says he still has a lot of work ahead to "keep my spot in the team", but the reality to those on the outside of the club is clear; he's been a key plank in Collingwood's improvement this year. It's understandable, though, that he would have a clouded sense of security given his torrid injury history.
Scharenberg speaks highly of Collingwood. He is out of contract at the end of 2018.
Since being selected at pick No.6 in the 2013 draft and being anointed as Collingwood's halfback replacement for the likes of Heath Shaw, Ben Johnson and Heritier Lumumba, the South Australian Scharenberg has undergone two knee reconstructions and surgeries on both feet.
The lowest point of these injuries was in November 2015, when he ruptured the anterior cruciate ligament on his "good knee", only months after finally playing his first four games of AFL football, late that season.
Then, Scharenberg managed 10 AFL games at the back end of 2017 but his performances, like those of his team, weren't overly eye-catching.
2018 has been a far different story.
Replay
Playing a deeper role in defence, the 191-centimetre South Australian has looked rock-solid next to the experienced Lynden Dunn and Jeremy Howe. Scharenberg is ninth in the competition for intercept marks since round two and he has the second best disposal efficiency [85.7 per cent] in the league for players averaging over 20 possessions per game (narrowly behind West Coast star Shannon Hurn).
Most surprisingly and of great value to the Magpies he has been playing taller than his body suggests he might be able to, showing the versatility he had as a youngster.
Before he was drafted Scharenberg was considered one of the best, if not the best, halfback flankers in that year's crop of talent. While he wasn't a running defender in the mould of Shaw or Johnson at Collingwood before him, his marking, kicking and ability to read the play saw him average high in disposals and develop an ability to set up his team moving forward. He was meant to slot seamlessly into Collingwood's back six.
Scharenberg could have possibly gone higher than No.6 in his draft too , with St Kilda – who selected Jack Billings at No.3 in 2013 – seriously considering taking Scharenberg instead of the forward/midfield prospect.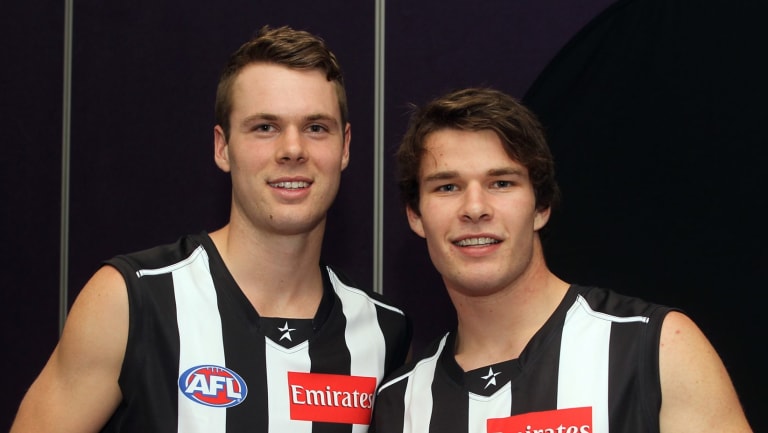 Matt Scharenberg (left) and Nathan Freeman were the Pies' two top 10 picks in the 2013 draft. Both injury riddled, Freeman is at St Kilda and is yet to debut.
With his early days in the AFL not going according to plan he acknowledges times were extremely challenging during those injury battles, but he said he never lost sight of the fact that he was and is more than good enough to craft out a successful AFL career.
"I never doubted it [my ability to play AFL regularly], I have always been pretty confident in my own ability," Scharenburg said. "Even throughout the injuries and stuff I kept a pretty high level of self belief which has been really important. It's definitely been challenging, especially early on there's no doubt about that.
"I relied a lot on my family. They were the closest support. Not being able to see them a whole lot, or as much as I'd like because they're in Adelaide, that is a bit of a challenge as well. Just having them to talk to on the phone was important, but also they were only an hour flight away so it was great to see them when they came over. They have been important through my career so far."
There were whispers he may be lured back to South Australia at the end of 2017 but that never eventuated. Scharneberg is out of contract at the end of 2018 but considering he has endured and gotten past the hard times away from family in Victoria already, and given the way he speaks about Collingwood, moving back home seems unlikely. He also works as a mortgage broker in Melbourne once-a-fortnight with a view to his post-footy life.
"I think things were very difficult, especially in my first couple of years and not having my family here did make things hard but I have always been really happy at Collingwood. I love this club and I have always thought Collingwood is the best place for me and my football."
The addition of assistant coaches Justin Longmuir (defence and team defence) and Matthew Boyd (VFL defence and development) have been influential for Scharenberg in 2018, particularly the Bulldogs' 2016 premiership player Boyd who finished his career in defence, Scharenberg said.
He said Collingwood 2010 premiership captain and defender Nick Maxwell (leadership and culture) had also helped out with a few tips every now and then, but not as much as Longmuir and Boyd.
"I spend a lot of time with him [Boyd] throughout the week. He is obviously a premiership player and played as a defender not that long ago, so tapping into his knowledge to soak up as much as I can is great."
They were coaches he leaned on through the pre-season and after round one when Scharenberg missed selection. The defender made some adjustments to his approach, namely simplifying his role on the field, and worked his way into the side.
Nathan Buckley explained the shift best in a post-match press conference: "Matty had a strong pre-season physically, but his form through the JLT and the practice matches wasn't great. But he made a significant shift in those last couple of weeks and in the VFL practice matches that he played.
"He really clarified his thinking on his strengths and mainly that's his aerial work and his aggressive positioning and in the contest. The other focus was to train those and we saw a really sharp spike in his training form."
Source: Read Full Article