Adam Scott has revealed how he lured Nick Faldo's former caddie out of retirement in the hope she could prove the missing piece in the puzzle in his ongoing pursuit of British Open glory.
Swede Fanny Sunesson, who helped Faldo win the Open and Masters twice each in the 1990s before guiding Martin Kaymer to the world No.1 ranking as a mind coach, will carry Scott's bag at Carnoustie for his 19th consecutive Open tilt.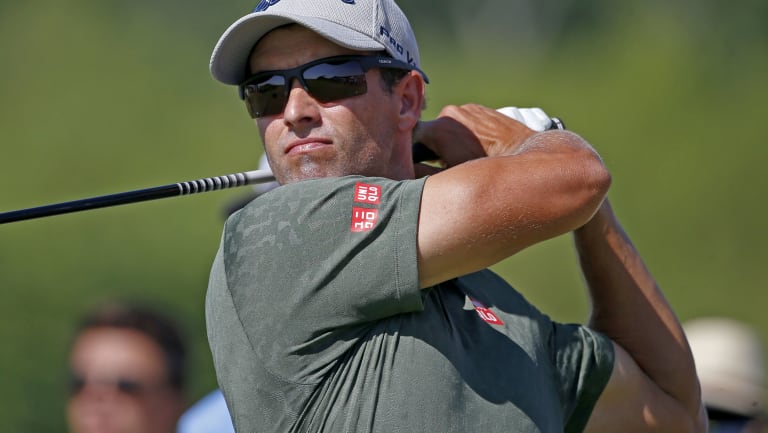 "She's just a great caddie and hopefully we can lean on that experience on the weekend": Adam Scott.
Without Steve Williams for the first time at the Open since 2011 and having recently parted with English caddie David Clark, Scott admits even Sunesson was surprised to receive his left-field call.
"I thought about the people this week that I want to have standing next to me on the first tee on Sunday if we were in the last group and Fanny was at the top of that list," the former world No.1 and 2013 Masters champion told AAP of the one-off arrangement.
"She's just a great caddie and hopefully we can lean on that experience on the weekend.
"That's the plan, get ourselves in a position where we both want to be in and can both thrive under the pressure."
Runner-up in 2012 to Ernie Els after blowing a four-shot lead with four holes to play at Lytham, Scott also led the Open on the back nine at Muirfield the following year and at St Andrews in 2015.
The 38-year-old remains desperate to get his hands on the Claret Jug and believes Sunesson can have a decisive influence, despite not having caddied since injury forced her to stop working her countryman Henrik Stenson in 2012.
Scott has spent three weeks at Carnoustie learning the nuances of arguably the most challenging course on the Open rotation, playing some 14 practice rounds on the famous links, with his new caddie arriving eight days before Thursday's first round.
"I absolutely think my game in the last few months has been in really good shape and particularly the last few weeks doing a bit of work on my game, rather than just playing all the time," he said.
Throwback: Nick Faldo and his caddy, Fanny Sunesson, at the 1999 Masters.
"It's been really good. I've got a good understanding of the course so I'm going to be grinding hard to give myself that chance.
"After 2015, I made a deal with myself that if I'm in with a chance, I'll get it done.
"I've thrown away a couple at the Open and it's tough pills to swallow. I'd love to get myself back in the position to have a look at it.
"You never know if you're going to get those opportunities again. You don't just win majors because you want to. They're tough to come by.
"So I think I can put all my experience to good use if I put myself in that situation again and certainly I can lean of Fanny if need be."
AAP
Source: Read Full Article