Serena Williams's anger at anti-doping authorities intensified -yesterday (Wednesday) as she complained of "discrimination" after a random drugs test.
Williams, who earlier in July spoke of her frustration at her -disproportionate number of tests compared to other players, tweeted: "…and it's that time of the day to get 'randomly' drug tested and only test Serena. Out of all the players it's been proven I'm the one getting tested the most. Discrimination? I think so. At least I'll be keeping the sport clean #StayPositive".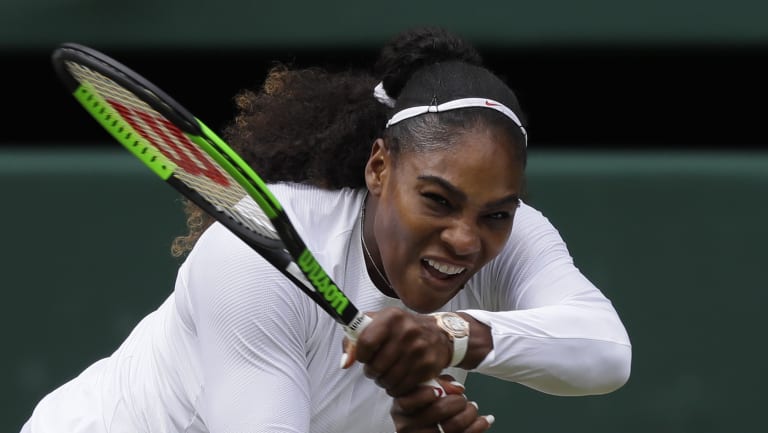 "I'm always getting tested. No matter where I'm ranked": Serena Williams.
She then added: "But I'm ready to do whatever it takes to have a clean sport so bring it on. I'm -excited."
The suggestion that Williams is being specifically targeted follows an article published on the Deadspin website last month that revealed she had given five samples to the United States Anti-Doping Agency between January and June 2018, when the number for most other female American players was either zero or one.
Williams was also exasperated when a Usada tester arrived at her Florida mansion in mid-June outside of her specified "whereabouts" window and found her not at home.
Williams said on the eve of Wimbledon, where she went on to reach the final: "I'm always getting tested. No matter where I'm ranked. Until I read that [Deadspin] article, I didn't realise it was such a discrepancy with me against the other players that they listed."
It is important to note that as well as domestic anti-doping agencies like Usada, doping tests are also -administered by the International Tennis Federation and the World Anti-Doping Agency.
This latest test for -instance was not conducted by Usada, and is believed to have been overseen instead by the ITF. According to its London-based anti-doping programme manager Stuart Miller, while Wada rarely administers doping tests in tennis, the ITF looks after almost three-quarters of the sport's drugs tests. Consequently, the Usada figures that so riled Williams last month present only part of the full picture.
The ITF only publishes its figures at the end of each year, so it is unclear how often Williams has been tested in relation to her rivals in 2018 but, in previous years, Williams's totals across ITF, Usada and Wada tests have been in line with other players.
An ultimately similar total to her rivals this year seems more likely than a concerted Usada and ITF-led campaign. In 2016 for instance, Williams was tested by the anti-doping agencies a minimum of 19 times (the ITF does not publish exact figures), while Madison Keys was tested a minimum of 16 times and Venus Williams a minimum of 18 times.
In 2018 it would stand to reason that a higher proportion of Williams's tests would have been administered by her domestic agency Usada because she has spent most of the year at home in Florida. This latest test is believed to have taken place in Italy, where Williams has been on holiday with Olympia and husband Alexis Ohanian.
Her compatriots, who have spent the majority of their time competing outside the US this year, would have fallen more frequently under the jurisdiction of the ITF, which oversees players competing in an international event or spending time outside their home country.
And despite Williams's understandable frustration, athletes returning from a long absence are often the subject of repeated drug tests, as they are seen as higher risk than those in regular competition.
As Richard Ings, the former head of -Australian anti-doping and ex-anti-corruption officer for tennis, tweeted yesterday: "As an elite athlete over the age of 30, returning to competition after an extended absence from competition it is expected, no demanded, that additional testing occur. We trust. But we expect verification."
The ITF refused to comment last night, but Usada, which would not comment on a case outside of its jurisdiction yesterday, said in June: "We test only in accordance with international standards and would never conduct testing in an unfair way."
There is no suggestion of any wrongdoing on Williams's part.
The Daily Telegraph
Source: Read Full Article