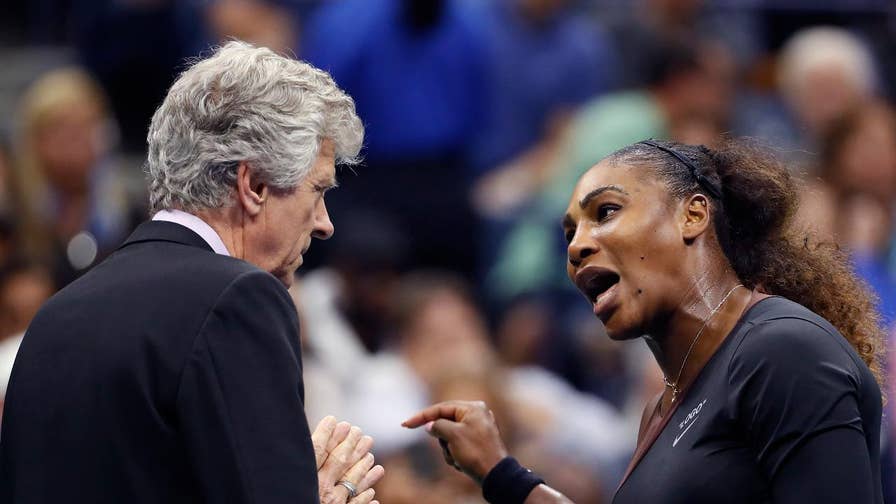 Double standard? Serena Williams says penalties were sexist
Serena Williams claims U.S. Open chair umpire Carlos Ramos would not have given code violations to a male competitor for similar infractions.
In her first interview addressing the controversial U.S. Open final, Serena Williams insisted she did not receive coaching during the match despite what her coach Patrick Mouratoglou said following her loss.
Williams told Australia's "The Project" that she and Mouratoglou "never had signals" that would count as coaching, The Australian reported, citing the preview clip released Sunday. Chair umpire Carlos Ramos issued a violation after he suspected Mouratoglou of coaching Williams during her defeat against Japan's Naomi Osaka on Sept. 8.
In her first interview addressing the U.S. Open final, Serena Williams insisted she did note receive coaching.
(AP)
"He said he made a motion," she told host Lisa Wilkinson in an interview set to air next Sunday. "I don't understand what he was talking about. We've never had signals."
Williams, who accused the umpire of sexism for his harsh treatment on her, also spoke about the double standard in the sport.
"I just don't understand…if you're a female you should be able to do even half of what a guy can do," Williams said.
Serena Williams arguing with chair umpire Carlos Ramos during the Sept. 8 final match.
(AP)
The tennis star's statement on the coaching violation contradicts what Mouratoglou said following Williams' 6-2, 6-4 loss against Osaka.
"I'm honest, I was coaching. I mean, I don't think she looked at me so that's why she didn't even think I was. But I was like 100 percent of the coaches on [sic] 100 percent of the matches," Mouratoglou told ESPN.
Williams received three violations during the U.S. Open final following clashes with the umpire that drew both praise and criticism from fans and stars. Along with the warning on coaching, Williams was docked for smashing her racket in frustration that led to a point loss. She continued to argue with Ramos about the initial coaching violation.
Serena Williams received a violation for smashing her racket on the court.
(AP)
"I didn't get coaching," Williams said multiple times. "I don't cheat! I didn't get coaching. How can you say that? You owe me an apology. I have never cheated in my life!"
The third violation — verbal abuse — came when she called the umpire a "thief." She received an automatic game loss.
Serena Williams was vying for her 24th Grand Slam title.
(AP)
"You will never, ever, ever be on another court of mine as long as you live. You are the liar. When are you going to give me my apology? You owe me an apology. Say it. Say you're sorry…And you stole a point from me. You're a thief, too!" Williams yelled at Ramos.
The tournament referee's office issued a $17,000 fine for three code violations.
On Friday, Williams talked about her fashion business and her family, but not tennis fouls during a 25-minute appearance with Sarah Robb O'Hagan, chief executive of Flywheel Sports, at the National Retail Federation trade show.
Serena Williams spoke at the Shop.org conference Friday.
(AP)
O'Hagan praised Williams for calming a riled-up audience that booed the U.S. Open outcome to refocus the moment on Osaka's victory.
"I feel it's really important to stand up for what you believe in," Williams said, "especially if it can affect the future and affect a lot of people in the future. That's what it's all about."
The Associated Press contributed to this report.
Katherine Lam is a breaking and trending news digital producer for Fox News. Follow her on Twitter at @bykatherinelam
Source: Read Full Article