The Philadelphia 76ers punched their tickets to the conference semis with a 104-91 win over the Miami Heat in game five of their conference quarterfinals on Wednesday [AEST] at Wells Fargo Center.
They await the winner of the Boston-Milwaukee series, which the Celtics lead 3-2. Game six will be Thursday night in Milwaukee. The conference semi-final round of the playoffs is scheduled to begin next week.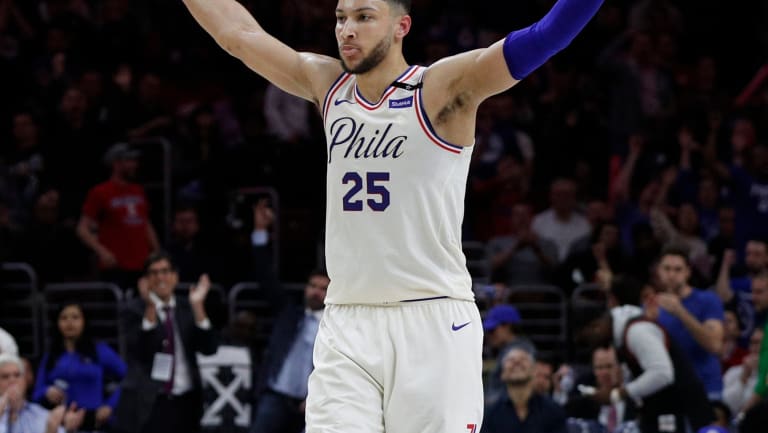 Job done: Ben Simmons and the 76ers are through to the conference semis.
The Sixers had a commanding 18-point lead on Embiid's finger-roll layup with one minute and 34 seconds left in the third quarter.
However, the Heat pulled with eight points (87-79) thanks to a 10-0 run that was capped by Dwyane Wade's basket with 5:58 remaining.
But Miami's rough play halted their momentum.
James Johnson received a technical foul for fouling and shoving Marco Belinelli out of bounds with 5:24 left. Redick made the technical foul before Belinelli made two foul shots to give the Sixers a 90-79 advantage.
Then after Johnson scored on the ensuing possession, Tyler Johnson picked up his sixth foul while hacking Belinelli. The reserve guard split his free throws to make it a 91-81 game with 4:53 remaining.
It didn't take long after the opening tip for the Heat to display their trademark physicality.
Simmons drove in the lane one minute, 31 seconds into the game for a layup attempt. He appeared to turn the corner on Johnson. But that's when Josh Richardson did his best free-safety impersonation. Richardson went low at the Sixers point guard, taking out his legs. Simmons flipped in the air and landed on his back. The rookie popped up and walked to the other end of the court and back. Then he went to the foul line and made a pair of free throws to give the Sixers an 8-3 lead.
Then with 1:03 left in the quarter, Kelly Olynyk hit Embiid, who is wearing a protective mask due to a fractured orbital bone, in the face. The centre, who was trying to grab a defensive rebound on the play, was knocked to the floor. He made one of two free throws to knot the score at 21. Fourteen seconds later, Heat reserve guard Wayne Ellington ran over Redick for an offensive foul.
The Sixers went on to lead 23-21 after one quarter despite shooting just 7-for-22 overall and 1-for-5 on threes.
The Heat came back to take a four-point cushion (40-36) – their largest of the first half – on Hassan Whiteside's dunk 3:45 before intermission. The Sixers responded with a 10-4 run to take a 46-44 lead with 37 seconds left in the half.
But Dragic's 17-foot step-back jumper tied the score for the 11th time as the teams went into the locker room tied at 46.
The Philadelphia Inquirer
Source: Read Full Article