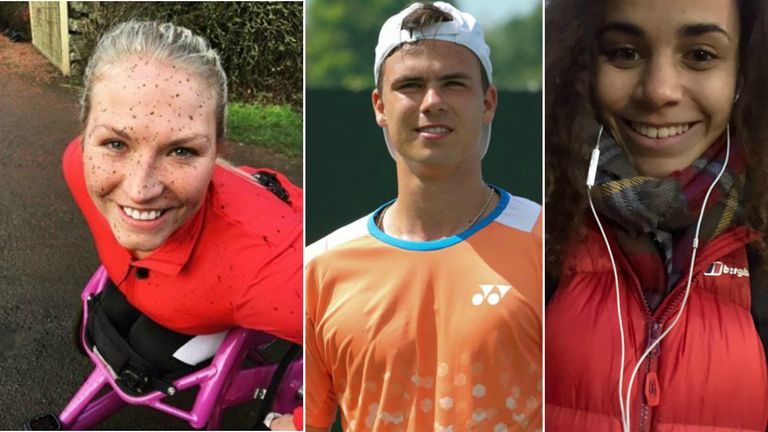 Reading Emily Bronte, getting busy in the kitchen, learning Italian and winning medals. What are the Scholars dreaming about for 2019?
It's the start of a busy year for our 12 Sky Sports Scholars.
They reveal their targets and ambitions in and outside the sporting arena.
EMILY APPLETON (Tennis)
Sporty: It has to keep pushing myself to my max so I give myself the best chance of success and hopefully continue the year rising up, winning titles and getting better.
Non-sporty: I'd love to become a better cook because it's a passion of mine and I also want to invest more time into me and have more acceptance of who I am as a person and not compare myself to others as much.
SAMANTHA KINGHORN (Wheelchair racer)
Sporty: I would love to defend all my world titles.
Non-sporty: I want to learn to play the guitar.
MOLLY THOMPSON-SMITH (Climber)
Sporty: Qualify for Olympic selection in Toulouse in November.
Non-sporty: Read 15 classics or educational books! Top of the list would be '1984' and 'Why I write' by George Orwell, as well as Wuthering Heights. I've been trying to read that one for a long time!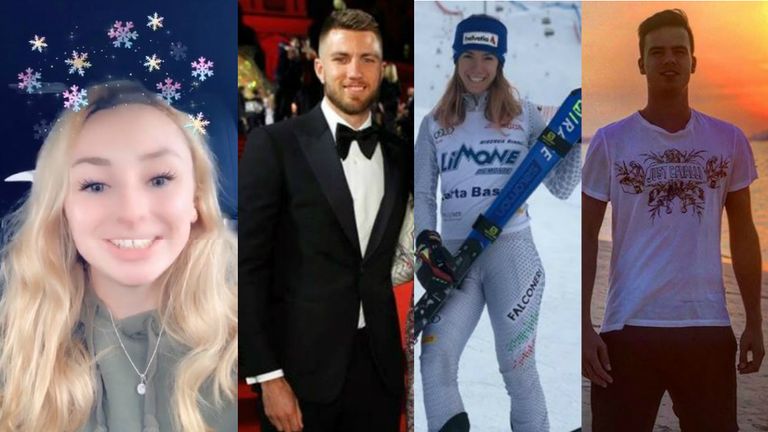 ANDREW POZZI (Sprint hurdler)
Sporty: Win a medal at the World Championships.
Non-sporty: Learn Italian!
JOE FRASER (Gymnast)
Sporty: To improve on consistency when performing in competitions.
Non-sporty: To start reading books. My first one will be the one I got for Christmas from my Sky colleagues.
FREYA ANDERSON (Swimmer)
Sporty: Qualify for the World Championships and improve on my placing from last year, as well as improving my race skills.
Non-sporty: Improve my media skills and be more confident in front of the camera.
https://www.instagram.com/p/Bq76nToHps3/
22 days until my favourite day of the year⛄️? Training continues although I'm not enjoying the cold Scottish nights but it's got to be done! #scottishborders #scotland #icytrack #athletics #winter #wintertraining
A post shared by Samantha Kinghorn ?? (@sammikinghorn) on
FRANCESCA SUMMERS (Modern pentathlete)
Sporty: Get selected for the Senior European Championships in Bath and to get a top 8 finish!
Non-sporty: Get my own sports clothing brand up and running, which I am really excited about.
MAX LITCHFIELD (Swimmer)
Sporty: To win a medal at the World Championships. It eluded me two years ago and I want to put that right and get some silverware.
Non-sporty: To complete my dissertation! And finish university on a high!
IMANI LANSIQUOT (Sprinter)
Sporty: I had an incredible 2018 and was lucky enough to have ticked off some big goals. Next year I hope to build on that momentum, working towards new PBs and make the 2019 World Championships in Doha.
Non-Sporty: I was two per cent off a first-class grade in my first year at uni this year (picky I know!), but I'm hoping to leave with a first in my second year.
I also recently turned 21 and I'm hoping this year I'll make some positive first steps into womanhood!
ELLEN KEANE (Para swimmer)
Sporty: Win gold at the World Championships – top one or two in breaststroke.
Non-sporty: Finally get my thesis finished – uni is not fun and I just want it done! Something Ocean Rescue will be happy to hear is my thesis is on plastic in supermarkets.
DANIEL ALTMAIER (Tennis)
Sporty: Last year was tough with my injury but I'm fit again which is awesome and I'm so excited to be playing in my first tournament later in January.
https://www.instagram.com/p/Bph3TtJFA3Z/
Great few weeks out in Flagstaff ?? Some world class work from the whole team ?? Back down to sea-level now and ready for another big block ? #flagstaff #altitude #skyscholars #skyoceanrescue
A post shared by Max Litchfield (@litchfield.max) on
My target for the new year is to get under the top 200 in the ATP rankings. I want to improve my game, be more stable and aggressive.
Non-sporty: I want to learn as much as possible off and on court. Even not playing in 2018, I have learned so much – especially about life and other people.
When everything is going well there are a lot of people supporting but when you are down or injured there are just a few.
So I appreciate every single one who was there in that tough time. It will be an interesting year and I cannot wait.
Source: Read Full Article