It's hard to tell what has UFC gladiator "Sugar" Sean O'Malley high as a kite these days. Whether it's his inaugural main-card bout with Andre "The Asian Sensation" Soukhamthath at UFC 222, hitting Pay-Per-View on Saturday, or the post-fight festivities where he plans to roll out his own custom weed strain, he could be forgiven for being in a cloud of sorts these days.
While he's breaking out the buds for his buds, count on one of his dopest pals, Snoop Dogg, to be checking out the octagon carnage and the after-party, according to TMZ. After all, it was Snoop with whom O'Malley celebrated landing a deal with UFC by sharing a spliff with him while the ink on the contract was still drying.
Interestingly, UFC's Grand Poo-bah Dana White hasn't said much about the smoke-in with Snoop, given that the mixed martial arts league has some of the strictest drug-testing regimens in professional sports. Much of that probably has to do with White still gobsmacked over O'Malley's prowess on the canvas when he obliterated David Nuzzo in a Legacy Fighting Alliance match in Phoenix back in May, 2017. The pugilist continued to impress, knocking out Alfred Khashakyan at a Dana White Contender Series match in July and beating Terrion Ware in his UFC debut in December.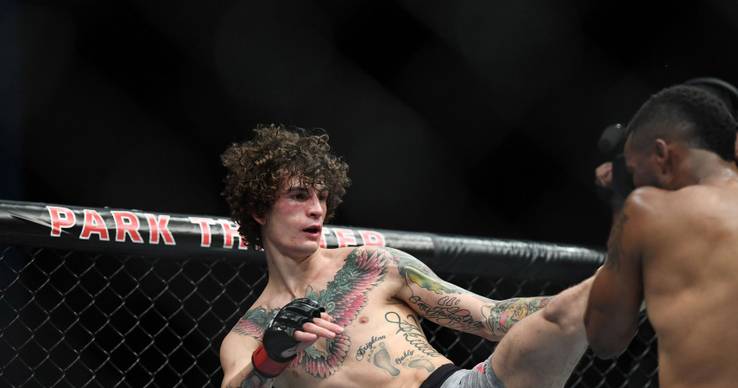 With a perfect 9-0 record, the much-hyped, 24-year-old Montana native is ringmaster of his own Sugar Show, and thanks to celebrity buds like Snoop Dogg, has got name recognition on his side. But O'Malley will undergo yet another severe test against a notoriously devastating pair of fists belonging to Soukamthath. The Rhode Island native who cut his teeth in boxing with a 12-5-0 record has only one win and two losses since he joined the UFC. But thanks to his first UFC victory last December, when he defeated Luke Sanders, The Asian Sensation's confidence, like O'Malley's, is through the roof.
As for the personalized O'Malley weed that he dubs Sugar Show OG, well, gassing himself with that grass will likely be as sweet as sipping bubbly from the Stanley Cup. But if Soukamthath clobbers him in the octagon, let's just say O'Malley will already have access to an organic painkiller.
Source: Read Full Article