Socceroos coach Bert van Marwijk has called for a limit on interventions of the Video Assistant Referee and a rethink in the manner in which technology is used as a tool for officials ahead of its introduction at the 2018 World Cup in Russia.
Following the calamitous blunder in Saturday night's A-League grand final, which saw Melbourne Victory awarded an offside goal after a technical failure denied the assistant referee access to video replays, the Dutch coach made no secret of his disapproval of the VAR, which he says threatens to interrupt the "charming things of football".
Van Marwijk expressed his preference for the traditional method of officiating, accepting the inevitability of human error in refereeing as opposed to the frequent disruptions that come with video replays.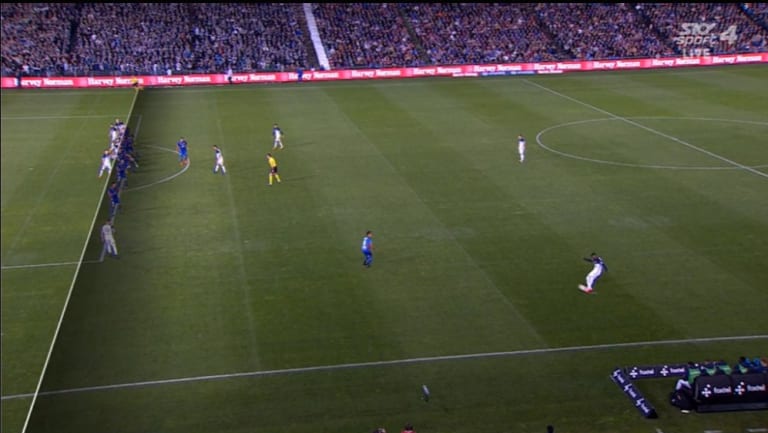 System failure: James Donachie appeared to be offside but the goal stood.
Speaking at the announcement of the preliminary Socceroos World Cup squad, van Marwijk accepted the inevitability of the VAR but has called for significant reduction in its use during games. He has suggested football follow the lead of tennis and restrict the VAR to a limited number of challenges per team during a match in order to encourage referees not to rely on the tool and reduce the amount of long stoppages in games.
"We have to keep the charming things of football."
"It has to go faster to take decisions. It's a difficult thing. Now the referee decides everything, and decides on behalf of what he sees and hears," van Marwijk said. "In tennis it's different, tennis players themselves can decide when you ask the video ref. Maybe you can think about giving both teams – one, two or maybe three – possibilities to as the video ref. That's better and more honest."
FIFA confirmed the VAR will be in operation at the World Cup for the first time in history despite the tool being marred by controversy during its first season in several leagues. Van Marwijk says his personal belief is that football should not rely on video replays in its pursuit of accuracy and stressed the importance of conjecture in the broader dialogue of the game.
"We have to keep the charming things of football. You also must have the situation that you have to shout about things happening, and people are talking about situations in the cafes and journalists are discussing things," van Marwijk said. "I already saw games with video referees that nobody knew something and suddenly a referee whistles, maybe 30 seconds to one minute after a situation he already decided. Then he whistled again and goes to the side, takes minutes, doesn't really know, gets information, comes back. Everybody in the stadium doesn't know really what happens."
Source: Read Full Article