South Sydney's centre of excellence at Heffron park finally gets approval
John Sutton looks across the gravelled carpark, in the shadows of the rundown gymnastics centre at Heffron Park, and waves a finger at the adjacent footy field.
"I played a lot of games for Kensington United against Matto [Matraville] Tigers at this place," the Souths captain said. "From under 7s, we played here a lot. We had a good team growing up. Won 10 straight. This is footy heartland right here. Some people underestimate that. Footy brings a lot of enjoyment to a lot of people in this area."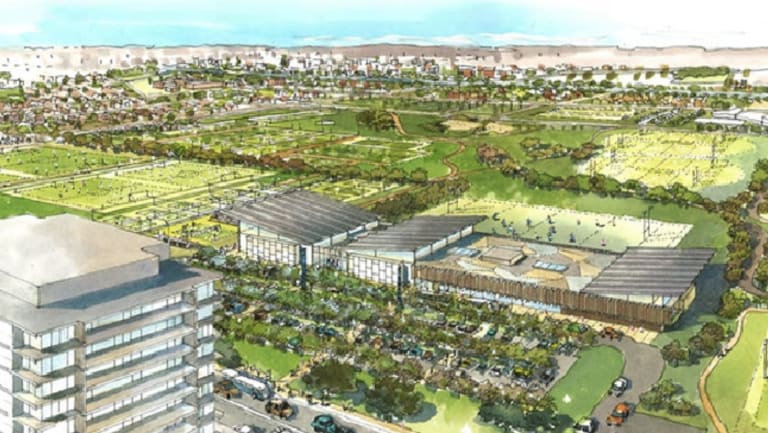 New base: an artist's impression of the Rabbitohs' high performance centre at Heffron Park.
We are here at Heffron Park, the enormous 44-hectare sporting reserve in Maroubra, to talk about Souths' $26.7 million centre of excellence and community facility to be built here later this year.
Souths have been trying since 2011 to get enough funding and approval from all levels of government to make this day a reality.
They thought it was a done deal just days before the 2014 grand final when the office of former Prime Minister Tony Abbott phoned Souths' chief executive at the time, Shane Richardson, and told him that $10 million in federal funding had been approved.
Three days later, just as Abbott handed over the premiership trophy to Sutton, the Souths faithful booed, unaware of the sizeable chunk of money Abbott had thrown their way.
There has been many false starts since then but, finally, Souths' grand vision for Heffron Park has been confirmed after Randwick City Council and the NSW state government approved the project late last week. Work is expected to start in coming months.
Along with $10 million of federal funding, a further $3 million comes from local council with $4 million from the club.
The "missing piece in the jigsaw"— the remaining $8.7 million — comes from the state government's controversial $50 million centre of excellence fund for NRL clubs announced late last year as part of its even more controversial $2.5 billion stadium plan to overhaul Sydney's out-of-date facilities.
The state government has pledged to match clubs and other third parties, such as local councils and sponsors, dollar for dollar to build similar centres.
The Knights ($10m), Bulldogs ($2m), Roosters ($5.7m) and Sharks ($8m) have also been allocated funds. Manly and the Tigers are others in line for a grant.
When Sports Minister Stuart Ayres announced the funding scheme in late December, the same brigade that has howled down the rebuild of Allianz Stadium and redevelopment of ANZ Stadium slammed the government for recklessly spending taxpayer money.
The argument went like this: why is the state government pandering to cashed-up elite sporting clubs? Nay, sporting businesses?
Heffron home: Souths players John Sutton and Sam Burgess with Member for Coogee Bruce Notley-Smith, Randwick City Council mayor Lindsay Shurey and NSW Sports Minister Stuart Ayres.
It's easier, of course, to dismiss something than understand it.
The criticism ignores the importance of rugby league clubs to the communities they represent and the unseen work they do within it.
It ignores the fact that the Rabbitohs' centre of excellence will be the home of its Souths Cares program, which services 10,000 school kids a year and provides invaluable support for the local indigenous community.
It ignores the fact that it will help find and nurture the next Johnny Sutton, who grew up in a housing commission not far from Heffron. He's often said he doesn't know where he'd be in life without footy and playing for Souths, who he ultimately captained to a stunning grand final win four years ago.
Souths chief executive Blake Solly said scepticism about the centre being accessible to the community was not right.
"One remark was that it wouldn't be like you'd be turning up and doing leg presses next to Greg Inglis," Solly said. "When you look at it, that's exactly what people will be doing. Our project is part of an indoor centre and gymnastics hall that will be on the same site.
"People don't always understand the transformational effect that rugby league and clubs can have on people's lives. John is a great example of that, like many of our players. Rugby league gives them an opportunity to go a lot further in life than what it would be if it wasn't there."
Ayres says he isn't distracted by the criticism. "There's always going to be nay-sayers," he said. "My job is to get the best facilities, from community facilities it to high-performance facilities for people in NSW."
Souths' move to Heffron won't end the club's long association to their spiritual home at Redfern Oval. Nor does it mean they will be relocating from ANZ Stadium to Allianz Stadium, which will be knocked down and rebuilt at the end of this season.
Solly and Bulldogs counterpart Andrew Hill met with NSW Opposition Leader Luke Foley last week to discuss the government's new stadium policy, which will now see ANZ Stadium refurbished for $810m instead of being knocked down and rebuilt.
"Andrew and I went to that meeting as tenants," Solly said. "We wanted both sides of politics to realise the need to turn ANZ Stadium into a rectangular stadium to make it world class and to make sure it was a home for us for the next 25 years. We will meet the NSW government about it next week. Our firm commitment is to ANZ."
In the meantime, Souths are looking forward to work at Heffron Park starting in the second half of the year.
Souths veteran Sam Burgess knows how important his club is to its community.
"I come from the north of England where we were always scratching around trying to find kids to play in junior leagues," Burgess said. "Here, I drive past any park — especially Heffron Park — on the weekend and there are kids everywhere. South Sydney has a strong connection to all of them. When I first arrived, I would coach the under 16s and 18s and there was Alex Johnston, Dylan Walker, Aaron Gray, James Roberts.
"The production line works and this facility makes it easier for them. You look at the careers of young players: it's a product of the facilities that are available in Australia. They are really fortunate."
While federal and state funding has been critical, Randwick City Council has remained steadfast in its support as the process stopped and started.
Souths' centre of excellence is the final part of a $50 million revamp of the entire reserve, which has more than one million visitors per year coming to play a variety of sports.
"I live one minute away," Sutton said. "It's exciting that the new centre is here, even though I won't be playing because I'm not far off retirement."
He then cracks a smile.
"Come bench with GI? Wouldn't that be good?"
Source: Read Full Article