Why Souths had to wait so long for their first 300-game player
Relentless raids by cashed-up Manly and bitter rivals the Sydney Roosters are partly to blame for South Sydney having to wait until now to celebrate their first 300-game player.
The pride of the league have existed 110 years and will finally celebrate John Sutton reaching the magical milestone on Saturday.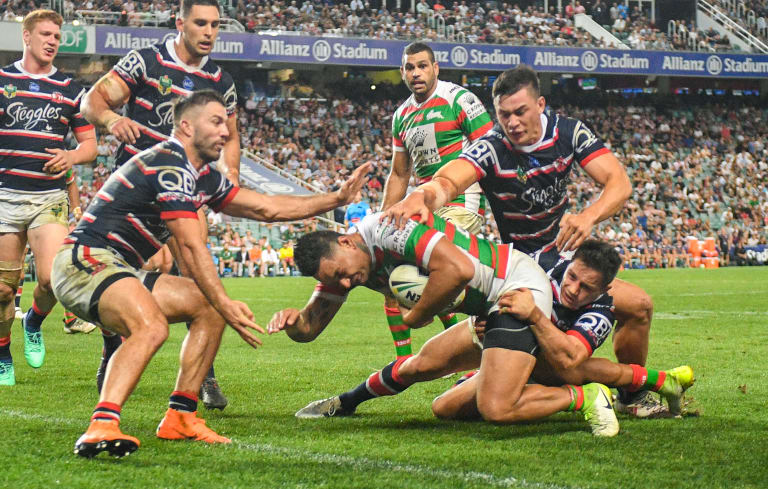 Better with age: John Sutton barges over earlier this season.
Sutton, a proud Souths junior, easily eclipsed the old 218-game record held by Nathan Merritt, who bettered Bob McCarthy's previous mark of 211 games.
It beggars belief the historic club has not had any players post 300 games.
Melbourne showed interest in Sutton at an early age before St George Illawarra were keen.
"But I love this area, I grew up here, I get to play for South Sydney – that is all that matters,'' Sutton said on Thursday.
"My parents would have killed me if I ever went to the Roosters.
"My manager used to say, 'what about this?', and I was like, 'nah, I'm not keen'. My family loves Souths. I've never worried about money. I grew up here, so why would I want to go anywhere else."
McCarthy told Fairfax Media a big reason more players had not reached 300 games was because Souths could never compete financially with the big money on offer from clubs like Manly and the Roosters.
The Roosters are still cherry-picking their blue-collar neighbours, the most recent example being the $1 million a season they have thrown at Angus Crichton for him to play for the Tricolours from next year.
"George [Piggins] would run out on a Friday selling pork chops just so we could buy players. We couldn't compete with the other clubs,' McCarthy said.
The 1970s kicked off the Souths' feeding frenzy with Ron Coote and Elwyn Walters signed by the Roosters, while John O'Neill, Ray Branighan and Bob Moses all switched to the Sea Eagles.
South Sydney's class of 1989 were crowned minor premiers, but were later ripped apart because of the lack of funds, with Ian Roberts making his way to Manly and Mario Fenech, Craig Coleman, Les Davidson and Phil Blake all departing soon afterwards.
Those players had the chance to push for 300 games, with Coleman's records for most games across the grades at Souths recently eclipsed by Sutton.
The Rabbitohs were then booted out of the competition in 1999, readmitted in 2002, had to pay overs for players to come on board and then spent the best part of a decade at the start of the millennium on the bottom of the ladder.
"The Roosters used to pinch our players,'' McCarthy said. "Manly were the ones who dived into it and could see the talent we had here, then someone woke up at the Roosters and started buying our players.
"It's great Johnny has now achieved it.
"The way he was playing last year looked like being the end of his career. We're all proud of what he had already achieved.
"But this year he wouldn't have looked out of place in Origin. Freddy [Fittler] picked all power runners, which is good, and Johnny plays a bit like Wade Graham and has a bit of footy in him, he can use the ball, kick, he's got all those tricks and wouldn't have looked out of place.''
Coote, who took the money on offer at the Roosters after four titles with Souths, said it may have sounded "heartless" to leave his childhood club, but they could not compete financially.
"Those days the money you got from football could buy you a house, and you only had a small window of opportunity," Coote said from Hawaii. "But I'm full of admiration for John Sutton.
"I certainly hope Souths re-sign him because he's a guy who has matured and is still playing really good football. I think he's playing better than I've seen him play, and he would agree with that."
Source: Read Full Article