Pat Cash is tipping drama and spice when Nick Kyrgios and Bernard Tomic collide in the French Open first round.
The former Wimbledon champion says form and rankings will go out the window when the one-time Davis Cup teammates and US Open doubles pairing clash for the first time on Monday night AEST.
Once tight, Kyrgios and Tomic have drifted apart in recent years, their careers also taking vastly different paths.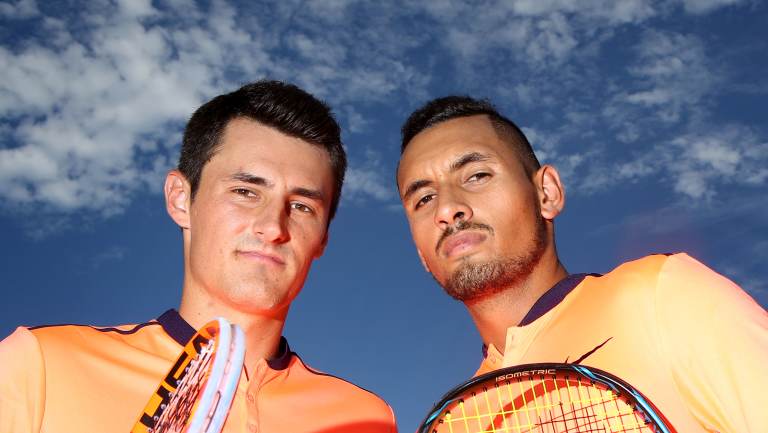 Face off: Bernard Tomic and Nick Kyrgios will meet at the French Open.
Despite an injury-plagued run, Kyrgios remains entrenched in the world's top 25, a formidable force even when below full strength.
Tomic enters the showdown ranked 208th but revitalised and riding a career-best seven-match clay-court winning streak capped with a successful qualifying campaign in Paris.
"It will be one to watch for sure. There will be some drama in this one," Cash said.
"I think both of them will both be going hard at this one.
"I give the edge to Nick, but Bernie's got some matches under his belt and he's out there playing.
"We'll see how it goes."
Focusing only on regaining full fitness after missing six weeks with an elbow injury, Kyrgios refused to discuss the match-up after rounding out his lightest of Open preparations with a breakthrough doubles triumph in Lyon.
The 23-year-old teamed with American Jack Sock to land his maiden ATP doubles crown with a 7-5 2-6 11-9 final triumph over Roman Jebavy and Matwe Middelkoop on Saturday.
"I'm making good progress. I've got to take it slow," Kyrgios said.
Replay
"I haven't completed by rehab yet. I'm about 80 per cent.
"So it's been a good week, good preparation and I'm just happy to be healthy and to obviously win the title with Jack."
Despite his depressing ranking, Tomic boasts a 7-2 winning record over fellow Australians, with Kyrgios only one from three against his countrymen.
Cash knows from experience how the dynamics change when facing a compatriot.
"I always found it tough because the guys know your weaknesses," he said.
"You practise with them in Davis Cup and as mates and they know your weaknesses and they go straight towards them.
"The year I won Wimbledon, the trickiest match mentally was against Paul (McNamee) and he knew my weaknesses and it was pretty tense.
"He was crafty and he hit the ball right where I didn't want him to.
"It's a real leveller playing a mate."
Cash gives Kyrgios slight favouritism.
"It's a good effort by Bernie to qualify. We know he's top-30, top-20 material," he said.
"It's a matter of him getting his motivation together. Of course, Nick's on and off with his injuries, the sore arm.
"You would think Nick would win. I think he's generally the better all-round player but with a sore arm, who knows?
"There's certainly a lot of funny quotes going around. Somebody said 'whoever tanks the best is gonna lose', it's a 'tank competition.'
"But I think it's going to be different to that this time round.
"There'll be plenty of edge in this one."
Before Kyrgios takes on Tomic, his girlfiend Ajla Tomljanovic opens Australia's 12-strong campaign on Sunday night against Ukrainian fourth seed Elena Svitolina.
AAP
Source: Read Full Article