Why Storm captain Cameron Smith isn't a grub … but so what if he is?
The best footy player most of us have seen is Andrew Johns. The best player Andrew Johns has ever seen is Cameron Smith.
"He never takes the wrong option," said Johns, the eighth Immortal, halfback of the century, two-time premiership winner. "They've lost all those players since 2007, through all the salary cap stuff, but they've had all that success. Who's been the common denominator?
Not happy: Cameron Smith has been suspended for one match for his tackle on Kevin Proctor.
"Look at how the Storm are playing this season: they're shifting the ball early with big, long passes from dummy half. He never, ever throws a bad pass. He always hits his mark. They are the little things that people don't see."
It's the other little things in his game that has the rugby league chatterati in a lather about Smith, about his legacy and whether that legacy will ultimately be tarnished.
"Grub" is such a grubby word yet it's being attached more readily to the Australian, Queensland and Melbourne captain as his career draws to a close. Fair call? We'll get to that in a minute.
At 3pm on Monday, Smith begrudgingly accepted an early guilty plea for the grade-two dangerous contact charge he received for his "wishbone" tackle on Titans forward Kevin Proctor.
He will miss one match – the clash against Manly at AAMI Park on Saturday.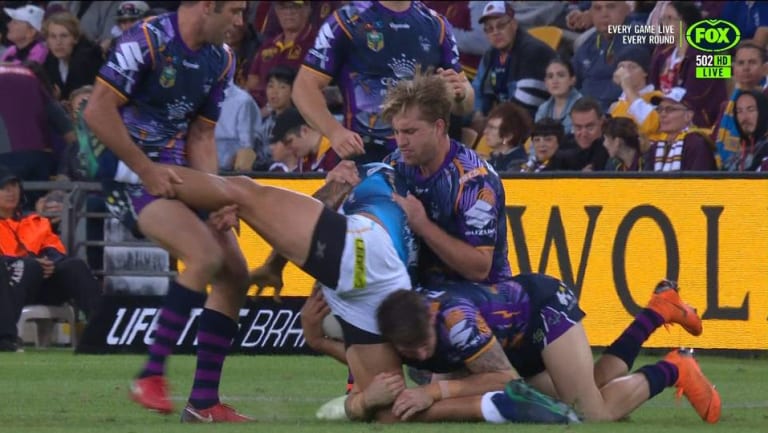 \'Wishbone\': Cameron Smith has taken an early guilty plea for this tackle on Kevin Proctor.
Proctor, meanwhile, is facing up to two matches on the sidelines with a groin injury after Smith grabbed his left leg and reefed it sideways.
It will be the first time Smith has been suspended since he missed the 2008 grand final when, in the semi-final against Brisbane, he was rubbed out for two matches by the judiciary for twisting Sam Thaiday's head like he was taking the top off a stubbie of beer.
The charge for the Proctor tackle was only Smith's sixth since he made his NRL debut in 2002.
Let's unpack that: Smith has played a record 368 NRL matches, a record 42 for Queensland and near-record 56 for Australia. He's played 80 minutes in most of those games, most of them defending in the middle of the field, making the most amount of tackles.
Twist and shout: Smith missed the 2008 grand final for this contact on Sam Thaiday's head.
You could mount an argument that he's made more tackles than any player in the game's history.
In all that time, he's been charged only six times and suspended twice. Protected species or ornament of the game? It depends on who you talk to, of course.
According to Melbourne, Smith was genuinely torn about whether he should fight the Proctor charge. He believed it was an accident and initially wanted to take the matter to the judiciary to declare his innocence.
In the end, after the Storm had been given an extension on the deadline to enter a plea, he put his team first, knowing that a guilty verdict would stretch the suspension out to two matches.
In Smith's mind, that would've hurt Melbourne and it would've hurt Queensland because he wouldn't have played at all until the series opener against NSW on June 6 at the MCG.
In the mind of others, the one-match ban is grossly light. Channel Nine expert and former NSW coach Phil Gould roared that Smith should've been banned for a month.
"When Melbourne started the third man in the tackle — hold up top and get a third man into the legs — I said, 'Cut that out, that's going to be nothing but problems for everybody'," Gould said.
Johns, too, groaned when he saw a replay of the tackle.
"He grabs him at the leg and twists him around. If it was done to his arm, a chicken wing, Cameron would've had a month on the sideline," he said.
This is where the commentary around Smith gets funky.
Gould and Johns' remarks were seen by the Storm as strategic, not honest: Origin is around the corner and Smith is Queensland's greatest weapon, for all those little things that Johns refers to.
Melbourne believe agenda and jealousy of their success has much to do with the criticism that comes their way, especially when it comes to their wrestling techniques. In some respects, they are probably right.
But that shouldn't make them immune to criticism, and that includes Smith.
The third man in — whether charging in like a missile at the ball carrier's knees, or into his back, or grabbing one of his legs — might help slow down the play-the-ball, or help to flip him on his back, or turn him around so he's facing his own try line.
But it's dangerous. The Proctor tackle was dangerous. So much of footy is and Smith has been pushing its boundaries for many seasons, working under the cover of darkness and usually getting away with it.
After the loss to the Dragons, he complained about being punched in the genitals by replacement forward Jeremy Latimore early in the second half.
He didn't say it was deliberate but his language was strong enough to suggest that's what he meant.
What he neglected to acknowledge was his forearm/elbow to the back of Latimore's head with the Dragons on the attack, metres out from the Storm line.
Does that make Smith a cheat? A disgrace? A grub?
"If people don't like the way I play, that's fine," Smith told this column in an interview last year. "I'd just like to be respected for how I've gone about my business. If they don't like me because of who I play for or who I've represented, that's fine as well. Not everyone's going to like you in sport: I got my head around that a long time ago."
For mine, these traits — as much as you may not like them — make him an out-and-out footballer, perhaps too ruthless and a generation too late for the pristine image the game's suits want it to be right now.
He's a mesmerising player, thinking four plays ahead like a Russian chess player. He deserves Immortal status ahead of Johnathan Thurston. Bombs away, keyboard warriors!
What we don't see from Smith is what happens in the dressing-room just before he and his side runs onto the field.
The coach will deliver his Churchillian address. A senior player might have his say, too.
But the last word will always belong to Cameron: belt that bloke, tread on that hand, do whatever it takes to win.
In footy parlance, he's got shit in him. And while Smith would never admit that, and the Storm can't condone it, and others will deny it, it's what sets Smith ahead of the rest.
"That," says Johns, "is what makes him so good".
And makes so many of you hate him so much.
Source: Read Full Article