In numbers
Bobo, Sydney FC.
Jonas, Benfica.
Neymar, PSG.
Roberto Firmino, Liverpool.
Fernando Karanga, CSKA Sofia.
If there's a game of football being played anywhere, the weight of numbers suggest a Brazilian isn't far away.
From France to Fiji and 100 countries in between are an estimated 2000 footballers with Brazilian passports. That's on top of the 1310 players at the 40 clubs in their top two national divisions, the 2000 or so across the 88 clubs in the two tiers below or the rest playing within their 60 state competitions. Of all those, none have scored more goals this season than Sydney FC striker Bobo.
Second to winning the A-League championship, the honour Bobo wants most is to finish as the most prolific Brazilian of 2017-18. He is on track to claiming that title, having already scored 36 goals in just 37 games.
Brazil's best: Bobo is the joint top scorer this season of all Brazilian players.
Twenty-seven of those goals came in the regular A-League season, winning him the golden boot and setting a record for most goals scored in a single campaign. Bobo bagged eight more in his five FFA Cup games, including the winner in the final, as well as one in the Asian Champions League.
The 33-year-old's tally hasn't gone unnoticed in his homeland with an invitation coming to appear on the country's most popular football show, Planeta SporTV.
"The statistic guys in Brazil were looking for me and they told me last week," Bobo said. "It's a great feeling for me to keep my motivation high. I'm very proud for myself and also for the team because the boys and the coach helped me a lot to score those goals. I would like to thank my teammates and the coaching staff for help."
The Sky Blues' marksman is locked in a tight race with Benfica's Jonas to finish the season as Brazil's most lethal striker, with the Portugal-based forward joint top of the list with Bobo on 36 goals, albeit having played two more games.
Bobo could have an advantage in that race with as many as two more games to extend his goal tally, beginning with Sydney FC's home semi-final against Melbourne Victory on Saturday night at Allianz Stadium. By contrast, Jonas has succumbed to a niggling back injury.
Bobo made no secret of his hopes of finishing outright first but says his priority is beating Melbourne Victory in the semi-final before winning a successive A-League championship.
"I feel pretty happy and I am still hungry for more goals," Bobo said. "I keep my motivation high for these goals but the most important thing and all I am thinking about now is to win the next game on Saturday night. It doesn't matter who scores, me or another player, the most important thing is the team."
The likes of Neymar at Paris Saint-Germain, Gabriel Jesus at Manchester City and Liverpool's Roberto Firmino are the most notable Brazilian strikers abroad, but their record in front of goal doesn't hold up to that of Bobo or Jonas this season.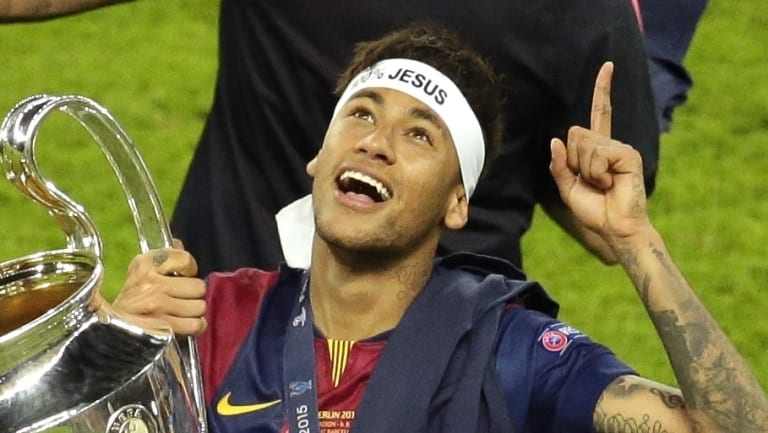 Behind Bobo: PSG's Neymar, the world's most expensive player, hasn't kept up with the Sydney striker.
Neymar is the third most prolific Brazilian abroad this season, ahead of Firmino in fourth. The majority of the country's other top scorers over the 2017-18 season would hardly register with the most ardent of football fans, playing in the likes of Bulgaria, the UAE, Croatia and Hong Kong.
While Sydney's No.9 is emerging as Brazil's best for 2017-18, he's also the pacesetter when considering competitions that don't run simultaneously to Europe and the A-League. When factoring in calendar year competitions, such as those in Asia and his native country, Bobo's goal haul of 2017-18 still towers above all but one from last year.
Henrique Dourado, then of Fluminense, was Brazil's domestic top scorer across all competitions in 2017 with 32 goals, four less than Bobo and Jonas. Liliu at Kalju Nomme in Estonia scored 28 goals either side of his league's break. Only Thailand-based striker Jaja scored more goals in all of 2017, netting 37 times in 38 games.
Source: Read Full Article